'Nurse Jackie' star Merritt Wever misses "the Zoey of the early seasons"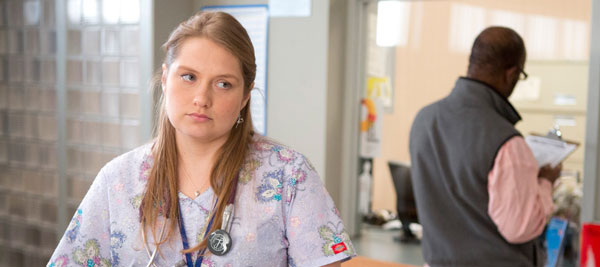 Nurse Jackie's Merritt Wever became famous at the Emmys last September after her surprise win and short acceptance speech that had everyone talking. Now that the sixth season of the Showtime series has premiered, the 34-year-old actress talked to Vulture about her wacky character, Zoey Barkow.
She chatted about a pivotal scene in the latest season where her boyfriend, Dr. Prentiss, is having trouble delivering news to a pal. Zoey pushes an empty chair over to give him the psychological push that he needs to tell his friend.
"I didn't come up with the chair being rolled in in that scene. I'm very grateful to [the show's creators] Linda Wallem and Liz Brixius, who were there [as showrunners] for the first four seasons. They were really open to me playing around. I didn't even realize how rare it was, and how much of a favor they were doing me. They let me try things and fail in an environment where I didn't have to feel shame or embarrassment. It was okay if something didn't work, and since it was okay, I could try something new the next time," Wever said. "It was a big deal. I practiced the hell out of rolling that chair, though. I was very happy when I got it just in the right spot. And then it's nice when you see, five or six seasons later, that a writer notices something like the chair rolling, and writes it in."
The writers have developed an understanding of her character, but the Showtime star is still a bit wistful for the early days of Zoey.
She explained, "A lot of times when I'm doing a scene with Edie, I miss the Zoey of the early seasons because she could get away with getting up in people's faces a lot more. And the fact is, she's been around longer, she's got to change, and it's been a hard balance finding how someone like her evolves without losing the fun of it all."
However, there is a bit of Zoey deep inside of Wever…way deep.
"It came out of me, so I'm sure I'm in there somewhere. But it's not like I know a Zoey."
Nurse Jackie airs Sundays on Showtime.
http://www.dailyactor.com/wp-content/uploads/2015/05/Caitriona-Balfe-Outlander.jpg
Outlander's Caitriona Balfe On The Emotional Toll of Filming Violent Scenes
"Having to put yourself in that place is tough. To sit in that emotional space, especially when you're doing it day after day." - Caitriona Balfe
http://www.dailyactor.com/2015/05/outlander-catriona-balfe-emotional-toll-of-filming-violent-scenes/
http://www.dailyactor.com/wp-content/uploads/2015/05/Chrissie-Fit.jpg
Chrissie Fit on How She Landed Her Role in 'Pitch Perfect 2′
"I remember getting the audition and being like, "This might not happen," just because it is such a massive movie." - Chrissie Fit
http://www.dailyactor.com/2015/05/chrissie-fit-on-how-she-landed-her-role-in-pitch-perfect-2/
http://www.dailyactor.com/wp-content/uploads/2015/05/Sam-Elliott.jpg
Sam Elliot on How he "F–ked" Himself Out of a Career as a Lead Actor
The rugged Sam Elliot has most often cast in character actor roles throughout his long career in film, though the 70 year-old Elliot thinks it wasn't always meant to be that way.
http://www.dailyactor.com/2015/05/sam-elliot-on-how-he-f-ked-himself-out-of-a-career-as-a-lead-actor/
http://www.dailyactor.com/wp-content/uploads/2015/05/Anna-Kendrick-Pitch-Perfect-2.jpg
Anna Kendrick Talks Hollywood and its Gender Bias
"As an actress you're perpetually about to be unemployed." - Anna Kendrick
http://www.dailyactor.com/2015/05/anna-kendrick-talks-hollywood-and-its-gender-bias/
http://www.dailyactor.com/wp-content/uploads/2015/05/tom-hardy-mad-max-fury-road.jpg
Tom Hardy on Fame, Acting School, and His 'Mad Respect' for Michael Fassbender
"Do what you love doing, do it well—everything should fit into place." - Tom Hardy
http://www.dailyactor.com/2015/05/tom-hardy-fame-acting-school-michael-fassbender/