'Nurse Jackie' star Merritt Wever misses "the Zoey of the early seasons"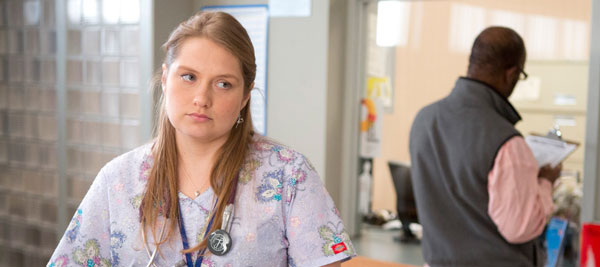 Nurse Jackie's Merritt Wever became famous at the Emmys last September after her surprise win and short acceptance speech that had everyone talking. Now that the sixth season of the Showtime series has premiered, the 34-year-old actress talked to Vulture about her wacky character, Zoey Barkow.
She chatted about a pivotal scene in the latest season where her boyfriend, Dr. Prentiss, is having trouble delivering news to a pal. Zoey pushes an empty chair over to give him the psychological push that he needs to tell his friend.
"I didn't come up with the chair being rolled in in that scene. I'm very grateful to [the show's creators] Linda Wallem and Liz Brixius, who were there [as showrunners] for the first four seasons. They were really open to me playing around. I didn't even realize how rare it was, and how much of a favor they were doing me. They let me try things and fail in an environment where I didn't have to feel shame or embarrassment. It was okay if something didn't work, and since it was okay, I could try something new the next time," Wever said. "It was a big deal. I practiced the hell out of rolling that chair, though. I was very happy when I got it just in the right spot. And then it's nice when you see, five or six seasons later, that a writer notices something like the chair rolling, and writes it in."
The writers have developed an understanding of her character, but the Showtime star is still a bit wistful for the early days of Zoey.
She explained, "A lot of times when I'm doing a scene with Edie, I miss the Zoey of the early seasons because she could get away with getting up in people's faces a lot more. And the fact is, she's been around longer, she's got to change, and it's been a hard balance finding how someone like her evolves without losing the fun of it all."
However, there is a bit of Zoey deep inside of Wever…way deep.
"It came out of me, so I'm sure I'm in there somewhere. But it's not like I know a Zoey."
Nurse Jackie airs Sundays on Showtime.
Latest Videos
http://www.dailyactor.com/wp-content/uploads/2014/07/bill-hader.jpg
Bill Hader: "I kind of fell into acting" (video)
Bill Hader, starring in the soon to be released The Skeleton Twins, talks about the film and how he fell into acting and then got "crazy lucky" in this quick video from USA Today. Share on Tumblr
http://www.dailyactor.com/2014/07/bill-hader-fell-into-acting-video/
http://www.dailyactor.com/wp-content/uploads/2014/07/director-john-carney-narrates-a.jpg
Director John Carney Narrates a Scene from 'Begin Again' Starring Kiera Knightley and Mark Ruffalo
Director John Carney (Once) narrates a scene from his new film, Begin Again. Starring Keira Knightley and Mark Ruffalo, the scene shows the first time the two characters meet. I haven't seen it yet but I've heard it's great.
http://www.dailyactor.com/2014/07/begin-again-scene-director-john-carney-keira-knightley-mark-ruffalo/
http://www.dailyactor.com/wp-content/uploads/2014/07/holler-if-you-hear-me-gma.jpg
Watch the Cast of Broadway's 'Holler If You Hear Me' Perform 'California Love' on GMA
The cast of Broadway's newest musical, Holler If You Hear Me with music from Tupac Shakur, performed on Good Morning America this morning. Singing 'California Love', the cast (including the teriffic Christopher Jackson – read our interview here), show why they're the most energetic and inspiring group of actors on Broadway. Holler If Ya Hear [...]
http://www.dailyactor.com/2014/07/watch-cast-broadways-holler-hear-perform-california-love-gma/
http://www.dailyactor.com/wp-content/uploads/2014/07/behind-the-scenes-of-dawn-of-the.jpg
Behind the Scenes of 'Dawn of the Planet of the Apes' with Performance Capture Actor Terry Notary
Actor Terry Notary is 1 of 5 actors playing the apes in the new Dawn of the Planet of the Apes. "When you see armies of apes," he says, that's "five of us." Check out the video where you can watch his performance capture work.
http://www.dailyactor.com/2014/07/dawn-planet-apes-performance-capture-actor-terry-notary/
http://www.dailyactor.com/wp-content/uploads/2014/07/melissa-mccarthy-daily-show.jpg
Melissa McCarthy and John Stewart Talk About Terrible Commercial Auditions on 'The Daily Show'
Melissa McCarthy stopped by The Daily Show last week to plug about her new movie, Tammy. She talked about how she loved working with her husband, Ben Falcone (director of Tammy) and then segued into talking about some horrible working situations. The always hilarious McCarthy then started to tell host John Stewart about a particular [...]
http://www.dailyactor.com/2014/07/melissa-mccarthy-john-stewart-commercial-auditions-the-daily-show/