Josh Radnor on Shooting the Final Scene of 'How I Met Your Mother' and How He Feels About Ted After All These Years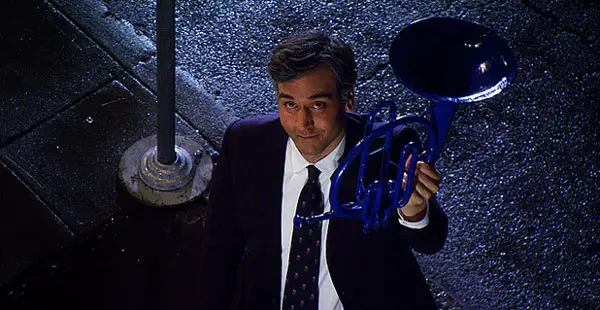 It's probably an understatement to say that emotions are running high regarding the series finale of How I Met Your Mother. Not only do fans have strong opinions about how the series wrapped up, but so does the cast. In an interview with New York magazine, Josh Radnor spoke about filming the final scene, what the cast and crew did immediately after filming that scene, and Radnor's surprising thoughts about the character he has played for nine years, Ted.
Radnor reveals that the very last scene shot for the series was actually the scene when he meets "The Mother," Cristin Milioti, for the first time. He explains, "That was actually Cristin's audition scene and they didn't really change a word from when we first read it together. It was also the last scene we filmed on the very last day of filming, so emotions were running high on both fictional and nonfictional tracks. All the writers, cast, network and studio execs — everyone who worked on the show in any capacity was there watching. There was a big delay while we waited for them to get the rain right, so everyone had a chance to really take in the moment."
Though they didn't work together very long, Radnor adds some good words about working with Milioti, "I always found working with Cristin to be such a joy, so when it came time to shoot it, I just tried to will myself into the character's shoes and connect with Cristin and not think of it as this huge, iconic moment. I mean, Ted may be nervous approaching her but he doesn't know it's, like, the biggest moment of his life. So we did the scene a bunch of times and it felt good and real and effortless and then people made a few speeches and we all went to MacLaren's for a final drink."
Radnor admits that while he felt he was very similar to Ted in the earlier seasons, he found himself sometimes frustrated playing the character regarding his tendencies for indecision and self-deprecation as the series went on. He explains, "He frustrated me. Some of the frustrations that people might have felt with him, I felt all those, too, except when you share a face with someone you get blamed for it. When he was being heroic or something, I was really behind him, but when he was being kind of silly, I had to play him just as sincerely."
Latest Videos
http://www.dailyactor.com/wp-content/uploads/2014/08/bryan-cranston-emmy-award-speech.jpg
Watch: Bryan Cranston's Emmy Award Speech: "I love to act. It is a passion of mine and I will do it until my last breath."
The Emmy Awards weren't the most exciting awards show this year but with Bryan Cranston winning for Outstanding Actor in a Drama for Breaking Bad, we at least got to hear one heck of a fantastic acceptance speech. "I was a kid who always looked for the shortcut," he said. "I did happen to stumble […]
http://www.dailyactor.com/2014/08/watch-bryan-cranston-and-aaron-pauls-emmy-award-speeches/
http://www.dailyactor.com/wp-content/uploads/2014/08/audition-tapes-gerard-butler-aud.jpg
Audition Tapes: Gerard Butler Auditions for 'Dracula 2000′
Check out Gerard Butler auditioning for the role of Dracula in the movie, Dracula 2000. The film, about a group of thieves who break into a chamber expecting to find paintings, but instead find Dracula himself, also starred Christopher Plummer, Jonny Lee Miller and Nathan Fillion. Bulter has some sweet rock star hair, huh?
http://www.dailyactor.com/2014/08/audition-tapes-gerard-butler-dracula-2000/
http://www.dailyactor.com/wp-content/uploads/2014/08/interview-matt-dillon-and-carla.jpg
Interview: Matt Dillon and Carla Gugino Talk 'Wayward Pines'
FOX has a new limited-series that's got a terrific cast and interesting premise. It's called Wayward Pines and stars Matt Dillon, Carla Gugino, Melissa Leo, Toby Jones, Terrance Howard, Juliette Lewis, Tim Griffin and Shannyn Sossamon. The show, whose pilot was directed by M. Night Shyamalan, is about a Secret Service agent (Dillon) goes to […]
http://www.dailyactor.com/2014/08/interview-matt-dillon-carla-gugino-wayward-pines-comic-con/
http://www.dailyactor.com/wp-content/uploads/2014/08/interview-wayward-pines-stars-ti.jpg
Interview: 'Wayward Pines' Stars Tim Griffin and Shannyn Sossamon on the Show, Their Characters and More!
Griffin and Sossamonwere at Comic-Con where they sat in on some roundtable interviews to talk about the show.
http://www.dailyactor.com/2014/08/interview-wayward-pines-stars-tim-griffin-shannyn-sossamon-comic-con/
http://www.dailyactor.com/wp-content/uploads/2014/08/interview-m-night-shyamalan-talk.jpg
Interview: M. Night Shyamalan Talks 'Wayward Pines' and Why He Expanded a Young Actors Role on the Show
I talked to Shyamalan at Comic-Con in a roundtable interview where he talked about the cast, what he learned from working in TV and how young actor Charlie Tahan started out with a small part but as the story grew, so did his role.
http://www.dailyactor.com/2014/08/interview-m-night-shyamalan-wayward-pines-comic-con/