Josh Radnor on Shooting the Final Scene of 'How I Met Your Mother' and How He Feels About Ted After All These Years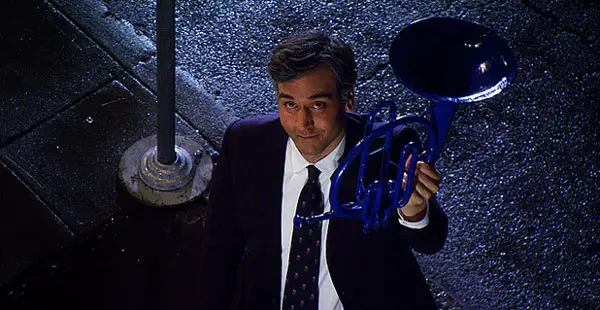 It's probably an understatement to say that emotions are running high regarding the series finale of How I Met Your Mother. Not only do fans have strong opinions about how the series wrapped up, but so does the cast. In an interview with New York magazine, Josh Radnor spoke about filming the final scene, what the cast and crew did immediately after filming that scene, and Radnor's surprising thoughts about the character he has played for nine years, Ted.
Radnor reveals that the very last scene shot for the series was actually the scene when he meets "The Mother," Cristin Milioti, for the first time. He explains, "That was actually Cristin's audition scene and they didn't really change a word from when we first read it together. It was also the last scene we filmed on the very last day of filming, so emotions were running high on both fictional and nonfictional tracks. All the writers, cast, network and studio execs — everyone who worked on the show in any capacity was there watching. There was a big delay while we waited for them to get the rain right, so everyone had a chance to really take in the moment."
Though they didn't work together very long, Radnor adds some good words about working with Milioti, "I always found working with Cristin to be such a joy, so when it came time to shoot it, I just tried to will myself into the character's shoes and connect with Cristin and not think of it as this huge, iconic moment. I mean, Ted may be nervous approaching her but he doesn't know it's, like, the biggest moment of his life. So we did the scene a bunch of times and it felt good and real and effortless and then people made a few speeches and we all went to MacLaren's for a final drink."
Radnor admits that while he felt he was very similar to Ted in the earlier seasons, he found himself sometimes frustrated playing the character regarding his tendencies for indecision and self-deprecation as the series went on. He explains, "He frustrated me. Some of the frustrations that people might have felt with him, I felt all those, too, except when you share a face with someone you get blamed for it. When he was being heroic or something, I was really behind him, but when he was being kind of silly, I had to play him just as sincerely."
Latest Videos
http://www.dailyactor.com/wp-content/uploads/2014/07/bill-hader.jpg
Bill Hader: "I kind of fell into acting" (video)
Bill Hader, starring in the soon to be released The Skeleton Twins, talks about the film and how he fell into acting and then got "crazy lucky" in this quick video from USA Today. Share on Tumblr
http://www.dailyactor.com/2014/07/bill-hader-fell-into-acting-video/
http://www.dailyactor.com/wp-content/uploads/2014/07/director-john-carney-narrates-a.jpg
Director John Carney Narrates a Scene from 'Begin Again' Starring Kiera Knightley and Mark Ruffalo
Director John Carney (Once) narrates a scene from his new film, Begin Again. Starring Keira Knightley and Mark Ruffalo, the scene shows the first time the two characters meet. I haven't seen it yet but I've heard it's great.
http://www.dailyactor.com/2014/07/begin-again-scene-director-john-carney-keira-knightley-mark-ruffalo/
http://www.dailyactor.com/wp-content/uploads/2014/07/holler-if-you-hear-me-gma.jpg
Watch the Cast of Broadway's 'Holler If You Hear Me' Perform 'California Love' on GMA
The cast of Broadway's newest musical, Holler If You Hear Me with music from Tupac Shakur, performed on Good Morning America this morning. Singing 'California Love', the cast (including the teriffic Christopher Jackson – read our interview here), show why they're the most energetic and inspiring group of actors on Broadway. Holler If Ya Hear [...]
http://www.dailyactor.com/2014/07/watch-cast-broadways-holler-hear-perform-california-love-gma/
http://www.dailyactor.com/wp-content/uploads/2014/07/behind-the-scenes-of-dawn-of-the.jpg
Behind the Scenes of 'Dawn of the Planet of the Apes' with Performance Capture Actor Terry Notary
Actor Terry Notary is 1 of 5 actors playing the apes in the new Dawn of the Planet of the Apes. "When you see armies of apes," he says, that's "five of us." Check out the video where you can watch his performance capture work.
http://www.dailyactor.com/2014/07/dawn-planet-apes-performance-capture-actor-terry-notary/
http://www.dailyactor.com/wp-content/uploads/2014/07/melissa-mccarthy-daily-show.jpg
Melissa McCarthy and John Stewart Talk About Terrible Commercial Auditions on 'The Daily Show'
Melissa McCarthy stopped by The Daily Show last week to plug about her new movie, Tammy. She talked about how she loved working with her husband, Ben Falcone (director of Tammy) and then segued into talking about some horrible working situations. The always hilarious McCarthy then started to tell host John Stewart about a particular [...]
http://www.dailyactor.com/2014/07/melissa-mccarthy-john-stewart-commercial-auditions-the-daily-show/