James Franco Calls Ben Brantley of The New York Times "a little bitch" for Negative Review of 'Of Mice and Men'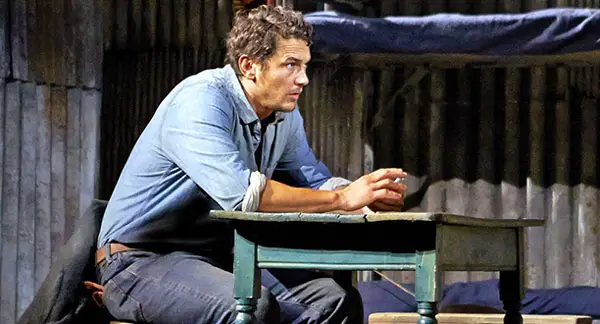 According to James Franco, everything associated with his Broadway production of John Steinbeck's Of Mice and Men is awesome… except, apparently, New York Times critic Ben Brantley's review.
Brantley gave the play a tepid review, calling Franco and co-star Chris O'Dowd "undeniably talented" but saying the production itself "feels about as fluid as a diorama in a history museum." Though the review has some notable praise for Franco, Franco has taken issue with Brantley's review as a whole. Franco took to Instagram to post the positive review from Variety but wrote, "Sadly the NYT and Ben Brantley have embarrassed themselves. Brantley is such a little bitch he should be working for Gawker.com instead of the paper of record. The theater community hates him, and for good reason, he's an idiot."  Though it was later deleted, Vanity Fair critic Richard Lawson snapped a photo before it disappeared. Other reviews of Of Mice and Men are generally favorable (many praising O'Dowd more than Franco), but Franco obviously had an issue with this one.
This isn't the first time a movie star-turned-Broadway actor criticized Brantley's reviews. Just under a year ago Alec Baldwin went after Brantley after Baldwin's play, Orphans, closed early. Similarly to Franco, at that time Baldwin wrote, "I think it's time for the Times to get rid of Brantley. I don't know anyone, anyone at all, who will miss him or his writing." Of course, as I pointed out at the time, I doubt the Times would continue to employ Brantley if Baldwin's statement that nobody would miss him were true.
So Daily Actor readers, what are your thoughts on this?  Do you think Franco should have responded in such a way, or do you find that petty?  Should artists ever respond to critics in such a manner, or what should be the limits?
http://www.dailyactor.com/wp-content/uploads/2015/02/Helen-Mirren-The-Queen.jpg
Helen Mirren on Winning an Oscar: "It's an indescribable moment"
"It's hard to say, because you don't know what would have happened if you hadn't won" - Helen Mirren When Asked If Winning an Oscar Changed Her Career
http://www.dailyactor.com/2015/02/helen-mirren-on-winning-an-oscar/
http://www.dailyactor.com/wp-content/uploads/2015/02/anna-chlumsky-james-earl-jones.jpg
Anna Chlumsky on Her Broadway Debut: "For me, it was an opportunity to go in the direction that I hadn't played in a while"
"I think my personality lends itself to ensembles" - Anna Chlumsky
http://www.dailyactor.com/2015/02/anna-chlumsky-broadway-debut-ensemble/
http://www.dailyactor.com/wp-content/uploads/2015/02/joanne-froggatt-downton-abbey.jpg
'Downton Abbey' Star Joanne Froggatt on Creating Her Own Backstory and How She's "Not a Big-Budget Hollywood Type"
"They want the model type, classically beautiful, and I'm not" - Joanne Froggatt on Working in Hollywood
http://www.dailyactor.com/2015/02/downton-abbey-star-joanne-froggatt-character-backstory-hollywood/
http://www.dailyactor.com/wp-content/uploads/2015/01/al-pacino-the-humbling.jpg
Al Pacino on Acting: "It becomes such a part of your nature you rarely ever think about quitting"
After working infrequently in film over the last decade, Al Pacino appears in several films released in 2015, including The Humbling, an indie drama directed by Barry Levinson.
http://www.dailyactor.com/2015/02/al-pacino-on-acting-it-becomes-such-a-part-of-your-nature/
http://www.dailyactor.com/wp-content/uploads/2015/01/still-alice-julianne-moore.jpg
Julianne Moore Talks Her Research for 'Still Alice' and How the Movie Came Together
Moore talks about shooting Still Alice, research of Alzheimer's patients and how she didn't expect that the film would come together on such a small budget.
http://www.dailyactor.com/2015/02/julianne-moore-research-for-still-alice/