James Franco Calls Ben Brantley of The New York Times "a little bitch" for Negative Review of 'Of Mice and Men'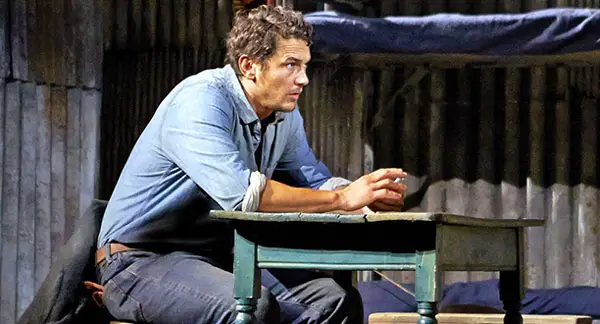 According to James Franco, everything associated with his Broadway production of John Steinbeck's Of Mice and Men is awesome… except, apparently, New York Times critic Ben Brantley's review.
Brantley gave the play a tepid review, calling Franco and co-star Chris O'Dowd "undeniably talented" but saying the production itself "feels about as fluid as a diorama in a history museum." Though the review has some notable praise for Franco, Franco has taken issue with Brantley's review as a whole. Franco took to Instagram to post the positive review from Variety but wrote, "Sadly the NYT and Ben Brantley have embarrassed themselves. Brantley is such a little bitch he should be working for Gawker.com instead of the paper of record. The theater community hates him, and for good reason, he's an idiot."  Though it was later deleted, Vanity Fair critic Richard Lawson snapped a photo before it disappeared. Other reviews of Of Mice and Men are generally favorable (many praising O'Dowd more than Franco), but Franco obviously had an issue with this one.
This isn't the first time a movie star-turned-Broadway actor criticized Brantley's reviews. Just under a year ago Alec Baldwin went after Brantley after Baldwin's play, Orphans, closed early. Similarly to Franco, at that time Baldwin wrote, "I think it's time for the Times to get rid of Brantley. I don't know anyone, anyone at all, who will miss him or his writing." Of course, as I pointed out at the time, I doubt the Times would continue to employ Brantley if Baldwin's statement that nobody would miss him were true.
So Daily Actor readers, what are your thoughts on this?  Do you think Franco should have responded in such a way, or do you find that petty?  Should artists ever respond to critics in such a manner, or what should be the limits?
Latest Videos
http://www.dailyactor.com/wp-content/uploads/2014/08/seth-rudetsky-reveals-the-5-wors.jpg
Seth Rudetsky Reveals the 5 Worst Musical Theater Audition Mistakes (video)
Seth Rudetsky, actor, musician and a host on SiriusXM's Broadway channel, has been teaching auditioning master classes this summer and he's seen his share of bad auditions lately. In this video, he reveals the 5 worst audition mistakes you can make in a musical theater audition and how to choose the perfect 16-bar audition song. [...]
http://www.dailyactor.com/2014/08/seth-rudetsky-5-worst-audition-mistakes/
http://www.dailyactor.com/wp-content/uploads/2014/07/sir-ben-kingsley-talks-about-the.jpg
Sir Ben Kingsley Talks about the Unique Way He Voiced His Character in the Animated Film, 'The Boxtrolls' (video)
I could listen to Sir Ben Kingsley talk about acting and.. well, I could listen to him talk about anything. He's starring in the new Laika stop-motion animated film, The Boxtrolls, and he and some of the cast (along with the director) joined in on a Comic-Con panel about the film. The Boxtrolls is about [...]
http://www.dailyactor.com/2014/07/sir-ben-kingsley-the-boxtrolls-comic-con/
http://www.dailyactor.com/wp-content/uploads/2014/07/bill-hader.jpg
Bill Hader: "I kind of fell into acting" (video)
Bill Hader, starring in the soon to be released The Skeleton Twins, talks about the film and how he fell into acting and then got "crazy lucky" in this quick video from USA Today.
http://www.dailyactor.com/2014/07/bill-hader-fell-into-acting-video/
http://www.dailyactor.com/wp-content/uploads/2014/07/director-john-carney-narrates-a.jpg
Director John Carney Narrates a Scene from 'Begin Again' Starring Kiera Knightley and Mark Ruffalo
Director John Carney (Once) narrates a scene from his new film, Begin Again. Starring Keira Knightley and Mark Ruffalo, the scene shows the first time the two characters meet. I haven't seen it yet but I've heard it's great.
http://www.dailyactor.com/2014/07/begin-again-scene-director-john-carney-keira-knightley-mark-ruffalo/
http://www.dailyactor.com/wp-content/uploads/2014/07/holler-if-you-hear-me-gma.jpg
Watch the Cast of Broadway's 'Holler If You Hear Me' Perform 'California Love' on GMA
The cast of Broadway's newest musical, Holler If You Hear Me with music from Tupac Shakur, performed on Good Morning America this morning. Singing 'California Love', the cast (including the teriffic Christopher Jackson – read our interview here), show why they're the most energetic and inspiring group of actors on Broadway. Holler If Ya Hear [...]
http://www.dailyactor.com/2014/07/watch-cast-broadways-holler-hear-perform-california-love-gma/