Ian McKellen and Patrick Stewart's New York Adventures Racked Up Huge Social Media Numbers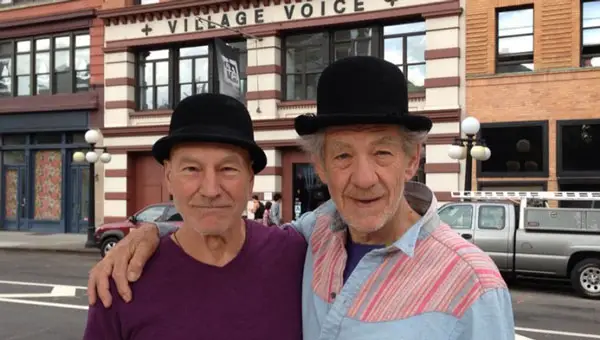 Big-name brands spend millions of dollars a year on advertising. But when it comes to promoting a Broadway show, two old actors in bowler hats taking funny photos creates the type of publicity that money can't buy.  Sir Patrick Stewart and Sir Ian McKellen masterfully used social media to promote their Broadway plays No Man's Land and Waiting for Godot.
As the pair has documented "Sir Ian & Sir Patrick's Excellent Adventures" all over New York on Twitter, they have been racking up incredible social media numbers that would drop the jaw of any advertising executive. Adweek used an app called Shareablee to find out just how far-reaching the effects have been. According to Adweek, "During the six-month period… Stewart tweeted 105 times, garnering about 500,000 retweets and favorites. For sake of comparison, Oreo—widely considered a social branding juggernaut—received some 46,300 Twitter retweets/favorites during the same period."
McKellen was no slouch either. While Stewart was conquering Twitter, McKellen was promoting the duo's shows on Facebook and Instagram. Adweek also revealed:
McKellen was more active than Stewart on Facebook, as the former built his audience to two million fans and received nearly 2.7 million likes, shares and comments. That total is more than double what Coca-Cola saw in the same period with 1.2 million of such actions. Frankly, given Coke's Facebook prowess, that seems incredible.
And the guy who played Gandalf posted 500 pieces of content across platforms, besting Jean-Luc Picard four times over. It worked splendidly for McKellen, engaging nearly 3 million social media users.
McKellen posted 52 Instagram photos, averaging close to 8,000 people engaged per item.
Stewart and McKellen's efforts paid off — the run of their Two Plays in Rep was extended twice, adding over a month of profitable shows. Over its 23-week run, Two Plays in Rep sold an average of 85% of the seats available week-to-week at an average price of $89.42 a ticket — extremely strong numbers for a non-musical (all sales data provided by The Broadway League).
On top of that, Stewart and McKellen are co-starring in the upcoming X:Men – Days of Future Past. Something tells me that 20th Century Fox, which distributes the movie, will be quite pleased to take advantage of Stewart and McKellen's social media popularity.
http://www.dailyactor.com/wp-content/uploads/2015/02/Larry-David.jpg
Larry David on Who he Wanted to Star in his Broadway Play 'Fish in the Dark': "Anybody but me"
"It's one of the reasons I didn't like acting. I don't like not being able to interject" – Larry David on acting with a script Who doesn't like Larry David? Well, to be honest, Larry David probably doesn't like Larry David. In fact, David didn't even want to cast himself in the lead of […]
http://www.dailyactor.com/2015/02/larry-david-on-who-he-wanted-to-star-broadway-play-fish-in-the-dark/
http://www.dailyactor.com/wp-content/uploads/2015/02/Helen-Mirren-The-Queen.jpg
Helen Mirren on Winning an Oscar: "It's an indescribable moment"
"It's hard to say, because you don't know what would have happened if you hadn't won" - Helen Mirren When Asked If Winning an Oscar Changed Her Career
http://www.dailyactor.com/2015/02/helen-mirren-on-winning-an-oscar/
http://www.dailyactor.com/wp-content/uploads/2015/02/anna-chlumsky-james-earl-jones.jpg
Anna Chlumsky on Her Broadway Debut: "For me, it was an opportunity to go in the direction that I hadn't played in a while"
"I think my personality lends itself to ensembles" - Anna Chlumsky
http://www.dailyactor.com/2015/02/anna-chlumsky-broadway-debut-ensemble/
http://www.dailyactor.com/wp-content/uploads/2015/02/joanne-froggatt-downton-abbey.jpg
'Downton Abbey' Star Joanne Froggatt on Creating Her Own Backstory and How She's "Not a Big-Budget Hollywood Type"
"They want the model type, classically beautiful, and I'm not" - Joanne Froggatt on Working in Hollywood
http://www.dailyactor.com/2015/02/downton-abbey-star-joanne-froggatt-character-backstory-hollywood/
http://www.dailyactor.com/wp-content/uploads/2015/01/al-pacino-the-humbling.jpg
Al Pacino on Acting: "It becomes such a part of your nature you rarely ever think about quitting"
After working infrequently in film over the last decade, Al Pacino appears in several films released in 2015, including The Humbling, an indie drama directed by Barry Levinson.
http://www.dailyactor.com/2015/02/al-pacino-on-acting-it-becomes-such-a-part-of-your-nature/