How to Achieve More with Less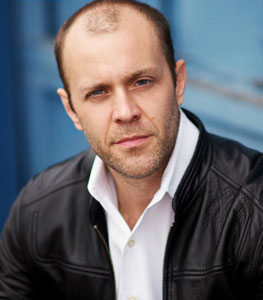 Written by Douglas Taurel
What's the secret? The Pareto Law, known as the 80/20 rule. It is a universal law that can be applied to everything in your life, to your marketing as actors, our projects we are working on, and even our acting to help give us more focus and clarity, and thus dramatically increase our results.
It states that for many events, roughly 80 percent of effects come from 20 percent of causes. This 80/20 thinking enables us to spot the few really important things and ignore the mass of unimportant things. I see many actors—I was guilty too when I was young—confusing a lot of work for productive work. Once you begin to see things thought the 80/20 prism, you will be able to free yourself from the 80 percent of work that really yields very little for you.
Focus on the 20 percent of work you do that has 80 percent impact on driving your career.
Casting directors. When submitting headshots and marketing material to casting directors, focus on those 20 percent of casting directors casting shows you know you are absolutely right for—most likely that number is between 5 and 8.
Only spend your money, energy, and time on those 20 percent, because they will yield 80 percent of value to you.
Working on projects. If you are overwhelmed when producing a project, focus only on the most important 20 percent of the tasks and complete this first. You will have to let some things fall to the wayside; sacrifice the little things so that the big things get done.
Remember 80 percent of achievement is attained in 20 percent of the time.
Happiness. The same rule applies to happiness in our lives as actors. Focus more on the 20 percent of things that give you 80 percent of joy as an artist. Ask yourself, "What is that 20 percent?"
Think about your past achievements that led to your greatest successes. Find the 20 percent of your work and play that has led to 80 percent of the praise others have given you.
Friends. Form effective relationships with key people. Spend time with the right 20 percent of the people in your social circle who build you up and don't break you down. Spend time with actors and colleagues who are proactive, positive thinking, and believe in their dreams and support you.
Spend time with the 20 percent of people that give you 80 percent of the joy in your life.
Auditioning. What does my character want? This question will usually put you on the road to achieving success in the audition. This question represents the 20 percent of information you need about the character to give you 80 percent of success in the audition.
Focusing on the most important questions that will yield you 80 percent of success in the scene.
The 80/20 principle allows you to simplify your thought process on your tasks, projects, and life so that you can achieve greater success and experience more joy. Keep reminding yourself of what it is you do 20 percent of the time when you achieve 80 percent of your results. Do more of it! What is the 80 percent of your time spent doing when you achieve so little? Do less of it!

An accomplished actor and producer, Douglas Taurel has starred in television roles on Nurse Jackie, Damages, NYC 22, The Americans and Person of Interest. He is active in the independent film scene, where he currently has lead roles in two independent films that will soon be screened in film festivals across the country, "Waystation to the Stars" and "La Croix Rising."
Follow him on Twitter: @DouglasTaurel
Latest Videos
http://www.dailyactor.com/wp-content/uploads/2014/07/bill-hader.jpg
Bill Hader: "I kind of fell into acting" (video)
Bill Hader, starring in the soon to be released The Skeleton Twins, talks about the film and how he fell into acting and then got "crazy lucky" in this quick video from USA Today. Share on Tumblr
http://www.dailyactor.com/2014/07/bill-hader-fell-into-acting-video/
http://www.dailyactor.com/wp-content/uploads/2014/07/director-john-carney-narrates-a.jpg
Director John Carney Narrates a Scene from 'Begin Again' Starring Kiera Knightley and Mark Ruffalo
Director John Carney (Once) narrates a scene from his new film, Begin Again. Starring Keira Knightley and Mark Ruffalo, the scene shows the first time the two characters meet. I haven't seen it yet but I've heard it's great.
http://www.dailyactor.com/2014/07/begin-again-scene-director-john-carney-keira-knightley-mark-ruffalo/
http://www.dailyactor.com/wp-content/uploads/2014/07/holler-if-you-hear-me-gma.jpg
Watch the Cast of Broadway's 'Holler If You Hear Me' Perform 'California Love' on GMA
The cast of Broadway's newest musical, Holler If You Hear Me with music from Tupac Shakur, performed on Good Morning America this morning. Singing 'California Love', the cast (including the teriffic Christopher Jackson – read our interview here), show why they're the most energetic and inspiring group of actors on Broadway. Holler If Ya Hear [...]
http://www.dailyactor.com/2014/07/watch-cast-broadways-holler-hear-perform-california-love-gma/
http://www.dailyactor.com/wp-content/uploads/2014/07/behind-the-scenes-of-dawn-of-the.jpg
Behind the Scenes of 'Dawn of the Planet of the Apes' with Performance Capture Actor Terry Notary
Actor Terry Notary is 1 of 5 actors playing the apes in the new Dawn of the Planet of the Apes. "When you see armies of apes," he says, that's "five of us." Check out the video where you can watch his performance capture work.
http://www.dailyactor.com/2014/07/dawn-planet-apes-performance-capture-actor-terry-notary/
http://www.dailyactor.com/wp-content/uploads/2014/07/melissa-mccarthy-daily-show.jpg
Melissa McCarthy and John Stewart Talk About Terrible Commercial Auditions on 'The Daily Show'
Melissa McCarthy stopped by The Daily Show last week to plug about her new movie, Tammy. She talked about how she loved working with her husband, Ben Falcone (director of Tammy) and then segued into talking about some horrible working situations. The always hilarious McCarthy then started to tell host John Stewart about a particular [...]
http://www.dailyactor.com/2014/07/melissa-mccarthy-john-stewart-commercial-auditions-the-daily-show/