Harrison Ford Says He Could Beat Up Mark Hamill, Whether Han or Greedo Shot First and How He Ended up in 'The Expendables 3′,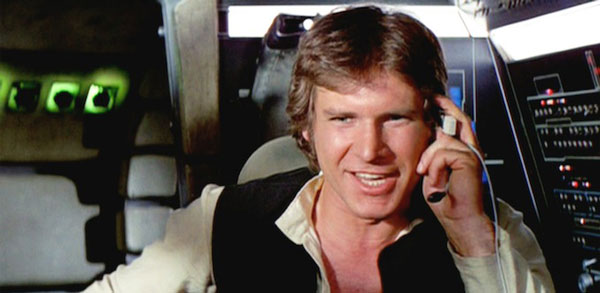 Acting legend Harrison Ford isn't known for being candid in interviews, so it was a big surprise that during his Ask Me Anything (AMA) session on Reddit this past weekend to promote the Showtime documentary series Years of Living Dangerously Ford was remarkably open about his career. He even cracked a few jokes.
For example, Ford's response to the question of who would win in a fight between he and Star Wars co-star Mark Hamill was brief and humorously to the point: "Me, of course."
Though Ford thinks highly of the classic sci-fi film Blade Runner that he starred in (in the AMA he mentioned he is interested to see what director Ridley Scott works up for the proposed Blade Runner sequel), he doesn't have fond memories of shooting it. He confessed, "The set for Blade Runner was maybe the hardest set I've ever worked on because I think we worked 50 nights in a row, and it was always raining."
Ford makes fewer movies these days than he did in the 1980s and 1990s, and he pointed out that a lot of factors go into whether or not he will take on a new project these days. He explained, "You know, it's very hard to say what the motivation is these days. Most of the time I love the material, have the time free, and look for something different to do. I look for people I enjoy working with, I look for material that i think will make a film that people will go to. It's my job."
For example, joining the cast for the action movie The Expendables 3 is a decision that seems like to stick out like a sore thumb in comparison to Ford's more recent roles. However, as Ford explains a number of factors worked out. He says, "I was on my way to Indonesia to do Years of Living Dangerously, and halfway around the world. And the location for Expendables was right on the way, and they asked me for a relatively short period of time, and it seemed like fun. I hadn't seen the films but I looked one of them and I thought it was kind of funny, so I thought why not?"
Finally, to answer the controversial question of who shot his blaster first in Stars Wars, Han Solo or Greedo, Ford answered, "I don't know and I don't care."
Latest Videos
http://www.dailyactor.com/wp-content/uploads/2014/07/bill-hader.jpg
Bill Hader: "I kind of fell into acting" (video)
Bill Hader, starring in the soon to be released The Skeleton Twins, talks about the film and how he fell into acting and then got "crazy lucky" in this quick video from USA Today. Share on Tumblr
http://www.dailyactor.com/2014/07/bill-hader-fell-into-acting-video/
http://www.dailyactor.com/wp-content/uploads/2014/07/director-john-carney-narrates-a.jpg
Director John Carney Narrates a Scene from 'Begin Again' Starring Kiera Knightley and Mark Ruffalo
Director John Carney (Once) narrates a scene from his new film, Begin Again. Starring Keira Knightley and Mark Ruffalo, the scene shows the first time the two characters meet. I haven't seen it yet but I've heard it's great.
http://www.dailyactor.com/2014/07/begin-again-scene-director-john-carney-keira-knightley-mark-ruffalo/
http://www.dailyactor.com/wp-content/uploads/2014/07/holler-if-you-hear-me-gma.jpg
Watch the Cast of Broadway's 'Holler If You Hear Me' Perform 'California Love' on GMA
The cast of Broadway's newest musical, Holler If You Hear Me with music from Tupac Shakur, performed on Good Morning America this morning. Singing 'California Love', the cast (including the teriffic Christopher Jackson – read our interview here), show why they're the most energetic and inspiring group of actors on Broadway. Holler If Ya Hear [...]
http://www.dailyactor.com/2014/07/watch-cast-broadways-holler-hear-perform-california-love-gma/
http://www.dailyactor.com/wp-content/uploads/2014/07/behind-the-scenes-of-dawn-of-the.jpg
Behind the Scenes of 'Dawn of the Planet of the Apes' with Performance Capture Actor Terry Notary
Actor Terry Notary is 1 of 5 actors playing the apes in the new Dawn of the Planet of the Apes. "When you see armies of apes," he says, that's "five of us." Check out the video where you can watch his performance capture work.
http://www.dailyactor.com/2014/07/dawn-planet-apes-performance-capture-actor-terry-notary/
http://www.dailyactor.com/wp-content/uploads/2014/07/melissa-mccarthy-daily-show.jpg
Melissa McCarthy and John Stewart Talk About Terrible Commercial Auditions on 'The Daily Show'
Melissa McCarthy stopped by The Daily Show last week to plug about her new movie, Tammy. She talked about how she loved working with her husband, Ben Falcone (director of Tammy) and then segued into talking about some horrible working situations. The always hilarious McCarthy then started to tell host John Stewart about a particular [...]
http://www.dailyactor.com/2014/07/melissa-mccarthy-john-stewart-commercial-auditions-the-daily-show/