Harrison Ford Says He Could Beat Up Mark Hamill, Whether Han or Greedo Shot First and How He Ended up in 'The Expendables 3′,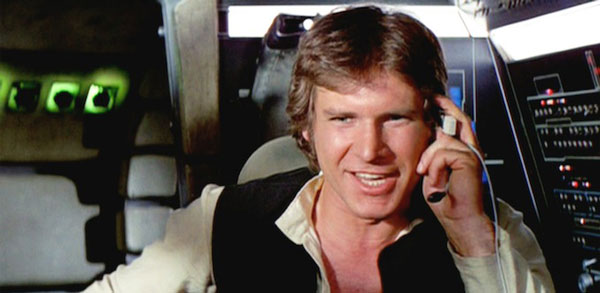 Acting legend Harrison Ford isn't known for being candid in interviews, so it was a big surprise that during his Ask Me Anything (AMA) session on Reddit this past weekend to promote the Showtime documentary series Years of Living Dangerously Ford was remarkably open about his career. He even cracked a few jokes.
For example, Ford's response to the question of who would win in a fight between he and Star Wars co-star Mark Hamill was brief and humorously to the point: "Me, of course."
Though Ford thinks highly of the classic sci-fi film Blade Runner that he starred in (in the AMA he mentioned he is interested to see what director Ridley Scott works up for the proposed Blade Runner sequel), he doesn't have fond memories of shooting it. He confessed, "The set for Blade Runner was maybe the hardest set I've ever worked on because I think we worked 50 nights in a row, and it was always raining."
Ford makes fewer movies these days than he did in the 1980s and 1990s, and he pointed out that a lot of factors go into whether or not he will take on a new project these days. He explained, "You know, it's very hard to say what the motivation is these days. Most of the time I love the material, have the time free, and look for something different to do. I look for people I enjoy working with, I look for material that i think will make a film that people will go to. It's my job."
For example, joining the cast for the action movie The Expendables 3 is a decision that seems like to stick out like a sore thumb in comparison to Ford's more recent roles. However, as Ford explains a number of factors worked out. He says, "I was on my way to Indonesia to do Years of Living Dangerously, and halfway around the world. And the location for Expendables was right on the way, and they asked me for a relatively short period of time, and it seemed like fun. I hadn't seen the films but I looked one of them and I thought it was kind of funny, so I thought why not?"
Finally, to answer the controversial question of who shot his blaster first in Stars Wars, Han Solo or Greedo, Ford answered, "I don't know and I don't care."
Latest Videos
http://www.dailyactor.com/wp-content/uploads/2014/08/audition-tapes-gerard-butler-aud.jpg
Audition Tapes: Gerard Butler Auditions for 'Dracula 2000′
Check out Gerard Butler auditioning for the role of Dracula in the movie, Dracula 2000. The film, about a group of thieves who break into a chamber expecting to find paintings, but instead find Dracula himself, also starred Christopher Plummer, Jonny Lee Miller and Nathan Fillion. Bulter has some sweet rock star hair, huh? [...]
http://www.dailyactor.com/2014/08/audition-tapes-gerard-butler-dracula-2000/
http://www.dailyactor.com/wp-content/uploads/2014/08/interview-matt-dillon-and-carla.jpg
Interview: Matt Dillon and Carla Gugino Talk 'Wayward Pines'
FOX has a new limited-series that's got a terrific cast and interesting premise. It's called Wayward Pines and stars Matt Dillon, Carla Gugino, Melissa Leo, Toby Jones, Terrance Howard, Juliette Lewis, Tim Griffin and Shannyn Sossamon. The show, whose pilot was directed by M. Night Shyamalan, is about a Secret Service agent (Dillon) goes to [...]
http://www.dailyactor.com/2014/08/interview-matt-dillon-carla-gugino-wayward-pines-comic-con/
http://www.dailyactor.com/wp-content/uploads/2014/08/interview-wayward-pines-stars-ti.jpg
Interview: 'Wayward Pines' Stars Tim Griffin and Shannyn Sossamon on the Show, Their Characters and More!
Griffin and Sossamonwere at Comic-Con where they sat in on some roundtable interviews to talk about the show.
http://www.dailyactor.com/2014/08/interview-wayward-pines-stars-tim-griffin-shannyn-sossamon-comic-con/
http://www.dailyactor.com/wp-content/uploads/2014/08/interview-m-night-shyamalan-talk.jpg
Interview: M. Night Shyamalan Talks 'Wayward Pines' and Why He Expanded a Young Actors Role on the Show
I talked to Shyamalan at Comic-Con in a roundtable interview where he talked about the cast, what he learned from working in TV and how young actor Charlie Tahan started out with a small part but as the story grew, so did his role.
http://www.dailyactor.com/2014/08/interview-m-night-shyamalan-wayward-pines-comic-con/
http://www.dailyactor.com/wp-content/uploads/2014/08/interview-wayward-pines-producer.jpg
Interview: 'Wayward Pines' Producers and Writer Talk Casting and the 10-Episode Format
FOX's upcoming limited series Wayward Pines looks very cool. The show is supposed to be very Twin Peaks-ish in tone which, just hearing that, definitely sparks my interest. The pilot was directed by M. Night Shyamalan and stars Matt Dillon, Carla Gugino, Melissa Leo, Toby Jones, Terrance Howard and Juliette Lewis and is about a [...]
http://www.dailyactor.com/2014/08/interview-wayward-pines-creators-comic-con/