'Game of Thrones' star Emilia Clarke Explains the Hard Part of her Job: Tackling High Valyrian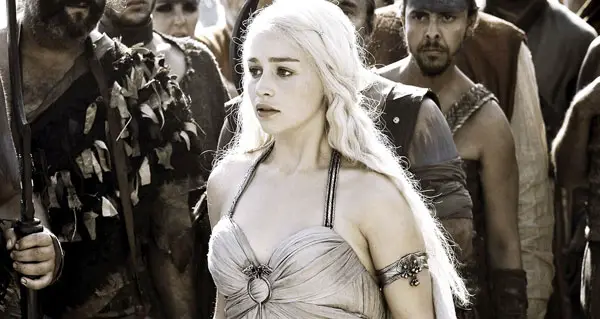 Last Sunday, Season 4 of Game of Thrones premiered to record ratings on HBO. For star Emilia Clarke, she not only gets to play Daenerys Targaryen on the series, she is also headed to the big screen to take on the iconic role of Sarah Connor in Terminator: Genesis next year.
The 26-year-old actress talked to Hero Complex about her incredible young career and whether she thought she would get to play such strong female heroine roles.
She said, "Never, not in a million years did I ever think I would be here getting to do both of them. Game of Thrones, when I got the call for the audition, I was over the moon to be in front of HBO, and when I got the role … [I was just] very happy to be employed by HBO. I had no idea it was going to be what it's turned out to be."
As the seasons have progressed on the HBO show, Clarke has enjoyed the evolution of her monarchical character.
"This is my first proper job, so I've been growing with her, which is the exciting part. Man, she's got more strength than I have, that's for sure. Getting to be with her throughout this growth process is so exciting as an actor. While she's pushing herself, I get to push myself and my acting every season," said Clarke.
She continued, "She's definitely grown and continues to grow from a girl into a woman, and me too, so we're in it together."
In addition to tackling her strong role, the cable star also had to master High Valyrian. It certainly is one of the more challenging aspects to Daenerys.
"Oh, my goodness, you should see the outtakes. I'm always amazed when I watch the show. I'm like, 'They edited that really well! They made me sound like I knew what I was doing.' It's definitely tricky. Valyrian is oddly easier than Dothraki. It's got a more lyrical flow to it that feels more familiar to the way I speak. That makes it slightly easier," she explained. "But, yeah, I have Tourette's when I'm doing the Valyrian scenes. The rest of the crew is always quite funny. It's like, 'OK, we'll go back to the bit where … what are you saying? Just go from the top.' No one quite knows what you're talking about, which is quite funny."
Clarke even has to do a bit of translation work to really understand and feel what she is saying with the language.
She shared how she approached that dialogue, "What I do is map the English onto the Valyrian so you can see how you yourself would say it. Throughout the seasons I've kind of begun to figure out the repetition of particular words and phrases and have got to sort of see what I believe they might mean and go directly into English, just trying to make it flow. If you speak it as you would your own language, then it reads so much better."
Game of Thrones airs on Sunday nights on HBO.
Latest Videos
http://www.dailyactor.com/wp-content/uploads/2014/10/alex-sharp-curious-incident-of-the-dog.jpg
Alex Sharp Talks About His Broadway Debut in 'The Curious Incident of the Dog in the Night-Time' (video)
Alex Sharp went from working in a call-center and renovating houses to going to Julliard. And now, he's starring in one of the most talked about shows of the season, The Curious Incident of the Dog in the Night-Time. Check out this great, inspiring video!
http://www.dailyactor.com/2014/10/alex-sharp-broadway-debut-the-curious-incident-of-the-dog-in-the-night-time-video/
http://www.dailyactor.com/wp-content/uploads/2014/10/Its-only-a-play.jpg
Watch a Scene From Terrance McNally's, 'It's Only a Play', Featuring Nathan Lane and Micah Stock
Here's a quick scene from Terrance McNally's It's Only a Play, currently on Broadway at the Schoenfeld Theater. In this scene, Nathan Lane and Micah Stock meet for the first time. The show, about the opening night of a new play, also stars Matthew Broderick, Stockard Channing, F. Murray Abraham, Rupert Grint and Megan Mullally.
http://www.dailyactor.com/2014/10/watch-a-scene-terrance-mcnally-its-only-a-play-nathan-lane-micah-stock/
http://www.dailyactor.com/wp-content/uploads/2014/10/birdman-director-alejandro-g-ina.jpg
'Birdman' Director Alejandro G. Iñárritu Narrates a Scene from the Film Featuring Michael Keaton and Edward Norton
Director Alejandro G. Iñárritu narrates a scene from Birdman or The Unexpected Virtue of Ignorance that features stars Michael Keaton and Edward Norton. The film is wonderful and if it's playing in your town, definitely check it out!
http://www.dailyactor.com/2014/10/birdman-director-alejandro-g-inarritu-michael-keaton-edward-norton/
http://www.dailyactor.com/wp-content/uploads/2014/10/the-cast-of-mad-men-on-the-final.jpg
The Cast of 'Mad Men' on the Final Season and More
Though the AMC television series Mad Men might not carry the same cultural weight that it did a few years ago (splitting your final season over two years might do that to you), the second half of the show's final season is expected to be full of powerful performances from its ensemble cast. With the […]
http://www.dailyactor.com/2014/10/cast-of-mad-men-final-season/
http://www.dailyactor.com/wp-content/uploads/2014/10/behind-the-scenes-of-a-sex-scene.jpg
Behind the Scenes of a Sex Scene with Patrick Wilson, Brooklyn Decker and Director Joe Carnahan
Director Joe Carnahan is giving viewers an inside look at what it is like to film a big screen Hollywood sex scene, as confirmed by Gawker. Carnahan released a brief video clip taken from the set of his latest film Stretch starring supermodel and actress Brooklyn Decker and Patrick Wilson. The video showcases the two […]
http://www.dailyactor.com/2014/10/behind-the-scenes-of-a-sex-scene-patrick-wilson-brooklyn-decker-director-joe-carnahan/