'Game of Thrones' star Emilia Clarke Explains the Hard Part of her Job: Tackling High Valyrian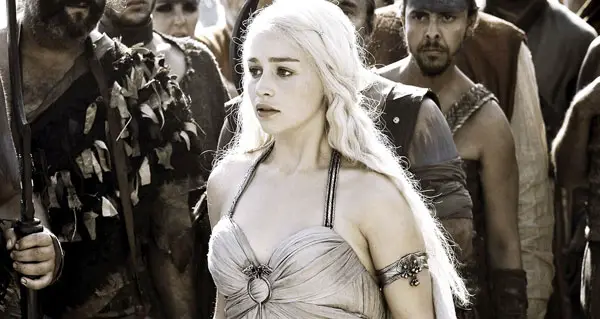 Last Sunday, Season 4 of Game of Thrones premiered to record ratings on HBO. For star Emilia Clarke, she not only gets to play Daenerys Targaryen on the series, she is also headed to the big screen to take on the iconic role of Sarah Connor in Terminator: Genesis next year.
The 26-year-old actress talked to Hero Complex about her incredible young career and whether she thought she would get to play such strong female heroine roles.
She said, "Never, not in a million years did I ever think I would be here getting to do both of them. Game of Thrones, when I got the call for the audition, I was over the moon to be in front of HBO, and when I got the role … [I was just] very happy to be employed by HBO. I had no idea it was going to be what it's turned out to be."
As the seasons have progressed on the HBO show, Clarke has enjoyed the evolution of her monarchical character.
"This is my first proper job, so I've been growing with her, which is the exciting part. Man, she's got more strength than I have, that's for sure. Getting to be with her throughout this growth process is so exciting as an actor. While she's pushing herself, I get to push myself and my acting every season," said Clarke.
She continued, "She's definitely grown and continues to grow from a girl into a woman, and me too, so we're in it together."
In addition to tackling her strong role, the cable star also had to master High Valyrian. It certainly is one of the more challenging aspects to Daenerys.
"Oh, my goodness, you should see the outtakes. I'm always amazed when I watch the show. I'm like, 'They edited that really well! They made me sound like I knew what I was doing.' It's definitely tricky. Valyrian is oddly easier than Dothraki. It's got a more lyrical flow to it that feels more familiar to the way I speak. That makes it slightly easier," she explained. "But, yeah, I have Tourette's when I'm doing the Valyrian scenes. The rest of the crew is always quite funny. It's like, 'OK, we'll go back to the bit where … what are you saying? Just go from the top.' No one quite knows what you're talking about, which is quite funny."
Clarke even has to do a bit of translation work to really understand and feel what she is saying with the language.
She shared how she approached that dialogue, "What I do is map the English onto the Valyrian so you can see how you yourself would say it. Throughout the seasons I've kind of begun to figure out the repetition of particular words and phrases and have got to sort of see what I believe they might mean and go directly into English, just trying to make it flow. If you speak it as you would your own language, then it reads so much better."
Game of Thrones airs on Sunday nights on HBO.
Latest Videos
http://www.dailyactor.com/wp-content/uploads/2014/08/seth-rudetsky-reveals-the-5-wors.jpg
Seth Rudetsky Reveals the 5 Worst Musical Theater Audition Mistakes (video)
Seth Rudetsky, actor, musician and a host on SiriusXM's Broadway channel, has been teaching auditioning master classes this summer and he's seen his share of bad auditions lately. In this video, he reveals the 5 worst audition mistakes you can make in a musical theater audition and how to choose the perfect 16-bar audition song. [...]
http://www.dailyactor.com/2014/08/seth-rudetsky-5-worst-audition-mistakes/
http://www.dailyactor.com/wp-content/uploads/2014/07/sir-ben-kingsley-talks-about-the.jpg
Sir Ben Kingsley Talks about the Unique Way He Voiced His Character in the Animated Film, 'The Boxtrolls' (video)
I could listen to Sir Ben Kingsley talk about acting and.. well, I could listen to him talk about anything. He's starring in the new Laika stop-motion animated film, The Boxtrolls, and he and some of the cast (along with the director) joined in on a Comic-Con panel about the film. The Boxtrolls is about [...]
http://www.dailyactor.com/2014/07/sir-ben-kingsley-the-boxtrolls-comic-con/
http://www.dailyactor.com/wp-content/uploads/2014/07/bill-hader.jpg
Bill Hader: "I kind of fell into acting" (video)
Bill Hader, starring in the soon to be released The Skeleton Twins, talks about the film and how he fell into acting and then got "crazy lucky" in this quick video from USA Today.
http://www.dailyactor.com/2014/07/bill-hader-fell-into-acting-video/
http://www.dailyactor.com/wp-content/uploads/2014/07/director-john-carney-narrates-a.jpg
Director John Carney Narrates a Scene from 'Begin Again' Starring Kiera Knightley and Mark Ruffalo
Director John Carney (Once) narrates a scene from his new film, Begin Again. Starring Keira Knightley and Mark Ruffalo, the scene shows the first time the two characters meet. I haven't seen it yet but I've heard it's great.
http://www.dailyactor.com/2014/07/begin-again-scene-director-john-carney-keira-knightley-mark-ruffalo/
http://www.dailyactor.com/wp-content/uploads/2014/07/holler-if-you-hear-me-gma.jpg
Watch the Cast of Broadway's 'Holler If You Hear Me' Perform 'California Love' on GMA
The cast of Broadway's newest musical, Holler If You Hear Me with music from Tupac Shakur, performed on Good Morning America this morning. Singing 'California Love', the cast (including the teriffic Christopher Jackson – read our interview here), show why they're the most energetic and inspiring group of actors on Broadway. Holler If Ya Hear [...]
http://www.dailyactor.com/2014/07/watch-cast-broadways-holler-hear-perform-california-love-gma/