'Game of Thrones' star Emilia Clarke Explains the Hard Part of her Job: Tackling High Valyrian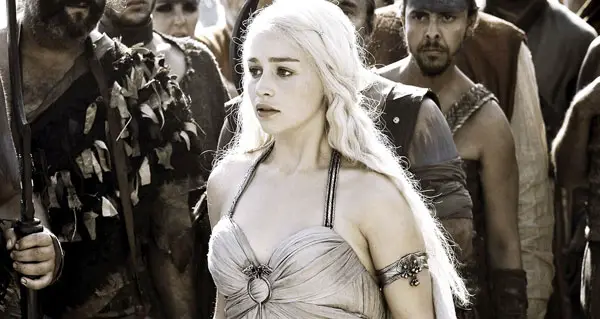 Last Sunday, Season 4 of Game of Thrones premiered to record ratings on HBO. For star Emilia Clarke, she not only gets to play Daenerys Targaryen on the series, she is also headed to the big screen to take on the iconic role of Sarah Connor in Terminator: Genesis next year.
The 26-year-old actress talked to Hero Complex about her incredible young career and whether she thought she would get to play such strong female heroine roles.
She said, "Never, not in a million years did I ever think I would be here getting to do both of them. Game of Thrones, when I got the call for the audition, I was over the moon to be in front of HBO, and when I got the role … [I was just] very happy to be employed by HBO. I had no idea it was going to be what it's turned out to be."
As the seasons have progressed on the HBO show, Clarke has enjoyed the evolution of her monarchical character.
"This is my first proper job, so I've been growing with her, which is the exciting part. Man, she's got more strength than I have, that's for sure. Getting to be with her throughout this growth process is so exciting as an actor. While she's pushing herself, I get to push myself and my acting every season," said Clarke.
She continued, "She's definitely grown and continues to grow from a girl into a woman, and me too, so we're in it together."
In addition to tackling her strong role, the cable star also had to master High Valyrian. It certainly is one of the more challenging aspects to Daenerys.
"Oh, my goodness, you should see the outtakes. I'm always amazed when I watch the show. I'm like, 'They edited that really well! They made me sound like I knew what I was doing.' It's definitely tricky. Valyrian is oddly easier than Dothraki. It's got a more lyrical flow to it that feels more familiar to the way I speak. That makes it slightly easier," she explained. "But, yeah, I have Tourette's when I'm doing the Valyrian scenes. The rest of the crew is always quite funny. It's like, 'OK, we'll go back to the bit where … what are you saying? Just go from the top.' No one quite knows what you're talking about, which is quite funny."
Clarke even has to do a bit of translation work to really understand and feel what she is saying with the language.
She shared how she approached that dialogue, "What I do is map the English onto the Valyrian so you can see how you yourself would say it. Throughout the seasons I've kind of begun to figure out the repetition of particular words and phrases and have got to sort of see what I believe they might mean and go directly into English, just trying to make it flow. If you speak it as you would your own language, then it reads so much better."
Game of Thrones airs on Sunday nights on HBO.
Latest Videos
http://www.dailyactor.com/wp-content/uploads/2014/09/audtion-tapes-robin-wright-and-h.jpg
Audition Tapes: Robin Wright and Haley Joel Osment Audition with Tom Hanks for 'Forrest Gump'
Check out Robin Wright auditioning for the role of Jenny from Forest Gump opposite Tom Hanks. Interestingly enough, Hanks doesn't quite have Gump's southern drawl down just yet while the other actors audition with him. In fact, Hanks would base Gump's voice on the voice of Michael Conner Humphreys, who played the young Forrest and […]
http://www.dailyactor.com/2014/09/audtion-tapes-robin-wright-haley-joel-osment-tom-hanks-forrest-gump/
http://www.dailyactor.com/wp-content/uploads/2014/08/bryan-cranston-emmy-award-speech.jpg
Watch: Bryan Cranston's Emmy Award Speech: "I love to act. It is a passion of mine and I will do it until my last breath."
The Emmy Awards weren't the most exciting awards show this year but with Bryan Cranston winning for Outstanding Actor in a Drama for Breaking Bad, we at least got to hear one heck of a fantastic acceptance speech. "I was a kid who always looked for the shortcut," he said. "I did happen to stumble […]
http://www.dailyactor.com/2014/08/watch-bryan-cranston-and-aaron-pauls-emmy-award-speeches/
http://www.dailyactor.com/wp-content/uploads/2014/08/audition-tapes-gerard-butler-aud.jpg
Audition Tapes: Gerard Butler Auditions for 'Dracula 2000′
Check out Gerard Butler auditioning for the role of Dracula in the movie, Dracula 2000. The film, about a group of thieves who break into a chamber expecting to find paintings, but instead find Dracula himself, also starred Christopher Plummer, Jonny Lee Miller and Nathan Fillion. Bulter has some sweet rock star hair, huh?
http://www.dailyactor.com/2014/08/audition-tapes-gerard-butler-dracula-2000/
http://www.dailyactor.com/wp-content/uploads/2014/08/interview-matt-dillon-and-carla.jpg
Interview: Matt Dillon and Carla Gugino Talk 'Wayward Pines'
FOX has a new limited-series that's got a terrific cast and interesting premise. It's called Wayward Pines and stars Matt Dillon, Carla Gugino, Melissa Leo, Toby Jones, Terrance Howard, Juliette Lewis, Tim Griffin and Shannyn Sossamon. The show, whose pilot was directed by M. Night Shyamalan, is about a Secret Service agent (Dillon) goes to […]
http://www.dailyactor.com/2014/08/interview-matt-dillon-carla-gugino-wayward-pines-comic-con/
http://www.dailyactor.com/wp-content/uploads/2014/08/interview-wayward-pines-stars-ti.jpg
Interview: 'Wayward Pines' Stars Tim Griffin and Shannyn Sossamon on the Show, Their Characters and More!
Griffin and Sossamonwere at Comic-Con where they sat in on some roundtable interviews to talk about the show.
http://www.dailyactor.com/2014/08/interview-wayward-pines-stars-tim-griffin-shannyn-sossamon-comic-con/