Denzel Washington is Back on Broadway with an Incredibly Humble Approach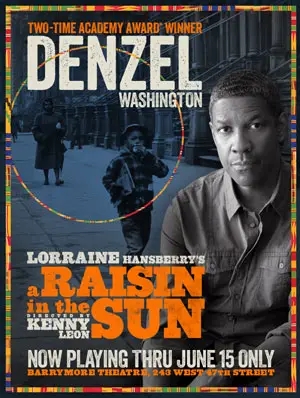 Oscar-winner Denzel Washington is familiar to audiences for his incredible work on the big screen in movies like The Hurricane, Glory and Flight. However, the actor is back on Broadway to dazzle the crowds in an American classic, A Raisin in the Sun.
He spoke with the Associated Press about his humble return to the theater. Washington explained why he chose this particular play to mark his time onstage.
"It's just a great opportunity – that's how I look at it," said the 59-year-old star. "It's like getting back to your roots. It's going good. But around about the 70th show, I might be going, 'What am I doing?'"
In preparation for the role, Washington went back to his training and "poured himself into the work, filling two composition books with notes and leaving every page of his script highlighted, underlined or annotated."
The last time audiences saw the Training Day star on the Great White Way was 2010 in August Wilson's Fences. That turn earned him a Tony Award to add to his impressive awards collection.
For his current role, Washington was not going to rest on his laurels since he was playing the role originated by the legendary Sidney Poitier both onstage and on film. To make sure he was on track to honor Poitier's work, he went straight to the source to work on the material. In fact, "when Poitier rose to act out scenes, Washington pulled out his cell phone to film it."
While Washington's body of work is growing, the one thing that hasn't expanded is his ego. The actor decided to trim his bio in Playbill because it became too much.
He explained, "It was really blowing my own horn. I don't need to advertise. I got the part."
For Washington, it's all about the work, not about the credits.
Latest Videos
http://www.dailyactor.com/wp-content/uploads/2014/08/seth-rudetsky-reveals-the-5-wors.jpg
Seth Rudetsky Reveals the 5 Worst Musical Theater Audition Mistakes (video)
Seth Rudetsky, actor, musician and a host on SiriusXM's Broadway channel, has been teaching auditioning master classes this summer and he's seen his share of bad auditions lately. In this video, he reveals the 5 worst audition mistakes you can make in a musical theater audition and how to choose the perfect 16-bar audition song. [...]
http://www.dailyactor.com/2014/08/seth-rudetsky-5-worst-audition-mistakes/
http://www.dailyactor.com/wp-content/uploads/2014/07/sir-ben-kingsley-talks-about-the.jpg
Sir Ben Kingsley Talks about the Unique Way He Voiced His Character in the Animated Film, 'The Boxtrolls' (video)
I could listen to Sir Ben Kingsley talk about acting and.. well, I could listen to him talk about anything. He's starring in the new Laika stop-motion animated film, The Boxtrolls, and he and some of the cast (along with the director) joined in on a Comic-Con panel about the film. The Boxtrolls is about [...]
http://www.dailyactor.com/2014/07/sir-ben-kingsley-the-boxtrolls-comic-con/
http://www.dailyactor.com/wp-content/uploads/2014/07/bill-hader.jpg
Bill Hader: "I kind of fell into acting" (video)
Bill Hader, starring in the soon to be released The Skeleton Twins, talks about the film and how he fell into acting and then got "crazy lucky" in this quick video from USA Today.
http://www.dailyactor.com/2014/07/bill-hader-fell-into-acting-video/
http://www.dailyactor.com/wp-content/uploads/2014/07/director-john-carney-narrates-a.jpg
Director John Carney Narrates a Scene from 'Begin Again' Starring Kiera Knightley and Mark Ruffalo
Director John Carney (Once) narrates a scene from his new film, Begin Again. Starring Keira Knightley and Mark Ruffalo, the scene shows the first time the two characters meet. I haven't seen it yet but I've heard it's great.
http://www.dailyactor.com/2014/07/begin-again-scene-director-john-carney-keira-knightley-mark-ruffalo/
http://www.dailyactor.com/wp-content/uploads/2014/07/holler-if-you-hear-me-gma.jpg
Watch the Cast of Broadway's 'Holler If You Hear Me' Perform 'California Love' on GMA
The cast of Broadway's newest musical, Holler If You Hear Me with music from Tupac Shakur, performed on Good Morning America this morning. Singing 'California Love', the cast (including the teriffic Christopher Jackson – read our interview here), show why they're the most energetic and inspiring group of actors on Broadway. Holler If Ya Hear [...]
http://www.dailyactor.com/2014/07/watch-cast-broadways-holler-hear-perform-california-love-gma/