Chris O'Dowd on Acting in 'Of Mice and Men' on Broadway: "It's an absolute privilege"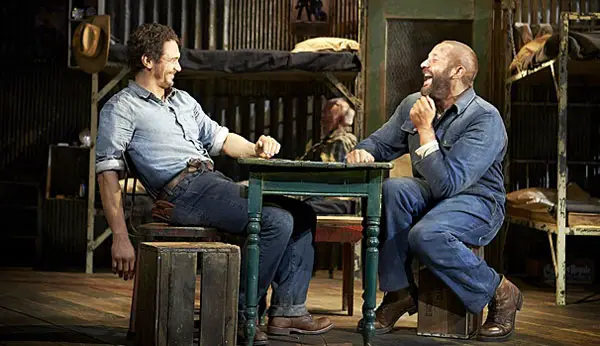 While New York Times theater critic Ben Brantley may not have loved the current production of Of Mice and Men as a whole (just ask James Franco about that), most critics have given considerable praise to Chris O'Dowd for his portrayal of Lennie. In a conversation with NPR, O'Dowd spoke about why he decided to do such a high-profile play at this point in his career, the challenges of playing a character like Lennie,
O'Dowd explains that he ended up starring in Of Mice and Men because he had the desire to do a play after a long hiatus from the stage. He says, "I had been looking for a play to do. I come from a theater background but I hadn't done a show in maybe five years or so. So I was feeling a little rusty and wanted to give it a go."
Playing Lennie is a particular challenge since O'Dowd (or any other actor) has to remain committed to portraying a character with a mental disability as honestly and consistent as possible. He confesses, "It is hard of course, any time you're playing someone with a cognitive disability of any kind it's dangerous territory. … I kind of based it on a guy I knew from London that kind of lived at the end of our road. I'm not 100 percent sure what was wrong with him. … Steinbeck doesn't at any stage say what exactly is wrong with Lennie so it's very open to interpretation. By all accounts it's specifically about somebody that he knew."
One thing that O'Dowd believes helped him in nailing that portrayal is the fact that he has never seen the play or book performed before. He reveals, "I feel fortunate in that I've never seen … a production of it. I never saw the film. I think maybe they put it on in school but I fell asleep … that's more about me as a student rather than the film … I feel unburdened by any expectations of the play."
However, when it comes to acting on Broadway O'Dowd feels it is almost entirely a pleasurable experience. He explains, "It's an absolute privilege. Every night I feel at various moments terrified that we have to go out and to this again but very confident because I feel the show is in a good place. In that last scene I feel very, very privileged to be able to do it — the writing is so good. Regardless of what we're doing with it — to bring it to people who have maybe never seen it before. I believe that this production will be seen by more people than have ever seen this play and that's absolutely exhilarating."
Latest Videos
http://www.dailyactor.com/wp-content/uploads/2014/09/watch-david-mamet-in-the-1976-sh.jpg
Watch: David Mamet in the 1976 Short Documentary 'The Playwright Directs'
Though David Mamet is best known for his distinctive writing style in his scripts for the stage and screen, he has also directed theater and film. The 1976 short documentary titled The Playwright Directs depicts Mamet directing actors through several scenes at an almost frantic pace, dispensing pearls of wisdom throughout, like his thoughts on […]
http://www.dailyactor.com/2014/09/watch-david-mamet-1976-documentary-the-playwright-directs/
http://www.dailyactor.com/wp-content/uploads/2014/09/watch-marvels-agents-of-s-h-i-e.jpg
Watch: Marvel's Agents of S.H.I.E.L.D. Season 1 Bloopers
Forgetting lines? Corpsing? Delivering lines in Spanish? Unruly props? All in a day's work on the set of Marvel's Agents of S.H.I.E.L.D, apparently. Clark Gregg, Ming-Na Wen, and the rest of the cast find plenty of humor while playing super-serious secret agents in the Marvel Universe. While you're waiting for season 2 of the series […]
http://www.dailyactor.com/2014/09/watch-marvels-agents-of-s-h-i-e-l-d-season-1-bloopers/
http://www.dailyactor.com/wp-content/uploads/2014/09/audtion-tapes-robin-wright-and-h.jpg
Audition Tapes: Robin Wright and Haley Joel Osment Audition with Tom Hanks for 'Forrest Gump'
Check out Robin Wright auditioning for the role of Jenny from Forest Gump opposite Tom Hanks. Interestingly enough, Hanks doesn't quite have Gump's southern drawl down just yet while the other actors audition with him. In fact, Hanks would base Gump's voice on the voice of Michael Conner Humphreys, who played the young Forrest and […]
http://www.dailyactor.com/2014/09/audtion-tapes-robin-wright-haley-joel-osment-tom-hanks-forrest-gump/
http://www.dailyactor.com/wp-content/uploads/2014/08/bryan-cranston-emmy-award-speech.jpg
Watch: Bryan Cranston's Emmy Award Speech: "I love to act. It is a passion of mine and I will do it until my last breath."
The Emmy Awards weren't the most exciting awards show this year but with Bryan Cranston winning for Outstanding Actor in a Drama for Breaking Bad, we at least got to hear one heck of a fantastic acceptance speech. "I was a kid who always looked for the shortcut," he said. "I did happen to stumble […]
http://www.dailyactor.com/2014/08/watch-bryan-cranston-and-aaron-pauls-emmy-award-speeches/
http://www.dailyactor.com/wp-content/uploads/2014/08/audition-tapes-gerard-butler-aud.jpg
Audition Tapes: Gerard Butler Auditions for 'Dracula 2000′
Check out Gerard Butler auditioning for the role of Dracula in the movie, Dracula 2000. The film, about a group of thieves who break into a chamber expecting to find paintings, but instead find Dracula himself, also starred Christopher Plummer, Jonny Lee Miller and Nathan Fillion. Bulter has some sweet rock star hair, huh?
http://www.dailyactor.com/2014/08/audition-tapes-gerard-butler-dracula-2000/