Chadwick Boseman on Why 'Draft Day' is Different from his Other Sports Movies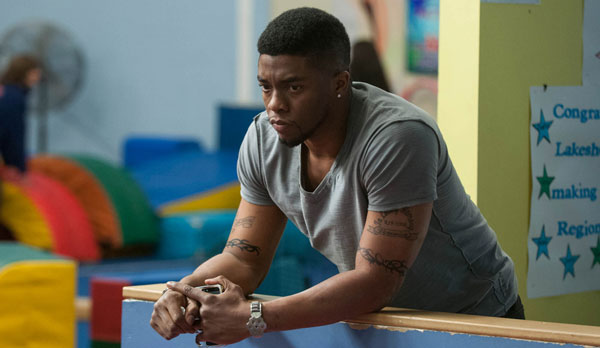 Though Chadwick Boseman
is happy that he is co-starring with
Kevin Costner
in the
Ivan Reitman
football movie
Draft Day
, he is probably thrilled that his next movie,
Get on Up
(in which he stars as "The Godfather of Soul" James Brown), has nothing to do with sports. That's because
Draft Day
marks the third time that Boseman is playing a professional athlete in a movie. While he admits to
Moviefone
that he initially turned down
Draft Day
because he didn't want to be typecast, he explains why he eventually agreed to do the film and what condition he had for signing on in regard to working with Costner.
After playing football legend Floyd Little in The Express and iconic baseball trailblazer Jackie Robinson in 42, Boseman confesses that he was hesitant to play another athlete in Draft Day. He explains, "This one [Draft Day], I initially was like, No, I don't want to do it because it was a sports movie, and I hadn't even read the whole film yet. I think they sent me a description of it and it was like an immediate 'no.' And then I had a conversation with Ivan Reitman — I think we had two conversations. And on the second one he changed my mind. Because it's not really about [sports]. It's not like we're watching some big game occur, or it's in the locker room. You do see some of that but it's not what the movie's about. It's about behind-the-scenes and dreams and hopes. And that to me was a total departure from the other two movies."
While Boseman did get to know several football players in order to shape his character, he admits that he really didn't consider it research. He says, "The Browns were involved so we had the players around us all the time. It wasn't research as much as it was just hanging out with them, playing Xbox or just chilling with them or going out with them. Just hanging out with them seeing what they're like. That's all you really have to do, I think. I didn't talk to anybody about what their draft experience was. That wasn't part of the research. And, for me, it was better to do it that way because my character's not at Radio City Music Hall, you know, he's at home. I've always thought about that guy that's at home. That's the guy that interests me like when you watch the draft."
Though Boseman co-stars with Kevin Costner in the movie, most of the scenes between them take place in phone conversations. Because of that, Boseman was very particular about those phone scenes — he wouldn't do the movie unless he was actually talking to Costner on the phone. He reveals, "I was talking to a friend of [Costner's] while they had just offered me Draft Day and I had been saying no. And I was like, the only way I would do it was if I was actually on the phone with Kevin — I'm not gonna do it if I'm not actually on the phone with him. And then his response got back to me that of course he would do the scenes on the phone with me." On how those phone scenes were shot, he adds, "Even though my side of those scenes was shot on different days than his, I came in for his footage and he came in for mine. He came in really early actually. He came in at like 5 to 6 a.m. in the morning, which shows you what kind of guy he is. Because a lot of people would be like, 'No, I'm not getting up that early. He can read it with the script supervisor or somebody.' No, he came in and lived up to his end of the bargain."
Latest Videos
http://www.dailyactor.com/wp-content/uploads/2014/11/sag-foundation-conversation-with.jpg
SAG Foundation Conversation with the Cast of NBC's 'Marry Me'
Earlier this month NBC put in an order for five additional episodes of its freshman romantic comedy series, Marry Me. While that isn't exactly the shot of confidence that a full-season renewal provides, it's enough to keep fans of the comedy — which is about an engaged couple who are determined to get married despite […]
http://www.dailyactor.com/2014/11/conversation-cast-of-nbc-marry-me-casey-wilson-ken-marino/
http://www.dailyactor.com/wp-content/uploads/2012/12/michael-caine.jpg
Michael Caine Talks About Acting With Your Eyes and Does an Amazing Cold Read of a Script
This week acting legend Michael Caine appears in his sixth film directed by Christopher Nolan, Interstellar. In an interview clip from The New York Times that was shot around the release of the last movie Caine worked on with Nolan, The Dark Knight Rises, reporter Melena Ryzik spoke to Caine about his six-decade career. In […]
http://www.dailyactor.com/2014/11/michael-caine-acting-with-your-eyes-cold-read-of-a-script/
http://www.dailyactor.com/wp-content/uploads/2014/11/director-dan-gilroy-narrates-a-s.jpg
Director Dan Gilroy Narrates a Scene from 'Nightcrawler' Featuring Jake Gyllenhaal and Rene Russo
Nightcrawler is easily one of the best movies of the year and its star, Jake Gyllenhaal, is outstanding. Definitely check this out when you have a chance. In the above clip, writer/director Dan Gilroy narrates a sequence from the film that features Gyllenhaal and Rene Russo. He talks about giving Gyllenhaal a small piece of […]
http://www.dailyactor.com/2014/11/director-dan-gilroy-narrates-a-scene-nightcrawler-jake-gyllenhaal-rene-russo/
http://www.dailyactor.com/wp-content/uploads/2014/11/matthew-mcconaughey-talks-losing.png
Matthew McConaughey Talks Losing the Lead Role in 'Bernie' to Jack Black
Though Matthew McConaughey has increased his earned plenty of respect since he started taking on more substantive movie roles in the last few years (with Dallas Buyers Club even earning him an Oscar for Best Actor), one director that always has been a fan of McConaughey is Richard Linklater. Linklater gave McConaughey his first big […]
http://www.dailyactor.com/2014/11/matthew-mcconaughey-talks-losing-the-lead-role-in-bernie-to-jack-black/
http://www.dailyactor.com/wp-content/uploads/2014/11/watch-benedict-cumberbatch-film.jpg
Watch: Benedict Cumberbatch Film the Smaug Motion Capture for 'The Hobbit: The Desolation of Smaug'
Though Peter Jackson's movie adaptations of The Hobbit haven't received the same critical acclaim as his films based on the book's sequel, The Lord of the Rings (turning a 300 page book into 9+ hours of film tends to do that), fans are still eagerly anticipating the release of the final part of The Hobbit […]
http://www.dailyactor.com/2014/11/watch-benedict-cumberbatch-film-smaug-motion-capture-the-hobbit/