Chadwick Boseman on Why 'Draft Day' is Different from his Other Sports Movies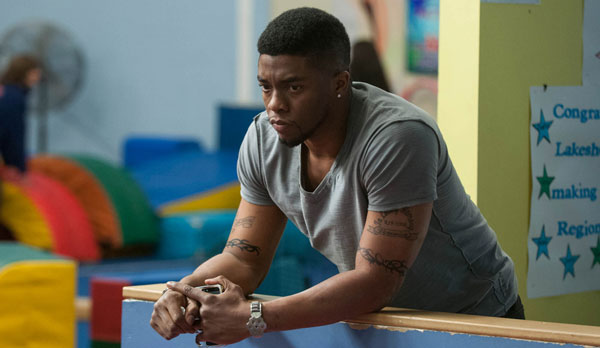 Though Chadwick Boseman is happy that he is co-starring with Kevin Costner in the Ivan Reitman football movie Draft Day, he is probably thrilled that his next movie, Get on Up (in which he stars as "The Godfather of Soul" James Brown), has nothing to do with sports. That's because Draft Day marks the third time that Boseman is playing a professional athlete in a movie. While he admits to Moviefone that he initially turned down Draft Day because he didn't want to be typecast, he explains why he eventually agreed to do the film and what condition he had for signing on in regard to working with Costner.
After playing football legend Floyd Little in The Express and iconic baseball trailblazer Jackie Robinson in 42, Boseman confesses that he was hesitant to play another athlete in Draft Day. He explains, "This one [Draft Day], I initially was like, No, I don't want to do it because it was a sports movie, and I hadn't even read the whole film yet. I think they sent me a description of it and it was like an immediate 'no.' And then I had a conversation with Ivan Reitman — I think we had two conversations. And on the second one he changed my mind. Because it's not really about [sports]. It's not like we're watching some big game occur, or it's in the locker room. You do see some of that but it's not what the movie's about. It's about behind-the-scenes and dreams and hopes. And that to me was a total departure from the other two movies."
While Boseman did get to know several football players in order to shape his character, he admits that he really didn't consider it research. He says, "The Browns were involved so we had the players around us all the time. It wasn't research as much as it was just hanging out with them, playing Xbox or just chilling with them or going out with them. Just hanging out with them seeing what they're like. That's all you really have to do, I think. I didn't talk to anybody about what their draft experience was. That wasn't part of the research. And, for me, it was better to do it that way because my character's not at Radio City Music Hall, you know, he's at home. I've always thought about that guy that's at home. That's the guy that interests me like when you watch the draft."
Though Boseman co-stars with Kevin Costner in the movie, most of the scenes between them take place in phone conversations. Because of that, Boseman was very particular about those phone scenes — he wouldn't do the movie unless he was actually talking to Costner on the phone. He reveals, "I was talking to a friend of [Costner's] while they had just offered me Draft Day and I had been saying no. And I was like, the only way I would do it was if I was actually on the phone with Kevin — I'm not gonna do it if I'm not actually on the phone with him. And then his response got back to me that of course he would do the scenes on the phone with me." On how those phone scenes were shot, he adds, "Even though my side of those scenes was shot on different days than his, I came in for his footage and he came in for mine. He came in really early actually. He came in at like 5 to 6 a.m. in the morning, which shows you what kind of guy he is. Because a lot of people would be like, 'No, I'm not getting up that early. He can read it with the script supervisor or somebody.' No, he came in and lived up to his end of the bargain."
Latest Videos
Watch: Benedict Cumberbatch Film the Smaug Motion Capture for 'The Hobbit: The Desolation of Smaug'
Though Peter Jackson's movie adaptations of The Hobbit haven't received the same critical acclaim as his films based on the book's sequel, The Lord of the Rings (turning a 300 page book into 9+ hours of film tends to do that), fans are still eagerly anticipating the release of the final part of The Hobbit […]
http://www.dailyactor.com/2014/11/watch-benedict-cumberbatch-film-smaug-motion-capture-the-hobbit/
Watch: Daniel Radcliffe on the Differences Between American and British Theater Audiences
Though moviegoers can see Daniel Radcliffe in the fantasy film Horns, which opens today, Broadway fans will have to wait a bit longer. Radcliffe is an unapologetic fan of Broadway — he has starred in Equus, How to Succeed in Business Without Really Trying, and The Cripple of Inishmaan — but he hasn't yet made […]
http://www.dailyactor.com/2014/10/daniel-radcliffe-differences-between-american-british-theater-audiences/
Watch: Anna Gunn, Jacki Weaver and Virginia Kull on 'Gracepoint' and Strong Female Roles on TV
The actresses also speak candidly about how they feel about their characters in the series and why its important for TV to feature series with strong female leads.Check out the conversation above!
http://www.dailyactor.com/2014/10/watch-anna-gunn-jacki-weaver-virginia-kull-gracepoint-strong-female-roles-on-tv/
Watch: Cristin Milioti Talks 'A to Z', 'Once' and 'How I Met Your Mother'
Few actresses have the kind of rise as Cristin Milioti has had in the last few years. A virtual unknown in 2011, she became a bona fide Broadway star in the 2012 hit Once, appeared in a supporting role in the 2013 film The Wolf of Wall Street, and was featured as the titular mother […]
http://www.dailyactor.com/2014/10/watch-cristin-milioti-a-to-z-once-how-i-met-your-mother/
http://www.dailyactor.com/wp-content/uploads/2014/10/watch-bryan-cranstons-acting-adv.jpg
Watch: Bryan Cranston's Acting Advice
With Breaking Bad: The Complete Series Barrel being released on Blu-ray with all kinds of goodies today, it gives us yet another opportunity to reflect on the series' star Bryan Cranston and all of the incredible advice he has offered actors in the wake of his success. In a video he filmed in 2013 for […]
http://www.dailyactor.com/2014/10/bryan-cranston-acting-advice-video/