Chadwick Boseman on Why 'Draft Day' is Different from his Other Sports Movies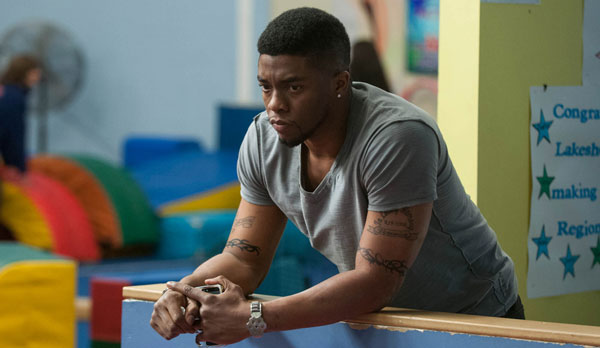 Though Chadwick Boseman is happy that he is co-starring with Kevin Costner in the Ivan Reitman football movie Draft Day, he is probably thrilled that his next movie, Get on Up (in which he stars as "The Godfather of Soul" James Brown), has nothing to do with sports. That's because Draft Day marks the third time that Boseman is playing a professional athlete in a movie. While he admits to Moviefone that he initially turned down Draft Day because he didn't want to be typecast, he explains why he eventually agreed to do the film and what condition he had for signing on in regard to working with Costner.
After playing football legend Floyd Little in The Express and iconic baseball trailblazer Jackie Robinson in 42, Boseman confesses that he was hesitant to play another athlete in Draft Day. He explains, "This one [Draft Day], I initially was like, No, I don't want to do it because it was a sports movie, and I hadn't even read the whole film yet. I think they sent me a description of it and it was like an immediate 'no.' And then I had a conversation with Ivan Reitman — I think we had two conversations. And on the second one he changed my mind. Because it's not really about [sports]. It's not like we're watching some big game occur, or it's in the locker room. You do see some of that but it's not what the movie's about. It's about behind-the-scenes and dreams and hopes. And that to me was a total departure from the other two movies."
While Boseman did get to know several football players in order to shape his character, he admits that he really didn't consider it research. He says, "The Browns were involved so we had the players around us all the time. It wasn't research as much as it was just hanging out with them, playing Xbox or just chilling with them or going out with them. Just hanging out with them seeing what they're like. That's all you really have to do, I think. I didn't talk to anybody about what their draft experience was. That wasn't part of the research. And, for me, it was better to do it that way because my character's not at Radio City Music Hall, you know, he's at home. I've always thought about that guy that's at home. That's the guy that interests me like when you watch the draft."
Though Boseman co-stars with Kevin Costner in the movie, most of the scenes between them take place in phone conversations. Because of that, Boseman was very particular about those phone scenes — he wouldn't do the movie unless he was actually talking to Costner on the phone. He reveals, "I was talking to a friend of [Costner's] while they had just offered me Draft Day and I had been saying no. And I was like, the only way I would do it was if I was actually on the phone with Kevin — I'm not gonna do it if I'm not actually on the phone with him. And then his response got back to me that of course he would do the scenes on the phone with me." On how those phone scenes were shot, he adds, "Even though my side of those scenes was shot on different days than his, I came in for his footage and he came in for mine. He came in really early actually. He came in at like 5 to 6 a.m. in the morning, which shows you what kind of guy he is. Because a lot of people would be like, 'No, I'm not getting up that early. He can read it with the script supervisor or somebody.' No, he came in and lived up to his end of the bargain."
Latest Videos
http://www.dailyactor.com/wp-content/uploads/2014/10/alex-sharp-curious-incident-of-the-dog.jpg
Alex Sharp Talks About His Broadway Debut in 'The Curious Incident of the Dog in the Night-Time' (video)
Alex Sharp went from working in a call-center and renovating houses to going to Julliard. And now, he's starring in one of the most talked about shows of the season, The Curious Incident of the Dog in the Night-Time. Check out this great, inspiring video!
http://www.dailyactor.com/2014/10/alex-sharp-broadway-debut-the-curious-incident-of-the-dog-in-the-night-time-video/
http://www.dailyactor.com/wp-content/uploads/2014/10/Its-only-a-play.jpg
Watch a Scene From Terrance McNally's, 'It's Only a Play', Featuring Nathan Lane and Micah Stock
Here's a quick scene from Terrance McNally's It's Only a Play, currently on Broadway at the Schoenfeld Theater. In this scene, Nathan Lane and Micah Stock meet for the first time. The show, about the opening night of a new play, also stars Matthew Broderick, Stockard Channing, F. Murray Abraham, Rupert Grint and Megan Mullally.
http://www.dailyactor.com/2014/10/watch-a-scene-terrance-mcnally-its-only-a-play-nathan-lane-micah-stock/
http://www.dailyactor.com/wp-content/uploads/2014/10/birdman-director-alejandro-g-ina.jpg
'Birdman' Director Alejandro G. Iñárritu Narrates a Scene from the Film Featuring Michael Keaton and Edward Norton
Director Alejandro G. Iñárritu narrates a scene from Birdman or The Unexpected Virtue of Ignorance that features stars Michael Keaton and Edward Norton. The film is wonderful and if it's playing in your town, definitely check it out!
http://www.dailyactor.com/2014/10/birdman-director-alejandro-g-inarritu-michael-keaton-edward-norton/
http://www.dailyactor.com/wp-content/uploads/2014/10/the-cast-of-mad-men-on-the-final.jpg
The Cast of 'Mad Men' on the Final Season and More
Though the AMC television series Mad Men might not carry the same cultural weight that it did a few years ago (splitting your final season over two years might do that to you), the second half of the show's final season is expected to be full of powerful performances from its ensemble cast. With the […]
http://www.dailyactor.com/2014/10/cast-of-mad-men-final-season/
http://www.dailyactor.com/wp-content/uploads/2014/10/behind-the-scenes-of-a-sex-scene.jpg
Behind the Scenes of a Sex Scene with Patrick Wilson, Brooklyn Decker and Director Joe Carnahan
Director Joe Carnahan is giving viewers an inside look at what it is like to film a big screen Hollywood sex scene, as confirmed by Gawker. Carnahan released a brief video clip taken from the set of his latest film Stretch starring supermodel and actress Brooklyn Decker and Patrick Wilson. The video showcases the two […]
http://www.dailyactor.com/2014/10/behind-the-scenes-of-a-sex-scene-patrick-wilson-brooklyn-decker-director-joe-carnahan/