At 17, Tye Sheridan Already has a Career Many Veteran Actors Would Envy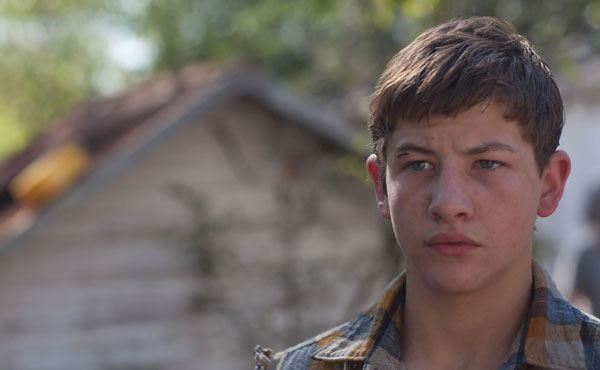 Tye Sheridan is one fortunate 17-year-old kid. He's worked with directors Terrence Malick on The Tree of Life, Jeff Nichols in Mud and David Gordon Green in Joe. That's pretty significant list for someone who kicked off his career with such respected talent.
He talked to Indiewire recently about his incredible success in the industry.
Sheridan explained to the Indiewire about what he learned from working with Malick.
He said, "Well I feel like it was a learning experience for me, and he taught me to just be natural in front of the camera. He didn't give me a script to read. He wanted my dialogue to just feel natural. If I was gonna have dialogue in the scene, he didn't want it to be written, he didn't want me to prepare, he just wanted me to say it and improvise. He basically just cast me as the character he wanted me to be in the movie. I was just being myself in front of the camera. But you know, it was a great experience working with him because he is a genius. And it was just such an interesting process."
The teen was able to take his experience working with the veteran filmmaker to the set of Joe where director Green cast many non-actors. It was a surprising opportunity for Sheridan who understood what he was up against.
"It was great, and if you weren't careful, some of those non-actors could really show you up. I'm serious, they're really talented and they have all the confidence in the world because they're not aware of what could go wrong on a film set, they're just thinking, 'Oh man I'm being treated like a prince, and I'm in a movie with Nicolas Cage, and life is great,' so really they have all the confidence in the world," he said. "And it's great to have someone like that to work with, because really they keep you on your toes, and sometimes you don't know what they're gonna say, and sometimes what they say is gold, and you just kinda have to roll with whatever they're doing."
It's obvious Sheridan knows what he's doing. His follow-up films include The Forger with John Travolta, Last Days in the Desert with Ewan McGregor and Dark Places with Charlize Theron.
http://www.dailyactor.com/wp-content/uploads/2015/01/watch-al-pacino-talks-the-humbli.jpg
Watch: Al Pacino Talks 'The Humbling' and His Extraordinary Career
In this conversation with Al Pacino talks about his role in The Humbling -- including working with Greta Gerwig -- and his historic acting career
http://www.dailyactor.com/2015/01/watch-al-pacino-extraordinary-career/
http://www.dailyactor.com/wp-content/uploads/2015/01/watch-oscar-nominee-steve-carell.jpg
Watch: Oscar Nominee Steve Carell Talks Improv, Auditioning for 'The Office' and 'Foxcatcher'
Carell talks about his entire career as an actor, including his background in improv, how he landed the Michael Scott role on The Office, and Foxcatcher
http://www.dailyactor.com/2015/01/oscar-nominee-steve-carell-improv-auditioning-for-the-office-foxcatcher/
http://www.dailyactor.com/wp-content/uploads/2015/01/ethan-hawke-ellar-coltrane-boyhood.jpg
Ethan Hawke Calls 'Boyhood' the "most special endeavor of my life"
Ethan Hawke is riding high with his fourth Oscar nomination for the Richard Linklater-directed Boyhood. In a recent "Ask Me Anything" on Reddit, the 44-year-old actor gave some thoughtful insight into his career and the 12-year creative endeavor that became the biggest film of the Oscar season. When asked what was the most difficult thing about […]
http://www.dailyactor.com/2015/01/ethan-hawke-boyhood-reddit-amaife/
http://www.dailyactor.com/wp-content/uploads/2015/01/martha-plimpton-a-delicate-balance.jpg
Martha Plimpton Takes a Refreshing Approach to a Long-Lasting Career
Martha Plimpton is an actress who enjoys the work, she's not in it for the fame. The proof is in her continually excellent work that she is doing on-screen and on the stage. She's currently starring in A Delicate Balance on Broadway. It's the audience who gives her the ultimate thrill. "I try to get […]
http://www.dailyactor.com/2015/01/martha-plimpton-long-lasting-career/
http://www.dailyactor.com/wp-content/uploads/2015/01/watch-michael-keaton-talks-candi.jpg
Watch: Michael Keaton Talks Candidly About His Career and His Approach to Acting in 'Birdman'
In this nearly 90 minute conversation, Michael Keaton is his usual affable self but is also remarkably candid about his career and his approach to acting.
http://www.dailyactor.com/2015/01/michael-keaton-career-approach-to-acting-birdman/