At 17, Tye Sheridan Already has a Career Many Veteran Actors Would Envy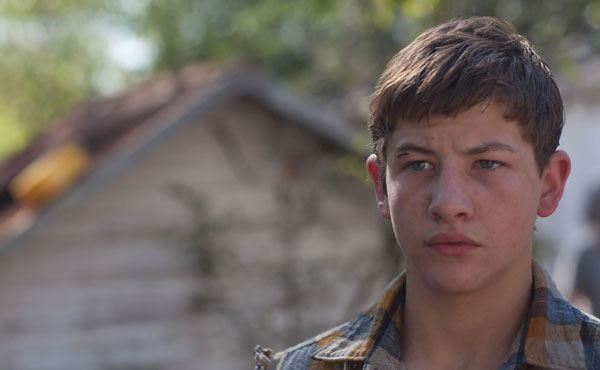 Tye Sheridan is one fortunate 17-year-old kid. He's worked with directors Terrence Malick on The Tree of Life, Jeff Nichols in Mud and David Gordon Green in Joe. That's pretty significant list for someone who kicked off his career with such respected talent.
He talked to Indiewire recently about his incredible success in the industry.
Sheridan explained to the Indiewire about what he learned from working with Malick.
He said, "Well I feel like it was a learning experience for me, and he taught me to just be natural in front of the camera. He didn't give me a script to read. He wanted my dialogue to just feel natural. If I was gonna have dialogue in the scene, he didn't want it to be written, he didn't want me to prepare, he just wanted me to say it and improvise. He basically just cast me as the character he wanted me to be in the movie. I was just being myself in front of the camera. But you know, it was a great experience working with him because he is a genius. And it was just such an interesting process."
The teen was able to take his experience working with the veteran filmmaker to the set of Joe where director Green cast many non-actors. It was a surprising opportunity for Sheridan who understood what he was up against.
"It was great, and if you weren't careful, some of those non-actors could really show you up. I'm serious, they're really talented and they have all the confidence in the world because they're not aware of what could go wrong on a film set, they're just thinking, 'Oh man I'm being treated like a prince, and I'm in a movie with Nicolas Cage, and life is great,' so really they have all the confidence in the world," he said. "And it's great to have someone like that to work with, because really they keep you on your toes, and sometimes you don't know what they're gonna say, and sometimes what they say is gold, and you just kinda have to roll with whatever they're doing."
It's obvious Sheridan knows what he's doing. His follow-up films include The Forger with John Travolta, Last Days in the Desert with Ewan McGregor and Dark Places with Charlize Theron.
http://www.dailyactor.com/wp-content/uploads/2015/03/alec-baldwin.jpg
Alec Baldwin On Keeping SNL Fresh, His Daily Routine and His Ideal Role
Alec Baldwin is an ordinary guy. Well, that's what he said in a recent Reddit AMA, anyway. The actor took the chance to open up about what his average day was like, holding the public's interest and why he chooses not to do many films any more. "My average day is pretty ordinary," he says. […]
http://www.dailyactor.com/2015/04/alec-baldwin-snl-daily-routine-his-ideal-role/
http://www.dailyactor.com/wp-content/uploads/2015/03/steve-buscemi-boardwalk-empire.jpg
Steve Buscemi's "Ask Me Anything" Chat on Reddit: "I don't think you can point to any one character and say that that's 'me'"
"With any role I play, I only have myself" - Steve Buscemi
http://www.dailyactor.com/2015/03/steve-buscemi-ask-me-anything-chat-on-reddit/
http://www.dailyactor.com/wp-content/uploads/2015/03/sally-field-hello-my-name-is-doris.jpg
Sally Field On Improvisation, How She Chooses Her Roles and 'Hello, My Name is Doris'
"There's a dearth of roles for women. I turn down a lot of stuff because there's just nothing in it for me to do." – Sally Field Actress Sally Field put in an appearance at SXSW last week to promote her new film, Hello My Name is Doris. Michael Showalter has directed the movie […]
http://www.dailyactor.com/2015/03/sally-field-improvisation-roles-hello-my-name-is-doris/
http://www.dailyactor.com/wp-content/uploads/2015/03/Will-Ferrell-Get-Hard.jpg
Will Ferrell on His Comedy Roots, 'Get Hard' and His Favorite Roles to Play
Ferrell was on hand to take part in a Q&A and spoke more about how working with Hart came about. When asked if he chooses his projects based on who he wants to work with, or the script itself, Ferrell explained that each project was different.
http://www.dailyactor.com/2015/03/will-ferrell-on-his-comedy-roots-get-hard-and-his-favorite-roles-to-play/
http://www.dailyactor.com/wp-content/uploads/2015/03/daniel-dae-kim.jpg
Hawaii Five-0's Daniel Dae Kim Talks Directorial Debut: "The first day I had to yell action, it was kind of odd"
Hawaii Five-0's Daniel Dae Kim, who fans know best as Chin Ho Kelly, recently made his directorial debut on the CBS series. Kim shared his experience with The Hollywood Reporter, saying that his experience was "weird at first," as he had to direct his co-stars. "The first day I had to yell action, it was […]
http://www.dailyactor.com/2015/03/hawaii-five-0-daniel-dae-kim-directorial-debut/