'The Good Wife' Star Josh Charles on His Dramatic Exit from the Show: "I was just ready to move on to the next chapter"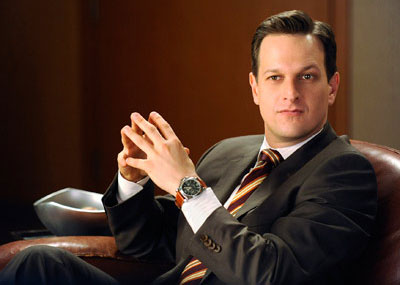 [Warning: Spoilers]
On Sunday, one of the biggest shockers was the death of beloved character Will Gardner on the CBS show, The Good Wife. Twitter was in a frenzy over Josh Charles' dramatic exit from the hit show.
In this era of spoilers and no secrets, thanks to social media, Charles, the cast and crew were able to keep a massive secret. The 42-year-old actor had signed on for Season 5, but not all of Season 5.
Charles spoke to TVLine about his big decision to leave the critically acclaimed show.
He said, "I knew last year. Through discussions with the producers and Julianna [Margulies], we all kind of thought of an idea that [included me coming] back this year to do a set amount of 15 episodes, and really build towards something and give the character a more proper goodbye."
The decision to leave was a pretty simple one for the former Sports Night star, but he wanted to make sure he honored the integrity of the show.
"It wasn't anything bad. Creatively, I was just ready to move on to the next chapter. After having a long conversation with Julianna, and with [series co-creators] Robert and Michelle [King], I liked the idea of coming back and doing a finite amount of episodes. It all sounded like positives for me and for the show, and that turned out to be true," he explained. "Once the decision was made and we knew what we were doing, it made it very special for me because I knew going into this season that this would be my last year, that I would be doing these 15 episodes. And it gave everything a real heightened quality for me."
The one concern about leaving was disappointing his co-star. Charles shared what their off-camera relationship is like.
"Julianna and I are very good friends. She's the reason I'm doing this show; she thought of me for this role, and called me about it when they were casting it. That friendship and bond will always be there. She was the first person I called when I was considering what to do. I talked to her very honestly about how I was feeling, and, as a friend, she really understood my point of view and respected that decision," Charles said.
Even though the actor left a network television show, don't assume he's eliminating another series from a list of possible gigs. He just wants something with an easier schedule.
"I love the structure of television. I love being able to craft a character over a long period of time. I think more than likely it would probably not be 22 episodes a year. I'd put the writing on The Good Wife up against any of the cable shows. It's just that 22 [episodes] a year is really hard for everybody," Charles summed up. "For me, just newly-married and wanting to have a family and wanting to do other things, the more likely scenario is a 10 or 13-episode situation. It really is about the material. TV has been very good to me. I felt very blessed to have had this gig."
Latest Videos
http://www.dailyactor.com/wp-content/uploads/2014/09/audtion-tapes-robin-wright-and-h.jpg
Audition Tapes: Robin Wright and Haley Joel Osment Audition with Tom Hanks for 'Forrest Gump'
Check out Robin Wright auditioning for the role of Jenny from Forest Gump opposite Tom Hanks. Interestingly enough, Hanks doesn't quite have Gump's southern drawl down just yet while the other actors audition with him. In fact, Hanks would base Gump's voice on the voice of Michael Conner Humphreys, who played the young Forrest and […]
http://www.dailyactor.com/2014/09/audtion-tapes-robin-wright-haley-joel-osment-tom-hanks-forrest-gump/
http://www.dailyactor.com/wp-content/uploads/2014/08/bryan-cranston-emmy-award-speech.jpg
Watch: Bryan Cranston's Emmy Award Speech: "I love to act. It is a passion of mine and I will do it until my last breath."
The Emmy Awards weren't the most exciting awards show this year but with Bryan Cranston winning for Outstanding Actor in a Drama for Breaking Bad, we at least got to hear one heck of a fantastic acceptance speech. "I was a kid who always looked for the shortcut," he said. "I did happen to stumble […]
http://www.dailyactor.com/2014/08/watch-bryan-cranston-and-aaron-pauls-emmy-award-speeches/
http://www.dailyactor.com/wp-content/uploads/2014/08/audition-tapes-gerard-butler-aud.jpg
Audition Tapes: Gerard Butler Auditions for 'Dracula 2000′
Check out Gerard Butler auditioning for the role of Dracula in the movie, Dracula 2000. The film, about a group of thieves who break into a chamber expecting to find paintings, but instead find Dracula himself, also starred Christopher Plummer, Jonny Lee Miller and Nathan Fillion. Bulter has some sweet rock star hair, huh?
http://www.dailyactor.com/2014/08/audition-tapes-gerard-butler-dracula-2000/
http://www.dailyactor.com/wp-content/uploads/2014/08/interview-matt-dillon-and-carla.jpg
Interview: Matt Dillon and Carla Gugino Talk 'Wayward Pines'
FOX has a new limited-series that's got a terrific cast and interesting premise. It's called Wayward Pines and stars Matt Dillon, Carla Gugino, Melissa Leo, Toby Jones, Terrance Howard, Juliette Lewis, Tim Griffin and Shannyn Sossamon. The show, whose pilot was directed by M. Night Shyamalan, is about a Secret Service agent (Dillon) goes to […]
http://www.dailyactor.com/2014/08/interview-matt-dillon-carla-gugino-wayward-pines-comic-con/
http://www.dailyactor.com/wp-content/uploads/2014/08/interview-wayward-pines-stars-ti.jpg
Interview: 'Wayward Pines' Stars Tim Griffin and Shannyn Sossamon on the Show, Their Characters and More!
Griffin and Sossamonwere at Comic-Con where they sat in on some roundtable interviews to talk about the show.
http://www.dailyactor.com/2014/08/interview-wayward-pines-stars-tim-griffin-shannyn-sossamon-comic-con/