SXSW Review: Jason Bateman's 'Bad Words'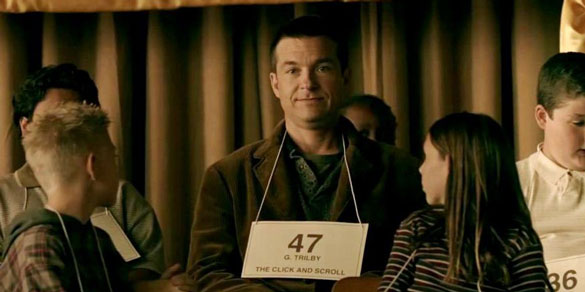 I like it when name actors diversify themselves. Yeah, you'll see a lot of them named as "producers" on the credits from time to time, but mostly that's just a hollow credit. When someone set's out to direct though, that's the real deal. It takes huge cojones to put yourself out there, especially someone who's got a good streak on their hands, like Jason Bateman does.
And it always makes me happy to say that said actor has done a fine job in his newest endeavor. Bateman, who is making his feature directorial debut with Bad Words, has made a worthy film that'll make you laugh your ass off.
He plays Guy Trilby, an angry and bitter 40-year-old, who has made it his mission to win The Golden Quill. What's The Golden Quill, you ask? Why, it's a National Spelling Bee. For 8th Graders.
Trilby, who will do anything to win the contest, has found a loophole in the rulebook and has decided to wreak havoc on the competition, it's officials and the participating students.
Along for the ride is a reporter (Kathryn Hahn), who tracks his every moves (and then some) to try and figure out his true motivation. As the story heats up, Guy starts to form a friendship with his strongest competitor, the cutest and smartest kid around, Chaitanya (Rohan Chand).
There are some truly funny moments and the crowd at SXSW ate it up. The film actually reminded me of Bad Santa, still hysterical but with way more heart. You actually understand why Bateman's Trilby is such a jackass and you kind of feel for him. Do you forgive him for all the mayhem he's caused? Nope. But you understand.
The movie is really about him and Chaitanya though. I usually loathe children in films but young Chand is terrific. With all the cruel things Trilby hurls at him, you don't feel sorry for his character at all. Oddly enough, it sort of empowers him. It makes him stronger because it just rolls off of him and towards the end, Trilby see's himself in the kid.
As an actor, I've always liked Bateman's humor and his choices in comedies. He's got a way of underplaying things that makes a scene 10-times funnier. As a director, he's kept his comedic sensibilities and edge, and didn't go for any cheap laughs. It's got some flaws, yeah, but for a first time director, he killed it. Check it out when it opens because I'm betting you'll enjoy yourself.
Director: Jason Bateman
Screenwriter: Andrew Dodge
Cast: Jason Bateman, Kathryn Hahn, Rohan Chand, Philip Baker Hall, Allison Janney
Latest Videos
http://www.dailyactor.com/wp-content/uploads/2014/10/alex-sharp-curious-incident-of-the-dog.jpg
Alex Sharp Talks About His Broadway Debut in 'The Curious Incident of the Dog in the Night-Time' (video)
Alex Sharp went from working in a call-center and renovating houses to going to Julliard. And now, he's starring in one of the most talked about shows of the season, The Curious Incident of the Dog in the Night-Time. Check out this great, inspiring video!
http://www.dailyactor.com/2014/10/alex-sharp-broadway-debut-the-curious-incident-of-the-dog-in-the-night-time-video/
http://www.dailyactor.com/wp-content/uploads/2014/10/Its-only-a-play.jpg
Watch a Scene From Terrance McNally's, 'It's Only a Play', Featuring Nathan Lane and Micah Stock
Here's a quick scene from Terrance McNally's It's Only a Play, currently on Broadway at the Schoenfeld Theater. In this scene, Nathan Lane and Micah Stock meet for the first time. The show, about the opening night of a new play, also stars Matthew Broderick, Stockard Channing, F. Murray Abraham, Rupert Grint and Megan Mullally.
http://www.dailyactor.com/2014/10/watch-a-scene-terrance-mcnally-its-only-a-play-nathan-lane-micah-stock/
http://www.dailyactor.com/wp-content/uploads/2014/10/birdman-director-alejandro-g-ina.jpg
'Birdman' Director Alejandro G. Iñárritu Narrates a Scene from the Film Featuring Michael Keaton and Edward Norton
Director Alejandro G. Iñárritu narrates a scene from Birdman or The Unexpected Virtue of Ignorance that features stars Michael Keaton and Edward Norton. The film is wonderful and if it's playing in your town, definitely check it out!
http://www.dailyactor.com/2014/10/birdman-director-alejandro-g-inarritu-michael-keaton-edward-norton/
http://www.dailyactor.com/wp-content/uploads/2014/10/the-cast-of-mad-men-on-the-final.jpg
The Cast of 'Mad Men' on the Final Season and More
Though the AMC television series Mad Men might not carry the same cultural weight that it did a few years ago (splitting your final season over two years might do that to you), the second half of the show's final season is expected to be full of powerful performances from its ensemble cast. With the […]
http://www.dailyactor.com/2014/10/cast-of-mad-men-final-season/
http://www.dailyactor.com/wp-content/uploads/2014/10/behind-the-scenes-of-a-sex-scene.jpg
Behind the Scenes of a Sex Scene with Patrick Wilson, Brooklyn Decker and Director Joe Carnahan
Director Joe Carnahan is giving viewers an inside look at what it is like to film a big screen Hollywood sex scene, as confirmed by Gawker. Carnahan released a brief video clip taken from the set of his latest film Stretch starring supermodel and actress Brooklyn Decker and Patrick Wilson. The video showcases the two […]
http://www.dailyactor.com/2014/10/behind-the-scenes-of-a-sex-scene-patrick-wilson-brooklyn-decker-director-joe-carnahan/