SXSW Review: Jason Bateman's 'Bad Words'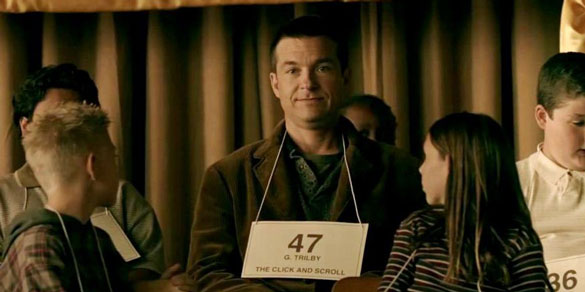 I like it when name actors diversify themselves. Yeah, you'll see a lot of them named as "producers" on the credits from time to time, but mostly that's just a hollow credit. When someone set's out to direct though, that's the real deal. It takes huge cojones to put yourself out there, especially someone who's got a good streak on their hands, like Jason Bateman does.
And it always makes me happy to say that said actor has done a fine job in his newest endeavor. Bateman, who is making his feature directorial debut with Bad Words, has made a worthy film that'll make you laugh your ass off.
He plays Guy Trilby, an angry and bitter 40-year-old, who has made it his mission to win The Golden Quill. What's The Golden Quill, you ask? Why, it's a National Spelling Bee. For 8th Graders.
Trilby, who will do anything to win the contest, has found a loophole in the rulebook and has decided to wreak havoc on the competition, it's officials and the participating students.
Along for the ride is a reporter (Kathryn Hahn), who tracks his every moves (and then some) to try and figure out his true motivation. As the story heats up, Guy starts to form a friendship with his strongest competitor, the cutest and smartest kid around, Chaitanya (Rohan Chand).
There are some truly funny moments and the crowd at SXSW ate it up. The film actually reminded me of Bad Santa, still hysterical but with way more heart. You actually understand why Bateman's Trilby is such a jackass and you kind of feel for him. Do you forgive him for all the mayhem he's caused? Nope. But you understand.
The movie is really about him and Chaitanya though. I usually loathe children in films but young Chand is terrific. With all the cruel things Trilby hurls at him, you don't feel sorry for his character at all. Oddly enough, it sort of empowers him. It makes him stronger because it just rolls off of him and towards the end, Trilby see's himself in the kid.
As an actor, I've always liked Bateman's humor and his choices in comedies. He's got a way of underplaying things that makes a scene 10-times funnier. As a director, he's kept his comedic sensibilities and edge, and didn't go for any cheap laughs. It's got some flaws, yeah, but for a first time director, he killed it. Check it out when it opens because I'm betting you'll enjoy yourself.
Director: Jason Bateman
Screenwriter: Andrew Dodge
Cast: Jason Bateman, Kathryn Hahn, Rohan Chand, Philip Baker Hall, Allison Janney
Latest Videos
http://www.dailyactor.com/wp-content/uploads/2014/08/bryan-cranston-emmy-award-speech.jpg
Watch: Bryan Cranston's Emmy Award Speech: "I love to act. It is a passion of mine and I will do it until my last breath."
The Emmy Awards weren't the most exciting awards show this year but with Bryan Cranston winning for Outstanding Actor in a Drama for Breaking Bad, we at least got to hear one heck of a fantastic acceptance speech. "I was a kid who always looked for the shortcut," he said. "I did happen to stumble […]
http://www.dailyactor.com/2014/08/watch-bryan-cranston-and-aaron-pauls-emmy-award-speeches/
http://www.dailyactor.com/wp-content/uploads/2014/08/audition-tapes-gerard-butler-aud.jpg
Audition Tapes: Gerard Butler Auditions for 'Dracula 2000′
Check out Gerard Butler auditioning for the role of Dracula in the movie, Dracula 2000. The film, about a group of thieves who break into a chamber expecting to find paintings, but instead find Dracula himself, also starred Christopher Plummer, Jonny Lee Miller and Nathan Fillion. Bulter has some sweet rock star hair, huh?
http://www.dailyactor.com/2014/08/audition-tapes-gerard-butler-dracula-2000/
http://www.dailyactor.com/wp-content/uploads/2014/08/interview-matt-dillon-and-carla.jpg
Interview: Matt Dillon and Carla Gugino Talk 'Wayward Pines'
FOX has a new limited-series that's got a terrific cast and interesting premise. It's called Wayward Pines and stars Matt Dillon, Carla Gugino, Melissa Leo, Toby Jones, Terrance Howard, Juliette Lewis, Tim Griffin and Shannyn Sossamon. The show, whose pilot was directed by M. Night Shyamalan, is about a Secret Service agent (Dillon) goes to […]
http://www.dailyactor.com/2014/08/interview-matt-dillon-carla-gugino-wayward-pines-comic-con/
http://www.dailyactor.com/wp-content/uploads/2014/08/interview-wayward-pines-stars-ti.jpg
Interview: 'Wayward Pines' Stars Tim Griffin and Shannyn Sossamon on the Show, Their Characters and More!
Griffin and Sossamonwere at Comic-Con where they sat in on some roundtable interviews to talk about the show.
http://www.dailyactor.com/2014/08/interview-wayward-pines-stars-tim-griffin-shannyn-sossamon-comic-con/
http://www.dailyactor.com/wp-content/uploads/2014/08/interview-m-night-shyamalan-talk.jpg
Interview: M. Night Shyamalan Talks 'Wayward Pines' and Why He Expanded a Young Actors Role on the Show
I talked to Shyamalan at Comic-Con in a roundtable interview where he talked about the cast, what he learned from working in TV and how young actor Charlie Tahan started out with a small part but as the story grew, so did his role.
http://www.dailyactor.com/2014/08/interview-m-night-shyamalan-wayward-pines-comic-con/