Review: Sibling Rivalry at its Craziest, 'Awful Nice'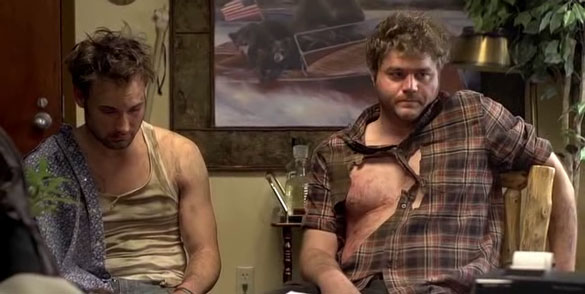 Awful Nice, the story of two estranged brothers who, after their father dies, have to travel to Branson, Missouri to sell his house, reminded me of a Duplass Brothers movie; raw and sometimes hilarious, with characters who are just shy of being sent to a mental institution.
After they ruin their dads funeral by getting in the most ridiculous fight ever, brothers Jim and Dave (James Pumphrey and Alex Rennie) hit the road to Branson, Missouri to renovate and sell the house they've just inherited.
Dave is a walking train wreck. Everything he touches turns to crap – hilariously so. And poor Jim has had to play straight man to this insanity all of his life. Their fights are epic and crazy. It feels like Rennie and Phumphrey are actually brothers the way they poke, jab and go at each other, both physically and even more so, mentally.
Directed by Todd Sklar (who also co-wrote the film with Rennie), the film is basically a tale of sibling rivalry and working out all of those pent-up emotions they've had since they were kids. The movie seems to be just an excuse to put Phumphrey and Rennie in-front of a camera and watch them improv a series of increasingly wacky scenes. Which is not a bad thing most of the time – the guys are brilliant in some scenes.
There's no real plot to the film and that's fine because the amount of laughs you'll get. But, as it moves towards the end, you start to wonder where it's actually going. Dave is a disaster, we know that, but when he finally breaks and shows some kind of emotion, I just didn't buy it. Where did this actual human being come from? I know it's a comedy but he can't be a robot for 99% of the film. There's gotta be something about him we can connect with. 
The film, which also stars Christopher Meloni and Keeley Hazell, has some truly gut-busting moments and you should definitely check it out if you have a chance. Especially for the dinner table scene.
Awful Nice is in theaters March 7th.
Latest Videos
http://www.dailyactor.com/wp-content/uploads/2014/07/bill-hader.jpg
Bill Hader: "I kind of fell into acting" (video)
Bill Hader, starring in the soon to be released The Skeleton Twins, talks about the film and how he fell into acting and then got "crazy lucky" in this quick video from USA Today. Share on Tumblr
http://www.dailyactor.com/2014/07/bill-hader-fell-into-acting-video/
http://www.dailyactor.com/wp-content/uploads/2014/07/director-john-carney-narrates-a.jpg
Director John Carney Narrates a Scene from 'Begin Again' Starring Kiera Knightley and Mark Ruffalo
Director John Carney (Once) narrates a scene from his new film, Begin Again. Starring Keira Knightley and Mark Ruffalo, the scene shows the first time the two characters meet. I haven't seen it yet but I've heard it's great.
http://www.dailyactor.com/2014/07/begin-again-scene-director-john-carney-keira-knightley-mark-ruffalo/
http://www.dailyactor.com/wp-content/uploads/2014/07/holler-if-you-hear-me-gma.jpg
Watch the Cast of Broadway's 'Holler If You Hear Me' Perform 'California Love' on GMA
The cast of Broadway's newest musical, Holler If You Hear Me with music from Tupac Shakur, performed on Good Morning America this morning. Singing 'California Love', the cast (including the teriffic Christopher Jackson – read our interview here), show why they're the most energetic and inspiring group of actors on Broadway. Holler If Ya Hear [...]
http://www.dailyactor.com/2014/07/watch-cast-broadways-holler-hear-perform-california-love-gma/
http://www.dailyactor.com/wp-content/uploads/2014/07/behind-the-scenes-of-dawn-of-the.jpg
Behind the Scenes of 'Dawn of the Planet of the Apes' with Performance Capture Actor Terry Notary
Actor Terry Notary is 1 of 5 actors playing the apes in the new Dawn of the Planet of the Apes. "When you see armies of apes," he says, that's "five of us." Check out the video where you can watch his performance capture work.
http://www.dailyactor.com/2014/07/dawn-planet-apes-performance-capture-actor-terry-notary/
http://www.dailyactor.com/wp-content/uploads/2014/07/melissa-mccarthy-daily-show.jpg
Melissa McCarthy and John Stewart Talk About Terrible Commercial Auditions on 'The Daily Show'
Melissa McCarthy stopped by The Daily Show last week to plug about her new movie, Tammy. She talked about how she loved working with her husband, Ben Falcone (director of Tammy) and then segued into talking about some horrible working situations. The always hilarious McCarthy then started to tell host John Stewart about a particular [...]
http://www.dailyactor.com/2014/07/melissa-mccarthy-john-stewart-commercial-auditions-the-daily-show/