Review: 'Elaine Stritch: Shoot Me'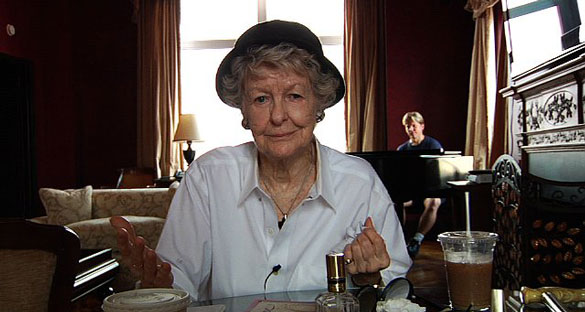 This is really Elaine Stritch's world and we're all living in it.
I can honestly say this after watching the excellent and brutally honest documentary about her life, Elaine Stritch: Shoot Me.
The film looks back on her amazing life and career as follows her as she is beginning to rehearse and embark on a 5-city tour of a new one woman show where she sings a handful of classic Sondheim.
Did I mention that she's in her late 80′s?
If you're a fan of Broadway (like I am), then there is no doubt that she's a legend. She's been a fixture on the New York stages since 1944 and she's been there and seen it all. And, as you can see in the film, she's got plenty more to do as you can see as we watch her rehearse and mount her newest show.
She struggles with Sondheim's lyrics but if you've ever been in one of his show's, who hasn't? It's madness to sometimes try and wrap your brain around some of his lyrics. She curses and frets that she can't remember them and you just feel for her but, yet, you know things will all pull together.
One amazing thing is that when she is in her personal life, she does look like a woman in her 80′s. But, the second she jumps onto a stage, she almost loses 20 years. It's really incredible.
Throughout the film, we see her battle with diabetes. She's constantly taking her blood sugar and in one segment, she's  getting rushed to the hospital. She's there for several days and it's almost heartbreaking to watch this strong woman almost wither away right in front of the camera.
We also see her struggle with alcohol. She's quitting one day and back to drinking the next, declaring that she'll only have one drink a day.
The Tony and Emmy Award winning Stritch is a true master on stage and as you watch her in this doc, you'll see why. You just can't take your eyes off of her. She's fascinating, funny, demanding, frustrating, loving and sad and you just fall in love with her by the end of the film.
Directed by Chiemi Karasawa and featuring interviews from the late James Gandolfini, Tina Fey, Hal Prince, George C. Wolfe, Nathan Lane, Cherry Jones, John Turturro and Alec Baldwin (who's also a producer), this is a true portrait of an American classic.
Latest Videos
http://www.dailyactor.com/wp-content/uploads/2014/07/bill-hader.jpg
Bill Hader: "I kind of fell into acting" (video)
Bill Hader, starring in the soon to be released The Skeleton Twins, talks about the film and how he fell into acting and then got "crazy lucky" in this quick video from USA Today. Share on Tumblr
http://www.dailyactor.com/2014/07/bill-hader-fell-into-acting-video/
http://www.dailyactor.com/wp-content/uploads/2014/07/director-john-carney-narrates-a.jpg
Director John Carney Narrates a Scene from 'Begin Again' Starring Kiera Knightley and Mark Ruffalo
Director John Carney (Once) narrates a scene from his new film, Begin Again. Starring Keira Knightley and Mark Ruffalo, the scene shows the first time the two characters meet. I haven't seen it yet but I've heard it's great.
http://www.dailyactor.com/2014/07/begin-again-scene-director-john-carney-keira-knightley-mark-ruffalo/
http://www.dailyactor.com/wp-content/uploads/2014/07/holler-if-you-hear-me-gma.jpg
Watch the Cast of Broadway's 'Holler If You Hear Me' Perform 'California Love' on GMA
The cast of Broadway's newest musical, Holler If You Hear Me with music from Tupac Shakur, performed on Good Morning America this morning. Singing 'California Love', the cast (including the teriffic Christopher Jackson – read our interview here), show why they're the most energetic and inspiring group of actors on Broadway. Holler If Ya Hear [...]
http://www.dailyactor.com/2014/07/watch-cast-broadways-holler-hear-perform-california-love-gma/
http://www.dailyactor.com/wp-content/uploads/2014/07/behind-the-scenes-of-dawn-of-the.jpg
Behind the Scenes of 'Dawn of the Planet of the Apes' with Performance Capture Actor Terry Notary
Actor Terry Notary is 1 of 5 actors playing the apes in the new Dawn of the Planet of the Apes. "When you see armies of apes," he says, that's "five of us." Check out the video where you can watch his performance capture work.
http://www.dailyactor.com/2014/07/dawn-planet-apes-performance-capture-actor-terry-notary/
http://www.dailyactor.com/wp-content/uploads/2014/07/melissa-mccarthy-daily-show.jpg
Melissa McCarthy and John Stewart Talk About Terrible Commercial Auditions on 'The Daily Show'
Melissa McCarthy stopped by The Daily Show last week to plug about her new movie, Tammy. She talked about how she loved working with her husband, Ben Falcone (director of Tammy) and then segued into talking about some horrible working situations. The always hilarious McCarthy then started to tell host John Stewart about a particular [...]
http://www.dailyactor.com/2014/07/melissa-mccarthy-john-stewart-commercial-auditions-the-daily-show/