Jason Bateman on Playing a Nasty Character in 'Bad Words' and Why He'll Never Push His Kids to Act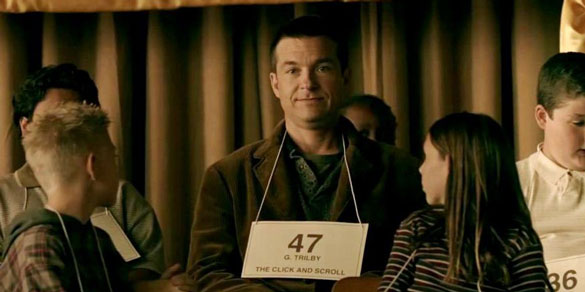 Being that he has grown up on television, it's difficult to dislike
Jason Bateman
as an actor. However, that doesn't mean he isn't going to exploit that affinity. In his first film as a director,
Bad Words
, Bateman plays a genius-level scumbag named Guy Tribly who uses his ability as a flawless proofreader — and the fact that he is an eighth grade dropout — to mow down young teens in national spelling bees. He spoke to
NPR
about playing such an awful character, how as a director he tried to keep himself balanced, and why he won't allow his kids to become child actors like he was.
Bateman points out that he has some experience working with characters that are extremely unlikable. He says, "That was the formula on Arrested Development. That was what the show's creator said to all of us in the cast. And that's a stimulating challenge, to say nasty things but somehow behave in such a way, or capture a certain look in camera that shows some vulnerability in the character, or some ignorance, as opposed to hatred."
He compares Tribly to Archie Bunker on All In the Family — a character that was openly a bigot, but was somehow endearing in his wrongfulness. Bateman explains, "I wanted to take on that challenge, and just as a director, build an atmosphere, an environment, a tone around this character and the other characters, where these type of flawed people would naturally exist."
In order to find that balance, Bateman had to consider how to present the character in the most effective manner. He reveals, "I didn't have a certain set of written rules about what this guy had been through, and his back story. I was just nimble about when and where he would be mature or immature, and so oftentimes it was an arbitrary decision about whether I was going to seem smart or seem dumb, or seem scared or seem vulnerable. That's the fun of acting for me, as opposed to deciding exactly how you're going to play each scene the night before, practicing your faces in the mirror, learning your lines."
Nonetheless, despite Bateman's success in acting for nearly his entire life, he confesses that he will not push his kids into acting because unlike other jobs it isn't about how hard you work. He explains, "I wouldn't only because it is a profession that you can't really help yourself in. In most professions, if you stay at the office an extra four hours every day, you're gonna impress the boss, you're gonna get that promotion, you're gonna get that raise, you're gonna at least have job security. But with acting, if you're really ambitious and you have a good work ethic, and are really good at your job, it might not really matter."
Latest Videos
http://www.dailyactor.com/wp-content/uploads/2014/11/sag-foundation-conversation-with.jpg
SAG Foundation Conversation with the Cast of NBC's 'Marry Me'
Earlier this month NBC put in an order for five additional episodes of its freshman romantic comedy series, Marry Me. While that isn't exactly the shot of confidence that a full-season renewal provides, it's enough to keep fans of the comedy — which is about an engaged couple who are determined to get married despite […]
http://www.dailyactor.com/2014/11/conversation-cast-of-nbc-marry-me-casey-wilson-ken-marino/
http://www.dailyactor.com/wp-content/uploads/2012/12/michael-caine.jpg
Michael Caine Talks About Acting With Your Eyes and Does an Amazing Cold Read of a Script
This week acting legend Michael Caine appears in his sixth film directed by Christopher Nolan, Interstellar. In an interview clip from The New York Times that was shot around the release of the last movie Caine worked on with Nolan, The Dark Knight Rises, reporter Melena Ryzik spoke to Caine about his six-decade career. In […]
http://www.dailyactor.com/2014/11/michael-caine-acting-with-your-eyes-cold-read-of-a-script/
http://www.dailyactor.com/wp-content/uploads/2014/11/director-dan-gilroy-narrates-a-s.jpg
Director Dan Gilroy Narrates a Scene from 'Nightcrawler' Featuring Jake Gyllenhaal and Rene Russo
Nightcrawler is easily one of the best movies of the year and its star, Jake Gyllenhaal, is outstanding. Definitely check this out when you have a chance. In the above clip, writer/director Dan Gilroy narrates a sequence from the film that features Gyllenhaal and Rene Russo. He talks about giving Gyllenhaal a small piece of […]
http://www.dailyactor.com/2014/11/director-dan-gilroy-narrates-a-scene-nightcrawler-jake-gyllenhaal-rene-russo/
http://www.dailyactor.com/wp-content/uploads/2014/11/matthew-mcconaughey-talks-losing.png
Matthew McConaughey Talks Losing the Lead Role in 'Bernie' to Jack Black
Though Matthew McConaughey has increased his earned plenty of respect since he started taking on more substantive movie roles in the last few years (with Dallas Buyers Club even earning him an Oscar for Best Actor), one director that always has been a fan of McConaughey is Richard Linklater. Linklater gave McConaughey his first big […]
http://www.dailyactor.com/2014/11/matthew-mcconaughey-talks-losing-the-lead-role-in-bernie-to-jack-black/
http://www.dailyactor.com/wp-content/uploads/2014/11/watch-benedict-cumberbatch-film.jpg
Watch: Benedict Cumberbatch Film the Smaug Motion Capture for 'The Hobbit: The Desolation of Smaug'
Though Peter Jackson's movie adaptations of The Hobbit haven't received the same critical acclaim as his films based on the book's sequel, The Lord of the Rings (turning a 300 page book into 9+ hours of film tends to do that), fans are still eagerly anticipating the release of the final part of The Hobbit […]
http://www.dailyactor.com/2014/11/watch-benedict-cumberbatch-film-smaug-motion-capture-the-hobbit/