Hypothermia Reduced Russell Crowe to Tears on the Set of 'Noah'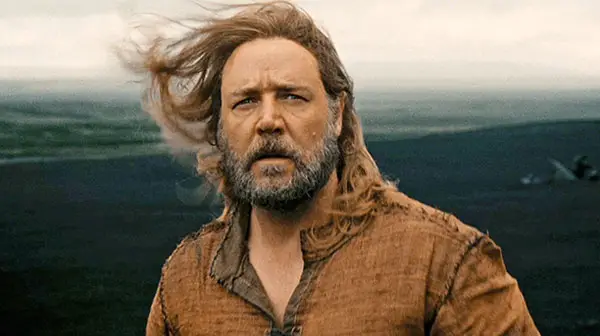 Sure, Darren Aronofsky's Noah uses more CGI H2O than old-fashioned "water pictures" used to, but that doesn't mean that star Russell Crowe didn't spend a lot of time during the shoot completely soaked. In fact, reportedly Crowe was soaked for so long during one day of shooting that he suffered hypothermia, causing the tough actor to… cry?
While shooting scenes off the coast of Iceland, Crowe discovered that he was unable to stop shivering after a particularly grueling day. He reveals, "We were doing a scene in Iceland where I had to fall into the sea… I'd been in and out of the sea, half-naked, filming all day… physically it was very demanding. There were these rain towers in the sky that could flood eight football fields in 30 seconds, and it was constant rain. We had 36 days of it."
Crowe admits he suffered a sort-of breakdown on the last day of shooting. He says, "It gets to the point where it's like Chinese water torture. You can't take it any more. I went into hypothermia. When we wrapped, I was lying on these stones and I couldn't get up. I couldn't stop shaking. I couldn't stop crying."
The Gladiator star also confesses that he feels that part of the breakdown had to do with his marriage recently ending, adding, "Seven or eight people put blankets on me and sat on me until I stopped. It was crazy – they were hugging me, trying to stop me shaking… This happened just a few weeks after Danielle [Spencer] had told me she didn't want to be married any more and insisted that we sit in front of our children and tell them. So it was pretty heavy…"
Of course, this is Russell Crowe we're talking about — the burly actor known for his manly-man roles — so this all lasted only a few moments. He recalls, "Well, suddenly I stopped crying and shaking. I pushed them all off and walked back to my trailer. They were like, 'Do you want anything?' and I was like, 'F**k off! It's done. Give me a glass of wine.'"
via WENN
Latest Videos
http://www.dailyactor.com/wp-content/uploads/2014/07/bill-hader.jpg
Bill Hader: "I kind of fell into acting" (video)
Bill Hader, starring in the soon to be released The Skeleton Twins, talks about the film and how he fell into acting and then got "crazy lucky" in this quick video from USA Today. Share on Tumblr
http://www.dailyactor.com/2014/07/bill-hader-fell-into-acting-video/
http://www.dailyactor.com/wp-content/uploads/2014/07/director-john-carney-narrates-a.jpg
Director John Carney Narrates a Scene from 'Begin Again' Starring Kiera Knightley and Mark Ruffalo
Director John Carney (Once) narrates a scene from his new film, Begin Again. Starring Keira Knightley and Mark Ruffalo, the scene shows the first time the two characters meet. I haven't seen it yet but I've heard it's great.
http://www.dailyactor.com/2014/07/begin-again-scene-director-john-carney-keira-knightley-mark-ruffalo/
http://www.dailyactor.com/wp-content/uploads/2014/07/holler-if-you-hear-me-gma.jpg
Watch the Cast of Broadway's 'Holler If You Hear Me' Perform 'California Love' on GMA
The cast of Broadway's newest musical, Holler If You Hear Me with music from Tupac Shakur, performed on Good Morning America this morning. Singing 'California Love', the cast (including the teriffic Christopher Jackson – read our interview here), show why they're the most energetic and inspiring group of actors on Broadway. Holler If Ya Hear [...]
http://www.dailyactor.com/2014/07/watch-cast-broadways-holler-hear-perform-california-love-gma/
http://www.dailyactor.com/wp-content/uploads/2014/07/behind-the-scenes-of-dawn-of-the.jpg
Behind the Scenes of 'Dawn of the Planet of the Apes' with Performance Capture Actor Terry Notary
Actor Terry Notary is 1 of 5 actors playing the apes in the new Dawn of the Planet of the Apes. "When you see armies of apes," he says, that's "five of us." Check out the video where you can watch his performance capture work.
http://www.dailyactor.com/2014/07/dawn-planet-apes-performance-capture-actor-terry-notary/
http://www.dailyactor.com/wp-content/uploads/2014/07/melissa-mccarthy-daily-show.jpg
Melissa McCarthy and John Stewart Talk About Terrible Commercial Auditions on 'The Daily Show'
Melissa McCarthy stopped by The Daily Show last week to plug about her new movie, Tammy. She talked about how she loved working with her husband, Ben Falcone (director of Tammy) and then segued into talking about some horrible working situations. The always hilarious McCarthy then started to tell host John Stewart about a particular [...]
http://www.dailyactor.com/2014/07/melissa-mccarthy-john-stewart-commercial-auditions-the-daily-show/