Hypothermia Reduced Russell Crowe to Tears on the Set of 'Noah'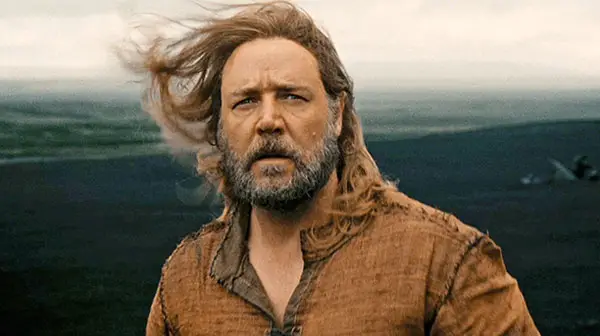 Sure, Darren Aronofsky's Noah uses more CGI H2O than old-fashioned "water pictures" used to, but that doesn't mean that star Russell Crowe didn't spend a lot of time during the shoot completely soaked. In fact, reportedly Crowe was soaked for so long during one day of shooting that he suffered hypothermia, causing the tough actor to… cry?
While shooting scenes off the coast of Iceland, Crowe discovered that he was unable to stop shivering after a particularly grueling day. He reveals, "We were doing a scene in Iceland where I had to fall into the sea… I'd been in and out of the sea, half-naked, filming all day… physically it was very demanding. There were these rain towers in the sky that could flood eight football fields in 30 seconds, and it was constant rain. We had 36 days of it."
Crowe admits he suffered a sort-of breakdown on the last day of shooting. He says, "It gets to the point where it's like Chinese water torture. You can't take it any more. I went into hypothermia. When we wrapped, I was lying on these stones and I couldn't get up. I couldn't stop shaking. I couldn't stop crying."
The Gladiator star also confesses that he feels that part of the breakdown had to do with his marriage recently ending, adding, "Seven or eight people put blankets on me and sat on me until I stopped. It was crazy – they were hugging me, trying to stop me shaking… This happened just a few weeks after Danielle [Spencer] had told me she didn't want to be married any more and insisted that we sit in front of our children and tell them. So it was pretty heavy…"
Of course, this is Russell Crowe we're talking about — the burly actor known for his manly-man roles — so this all lasted only a few moments. He recalls, "Well, suddenly I stopped crying and shaking. I pushed them all off and walked back to my trailer. They were like, 'Do you want anything?' and I was like, 'F**k off! It's done. Give me a glass of wine.'"
via WENN
http://www.dailyactor.com/wp-content/uploads/2015/01/watch-al-pacino-talks-the-humbli.jpg
Watch: Al Pacino Talks 'The Humbling' and His Extraordinary Career
In this conversation with Al Pacino talks about his role in The Humbling -- including working with Greta Gerwig -- and his historic acting career
http://www.dailyactor.com/2015/01/watch-al-pacino-extraordinary-career/
http://www.dailyactor.com/wp-content/uploads/2015/01/watch-oscar-nominee-steve-carell.jpg
Watch: Oscar Nominee Steve Carell Talks Improv, Auditioning for 'The Office' and 'Foxcatcher'
Carell talks about his entire career as an actor, including his background in improv, how he landed the Michael Scott role on The Office, and Foxcatcher
http://www.dailyactor.com/2015/01/oscar-nominee-steve-carell-improv-auditioning-for-the-office-foxcatcher/
http://www.dailyactor.com/wp-content/uploads/2015/01/ethan-hawke-ellar-coltrane-boyhood.jpg
Ethan Hawke Calls 'Boyhood' the "most special endeavor of my life"
Ethan Hawke is riding high with his fourth Oscar nomination for the Richard Linklater-directed Boyhood. In a recent "Ask Me Anything" on Reddit, the 44-year-old actor gave some thoughtful insight into his career and the 12-year creative endeavor that became the biggest film of the Oscar season. When asked what was the most difficult thing about […]
http://www.dailyactor.com/2015/01/ethan-hawke-boyhood-reddit-amaife/
http://www.dailyactor.com/wp-content/uploads/2015/01/martha-plimpton-a-delicate-balance.jpg
Martha Plimpton Takes a Refreshing Approach to a Long-Lasting Career
Martha Plimpton is an actress who enjoys the work, she's not in it for the fame. The proof is in her continually excellent work that she is doing on-screen and on the stage. She's currently starring in A Delicate Balance on Broadway. It's the audience who gives her the ultimate thrill. "I try to get […]
http://www.dailyactor.com/2015/01/martha-plimpton-long-lasting-career/
http://www.dailyactor.com/wp-content/uploads/2015/01/watch-michael-keaton-talks-candi.jpg
Watch: Michael Keaton Talks Candidly About His Career and His Approach to Acting in 'Birdman'
In this nearly 90 minute conversation, Michael Keaton is his usual affable self but is also remarkably candid about his career and his approach to acting.
http://www.dailyactor.com/2015/01/michael-keaton-career-approach-to-acting-birdman/