Emma Watson Dealt with "animals, water, stunts, CGI" and Giving Birth on the Set of 'Noah'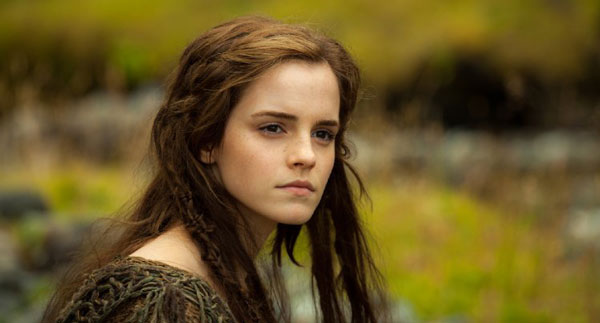 It's been three years since Emma Watson hung up her Hogwarts hat and headed to more indie fare in movies like My Week with Marilyn and The Perks of Being a Wallflower. However, she's returned to her big blockbuster roots on March 28 by playing Ila in Darren Aronofsky's Noah.
The 23-year-old spoke to Reuters about how her time with the Harry Potter franchise prepared her for the wet and difficult set of the Biblical tale.
She shared, "I remember being on set and Darren was saying, 'Okay, the water is going to be cold, we're probably going to be here for a full day, try and conserve your energy between takes, like keep warm and make sure you eat properly. This is going to be physically very demanding.' For a minute I felt very intimidated and then there's something about having done those Harry Potter films and they were very physical. We did a lot of stuff in Scotland. It was freezing cold, filming at four in the morning, working crazy hours."
However, Watson did find some positive elements to the drawbacks of the challenging set.
She continued, "It's kind of comforting in a way to know that in some senses, nothing will be as hard as that again, and I'm pretty prepared for most things people can throw at me, whether it be animals, water, stunts, CGI (computer-generated imagery), whatever it is. It was a very good school in a way and set me up very well for this kind of environment and this kind of pressure."
Her role as a mom-to-be also required a bit of research on how to make giving birth realistic on film.
"I actually didn't do a lot of reading, but I did a lot a research because I become a mother in the story, and obviously have never given birth myself. That required quite a lot of careful thinking. Darren and I had this conversation where we both agreed that in so many films, women give birth and it looks like they're barely breaking a sweat. We wanted it to feel very raw, very real and so I took it pretty seriously," she explained.
Noah opened in theaters nationwide on March 28.
Latest Videos
http://www.dailyactor.com/wp-content/uploads/2014/07/bill-hader.jpg
Bill Hader: "I kind of fell into acting" (video)
Bill Hader, starring in the soon to be released The Skeleton Twins, talks about the film and how he fell into acting and then got "crazy lucky" in this quick video from USA Today. Share on Tumblr
http://www.dailyactor.com/2014/07/bill-hader-fell-into-acting-video/
http://www.dailyactor.com/wp-content/uploads/2014/07/director-john-carney-narrates-a.jpg
Director John Carney Narrates a Scene from 'Begin Again' Starring Kiera Knightley and Mark Ruffalo
Director John Carney (Once) narrates a scene from his new film, Begin Again. Starring Keira Knightley and Mark Ruffalo, the scene shows the first time the two characters meet. I haven't seen it yet but I've heard it's great.
http://www.dailyactor.com/2014/07/begin-again-scene-director-john-carney-keira-knightley-mark-ruffalo/
http://www.dailyactor.com/wp-content/uploads/2014/07/holler-if-you-hear-me-gma.jpg
Watch the Cast of Broadway's 'Holler If You Hear Me' Perform 'California Love' on GMA
The cast of Broadway's newest musical, Holler If You Hear Me with music from Tupac Shakur, performed on Good Morning America this morning. Singing 'California Love', the cast (including the teriffic Christopher Jackson – read our interview here), show why they're the most energetic and inspiring group of actors on Broadway. Holler If Ya Hear [...]
http://www.dailyactor.com/2014/07/watch-cast-broadways-holler-hear-perform-california-love-gma/
http://www.dailyactor.com/wp-content/uploads/2014/07/behind-the-scenes-of-dawn-of-the.jpg
Behind the Scenes of 'Dawn of the Planet of the Apes' with Performance Capture Actor Terry Notary
Actor Terry Notary is 1 of 5 actors playing the apes in the new Dawn of the Planet of the Apes. "When you see armies of apes," he says, that's "five of us." Check out the video where you can watch his performance capture work.
http://www.dailyactor.com/2014/07/dawn-planet-apes-performance-capture-actor-terry-notary/
http://www.dailyactor.com/wp-content/uploads/2014/07/melissa-mccarthy-daily-show.jpg
Melissa McCarthy and John Stewart Talk About Terrible Commercial Auditions on 'The Daily Show'
Melissa McCarthy stopped by The Daily Show last week to plug about her new movie, Tammy. She talked about how she loved working with her husband, Ben Falcone (director of Tammy) and then segued into talking about some horrible working situations. The always hilarious McCarthy then started to tell host John Stewart about a particular [...]
http://www.dailyactor.com/2014/07/melissa-mccarthy-john-stewart-commercial-auditions-the-daily-show/