Bryan Cranston on "Silent Mondays" and Why It's Good He's Not as Good Looking as Jon Hamm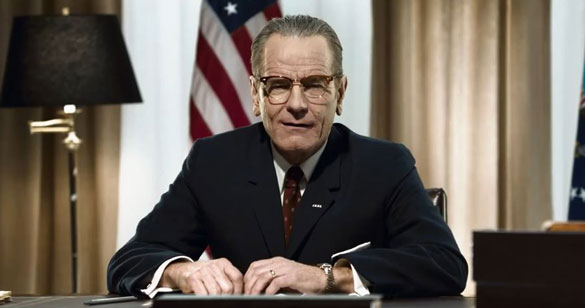 We're pretty crazy about Bryan Cranston here at Daily Actor, so while he's starring as President Lyndon Johnson on Broadway in All the Way we're trying to glean as much information as we can about his acting career and lessons we can learn from him. In an interview with NPR, Cranston speaks about how the way he looks has helped him as an actor and why he's adopted "Silent Mondays" while doing eight shows a week on stage.
One of the things that was most surprising about Breaking Bad is that few people expected that the goofy dad from the sitcom Malcolm in the Middle was capable of playing such a radically different character. Cranston attributes that to his looks, saying, "I have a very fortunate look for an actor. You can't really categorize me. My looks aren't striking, so therefore I'm more capable of sliding into looking like other people, more chameleon-like, as opposed to, let's say, Jon Hamm, who is this handsome, striking, black-haired, chiseled-looking guy. That's great for Jon, and he's a friend and I love him, but I don't know that you would buy him as Walter White. He would have to fight against his looks in order to do that. So there's a larger range of roles that are available to me than are available to Jon Hamm, simply because of physicality. And I love that."
Since this is Cranston's Broadway debut, he needed to get used to another aspect of stage acting in a large Broadway theater: silent Mondays. He explains, "I thought my biggest challenge was going to [be to] keep my vocal strength. I talked with a beautiful, talented artist named Audra McDonald, and and was starting to feel the strain on her vocal cords. And her ear, nose and throat doctor said: I recommend strongly … you to shut down on your one day off; don't talk at all. And so she incorporated Mondays as her silent day. And I thought, as a pre-emptive strike, I'm going to do the same. So I don't talk on Mondays. I have little notepads and a whiteboard that I write notes on, and I write it out and say, 'What is the soup?' you know, and things like that. … I have one little notepad that I have that at the top of it, it says, 'Doctor's orders vocal rest no talking,' and I show it to people, and immediately they start whispering back to me, which is very interesting."
Latest Videos
http://www.dailyactor.com/wp-content/uploads/2014/08/seth-rudetsky-reveals-the-5-wors.jpg
Seth Rudetsky Reveals the 5 Worst Musical Theater Audition Mistakes (video)
Seth Rudetsky, actor, musician and a host on SiriusXM's Broadway channel, has been teaching auditioning master classes this summer and he's seen his share of bad auditions lately. In this video, he reveals the 5 worst audition mistakes you can make in a musical theater audition and how to choose the perfect 16-bar audition song. [...]
http://www.dailyactor.com/2014/08/seth-rudetsky-5-worst-audition-mistakes/
http://www.dailyactor.com/wp-content/uploads/2014/07/sir-ben-kingsley-talks-about-the.jpg
Sir Ben Kingsley Talks about the Unique Way He Voiced His Character in the Animated Film, 'The Boxtrolls' (video)
I could listen to Sir Ben Kingsley talk about acting and.. well, I could listen to him talk about anything. He's starring in the new Laika stop-motion animated film, The Boxtrolls, and he and some of the cast (along with the director) joined in on a Comic-Con panel about the film. The Boxtrolls is about [...]
http://www.dailyactor.com/2014/07/sir-ben-kingsley-the-boxtrolls-comic-con/
http://www.dailyactor.com/wp-content/uploads/2014/07/bill-hader.jpg
Bill Hader: "I kind of fell into acting" (video)
Bill Hader, starring in the soon to be released The Skeleton Twins, talks about the film and how he fell into acting and then got "crazy lucky" in this quick video from USA Today.
http://www.dailyactor.com/2014/07/bill-hader-fell-into-acting-video/
http://www.dailyactor.com/wp-content/uploads/2014/07/director-john-carney-narrates-a.jpg
Director John Carney Narrates a Scene from 'Begin Again' Starring Kiera Knightley and Mark Ruffalo
Director John Carney (Once) narrates a scene from his new film, Begin Again. Starring Keira Knightley and Mark Ruffalo, the scene shows the first time the two characters meet. I haven't seen it yet but I've heard it's great.
http://www.dailyactor.com/2014/07/begin-again-scene-director-john-carney-keira-knightley-mark-ruffalo/
http://www.dailyactor.com/wp-content/uploads/2014/07/holler-if-you-hear-me-gma.jpg
Watch the Cast of Broadway's 'Holler If You Hear Me' Perform 'California Love' on GMA
The cast of Broadway's newest musical, Holler If You Hear Me with music from Tupac Shakur, performed on Good Morning America this morning. Singing 'California Love', the cast (including the teriffic Christopher Jackson – read our interview here), show why they're the most energetic and inspiring group of actors on Broadway. Holler If Ya Hear [...]
http://www.dailyactor.com/2014/07/watch-cast-broadways-holler-hear-perform-california-love-gma/