Bryan Cranston on Money, Kissing Girls, and Working on a Complain-Free Set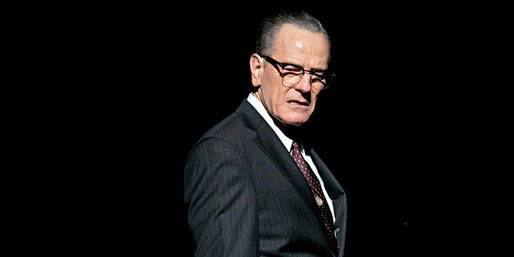 We've probably written more about Bryan Cranston over the last six months on Daily Actor than any other actor. And why shouldn't we? Cranston is riding a huge wave of popularity after the series finale of the award-winning television drama Breaking Bad and making his Broadway debut in All The Way. In an interview with The Guardian, Cranston speaks about how he chooses roles, how he got involved in acting, and the advantages of a good working environment.
Considering that Cranston is in a position to do just about anything he wants, many have been confused that after the end of Breaking Bad and during his run playing President Lyndon Johnson in All The Way Cranston will next be seen in… Godzilla. While many of us have an affinity for the movie monster, it does seem to be a rather eclectic choice based on his recent work. So how does Cranston choose his roles? He uses a point-scoring "assessment scale" that he devised, but Cranston claims that scale does not factor in money. He says, "Nowhere on that assessment scale is money. Money can only cloud your judgment. I'm not an enemy to money: I've had none and I've had much, and much is preferable."
This is not to say that Cranston totally discounts money when choosing a role. He says he'd be completely open to doing a voiceover for the right amount of money (after all, Cranston was in a commercial pitching Preparation H in the 1980s!). He points out, "because that's not an artistic decision: you wanna pay me that much? You got it! But no amount of money is going to make a bad script better."
Perhaps that harkens back to Cranston's earlier days before he ever thought about making a go of it as a professional actor. In fact, Cranston's decision to pursue an acting career had more to do with lust than money. A drama course that Cranston was taking while training to become a police officer changed his career path. At one point he was instructed to kiss a female student as an acting exercise. He recalls, "I asked the teacher: 'Should we kiss, or just pretend?' He was disgusted by my question. So I thought, OK, I hope she's not offended, but I'm really gonna kiss her. And it starts – and before I can even begin, she is on me. Open mouth, tongue, hands everywhere. It's very exciting."
The younger Cranston had yet to learn the secret of acting at that point. He continues the story by saying that he took the kissing as a sign of interest and asked her if she wanted to go get lunch together. He remembers, "She looked at me like I was a lost little puppy: 'Oh, no, no, I have a boyfriend.' And I thought: Oh, my God, that was acting! My head was spinning. That's when it clicked. She was just doing her job. And I realised this could be my work: to kiss girls! So I said: 'So long, police work.'"
Though it took him many years to become a major name, Cranston appreciates being able to handle stardom and dealing with the cast and crew as a mature person. He explains, "One benefit of being an actor for a long time and hitting a higher measure of success at 40, with Malcolm in the Middle, and 50 with Breaking Bad, is that I know what kind of set I don't want to work on. You want to be in an environment where everyone's respected – where the drama's in the show, not around the show. I've worked on sets that are angry, nervous, uncertain, and it just permeates everything. I had a policy on Breaking Bad: I wouldn't allow any bitching or complaining. And if you're going to say it's not allowed, you have to not do it yourself."
Latest Videos
http://www.dailyactor.com/wp-content/uploads/2014/08/bryan-cranston-emmy-award-speech.jpg
Watch: Bryan Cranston's Emmy Award Speech: "I love to act. It is a passion of mine and I will do it until my last breath."
The Emmy Awards weren't the most exciting awards show this year but with Bryan Cranston winning for Outstanding Actor in a Drama for Breaking Bad, we at least got to hear one heck of a fantastic acceptance speech. "I was a kid who always looked for the shortcut," he said. "I did happen to stumble […]
http://www.dailyactor.com/2014/08/watch-bryan-cranston-and-aaron-pauls-emmy-award-speeches/
http://www.dailyactor.com/wp-content/uploads/2014/08/audition-tapes-gerard-butler-aud.jpg
Audition Tapes: Gerard Butler Auditions for 'Dracula 2000′
Check out Gerard Butler auditioning for the role of Dracula in the movie, Dracula 2000. The film, about a group of thieves who break into a chamber expecting to find paintings, but instead find Dracula himself, also starred Christopher Plummer, Jonny Lee Miller and Nathan Fillion. Bulter has some sweet rock star hair, huh?
http://www.dailyactor.com/2014/08/audition-tapes-gerard-butler-dracula-2000/
http://www.dailyactor.com/wp-content/uploads/2014/08/interview-matt-dillon-and-carla.jpg
Interview: Matt Dillon and Carla Gugino Talk 'Wayward Pines'
FOX has a new limited-series that's got a terrific cast and interesting premise. It's called Wayward Pines and stars Matt Dillon, Carla Gugino, Melissa Leo, Toby Jones, Terrance Howard, Juliette Lewis, Tim Griffin and Shannyn Sossamon. The show, whose pilot was directed by M. Night Shyamalan, is about a Secret Service agent (Dillon) goes to […]
http://www.dailyactor.com/2014/08/interview-matt-dillon-carla-gugino-wayward-pines-comic-con/
http://www.dailyactor.com/wp-content/uploads/2014/08/interview-wayward-pines-stars-ti.jpg
Interview: 'Wayward Pines' Stars Tim Griffin and Shannyn Sossamon on the Show, Their Characters and More!
Griffin and Sossamonwere at Comic-Con where they sat in on some roundtable interviews to talk about the show.
http://www.dailyactor.com/2014/08/interview-wayward-pines-stars-tim-griffin-shannyn-sossamon-comic-con/
http://www.dailyactor.com/wp-content/uploads/2014/08/interview-m-night-shyamalan-talk.jpg
Interview: M. Night Shyamalan Talks 'Wayward Pines' and Why He Expanded a Young Actors Role on the Show
I talked to Shyamalan at Comic-Con in a roundtable interview where he talked about the cast, what he learned from working in TV and how young actor Charlie Tahan started out with a small part but as the story grew, so did his role.
http://www.dailyactor.com/2014/08/interview-m-night-shyamalan-wayward-pines-comic-con/