Bryan Cranston on Money, Kissing Girls, and Working on a Complain-Free Set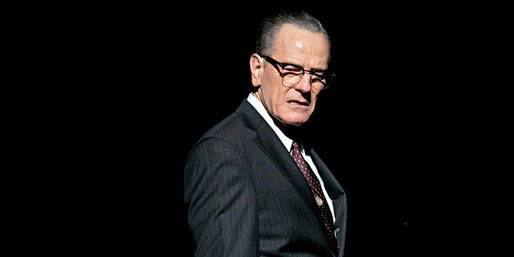 We've probably written more about Bryan Cranston over the last six months on Daily Actor than any other actor. And why shouldn't we? Cranston is riding a huge wave of popularity after the series finale of the award-winning television drama Breaking Bad and making his Broadway debut in All The Way. In an interview with The Guardian, Cranston speaks about how he chooses roles, how he got involved in acting, and the advantages of a good working environment.
Considering that Cranston is in a position to do just about anything he wants, many have been confused that after the end of Breaking Bad and during his run playing President Lyndon Johnson in All The Way Cranston will next be seen in… Godzilla. While many of us have an affinity for the movie monster, it does seem to be a rather eclectic choice based on his recent work. So how does Cranston choose his roles? He uses a point-scoring "assessment scale" that he devised, but Cranston claims that scale does not factor in money. He says, "Nowhere on that assessment scale is money. Money can only cloud your judgment. I'm not an enemy to money: I've had none and I've had much, and much is preferable."
This is not to say that Cranston totally discounts money when choosing a role. He says he'd be completely open to doing a voiceover for the right amount of money (after all, Cranston was in a commercial pitching Preparation H in the 1980s!). He points out, "because that's not an artistic decision: you wanna pay me that much? You got it! But no amount of money is going to make a bad script better."
Perhaps that harkens back to Cranston's earlier days before he ever thought about making a go of it as a professional actor. In fact, Cranston's decision to pursue an acting career had more to do with lust than money. A drama course that Cranston was taking while training to become a police officer changed his career path. At one point he was instructed to kiss a female student as an acting exercise. He recalls, "I asked the teacher: 'Should we kiss, or just pretend?' He was disgusted by my question. So I thought, OK, I hope she's not offended, but I'm really gonna kiss her. And it starts – and before I can even begin, she is on me. Open mouth, tongue, hands everywhere. It's very exciting."
The younger Cranston had yet to learn the secret of acting at that point. He continues the story by saying that he took the kissing as a sign of interest and asked her if she wanted to go get lunch together. He remembers, "She looked at me like I was a lost little puppy: 'Oh, no, no, I have a boyfriend.' And I thought: Oh, my God, that was acting! My head was spinning. That's when it clicked. She was just doing her job. And I realised this could be my work: to kiss girls! So I said: 'So long, police work.'"
Though it took him many years to become a major name, Cranston appreciates being able to handle stardom and dealing with the cast and crew as a mature person. He explains, "One benefit of being an actor for a long time and hitting a higher measure of success at 40, with Malcolm in the Middle, and 50 with Breaking Bad, is that I know what kind of set I don't want to work on. You want to be in an environment where everyone's respected – where the drama's in the show, not around the show. I've worked on sets that are angry, nervous, uncertain, and it just permeates everything. I had a policy on Breaking Bad: I wouldn't allow any bitching or complaining. And if you're going to say it's not allowed, you have to not do it yourself."
Latest Videos
Watch: Anna Gunn, Jacki Weaver and Virginia Kull on 'Gracepoint' and Strong Female Roles on TV
The actresses also speak candidly about how they feel about their characters in the series and why its important for TV to feature series with strong female leads.Check out the conversation above!
http://www.dailyactor.com/2014/10/watch-anna-gunn-jacki-weaver-virginia-kull-gracepoint-strong-female-roles-on-tv/
http://www.dailyactor.com/wp-content/uploads/2014/10/watch-cristin-milioti-talks-a-to.jpg
Watch: Cristin Milioti Talks 'A to Z', 'Once' and 'How I Met Your Mother'
Few actresses have the kind of rise as Cristin Milioti has had in the last few years. A virtual unknown in 2011, she became a bona fide Broadway star in the 2012 hit Once, appeared in a supporting role in the 2013 film The Wolf of Wall Street, and was featured as the titular mother […]
http://www.dailyactor.com/2014/10/watch-cristin-milioti-a-to-z-once-how-i-met-your-mother/
http://www.dailyactor.com/wp-content/uploads/2014/10/watch-bryan-cranstons-acting-adv.jpg
Watch: Bryan Cranston's Acting Advice
With Breaking Bad: The Complete Series Barrel being released on Blu-ray with all kinds of goodies today, it gives us yet another opportunity to reflect on the series' star Bryan Cranston and all of the incredible advice he has offered actors in the wake of his success. In a video he filmed in 2013 for […]
http://www.dailyactor.com/2014/10/bryan-cranston-acting-advice-video/
http://www.dailyactor.com/wp-content/uploads/2014/10/alex-sharp-curious-incident-of-the-dog.jpg
Alex Sharp Talks About His Broadway Debut in 'The Curious Incident of the Dog in the Night-Time' (video)
Alex Sharp went from working in a call-center and renovating houses to going to Julliard. And now, he's starring in one of the most talked about shows of the season, The Curious Incident of the Dog in the Night-Time. Check out this great, inspiring video!
http://www.dailyactor.com/2014/10/alex-sharp-broadway-debut-the-curious-incident-of-the-dog-in-the-night-time-video/
http://www.dailyactor.com/wp-content/uploads/2014/10/Its-only-a-play.jpg
Watch a Scene From Terrance McNally's, 'It's Only a Play', Featuring Nathan Lane and Micah Stock
Here's a quick scene from Terrance McNally's It's Only a Play, currently on Broadway at the Schoenfeld Theater. In this scene, Nathan Lane and Micah Stock meet for the first time. The show, about the opening night of a new play, also stars Matthew Broderick, Stockard Channing, F. Murray Abraham, Rupert Grint and Megan Mullally.
http://www.dailyactor.com/2014/10/watch-a-scene-terrance-mcnally-its-only-a-play-nathan-lane-micah-stock/