'Women on Broadway' Study Reveals Low Numbers for Female Directors and Writers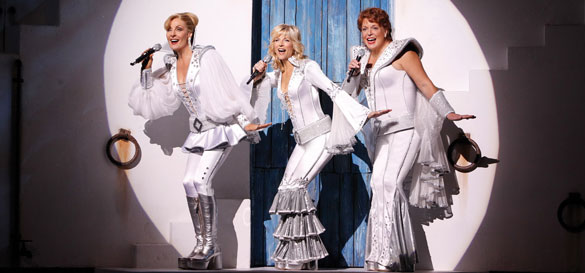 Though statistics show that over two-thirds of people in Broadway audiences are female and plenty of famous actresses continue to grace Broadway stages, backstage the numbers are quite different.
According to The Wrap, only 14 percent of the productions on Broadway during the 2012-2013 season were directed by women. Perhaps even more eye-opening is that of the 28 plays that opened during the same season only three were written by women and only one musical — Kinky Boots — had a score written by a woman. That woman happens to be quite famous herself, pop star Cyndi Lauper, suggesting that female newcomers have an even more difficult road to becoming Broadway composers. The Wrap compiled its statistics through research on the Internet Broadway Database.
One organization hoping to turn the tide is Works by Women, founded by theater director Ludovica Villar-Hauser. She says, "Our goal is 50/50 by 2020 – the hundred year anniversary of American suffrage."
One of the issues that the organization will have to hurdle is that most plays and musicals that are repeatedly revived or enjoy lengthy runs on Broadway are written by men — William Shakespeare, Arthur Miller, Tennessee Williams, August Wilson, Stephen Sondheim, Stephen Schwartz, Andrew Lloyd Webber, and so on. Obviously there are some exceptions — The Lion King was directed by Julie Taymor and isn't going anywhere anytime soon, the often-revived A Raisin in the Sun was written by Lorraine Hansberry, and the music for Once was co-written by Markéta Irglová, just to name two examples off the top of my head — but when it comes to most perennial favorites the writes are mainly men.
Turning that tide might be difficult, but something that the primarily female Broadway audience would likely support enthusiastically.
Latest Videos
http://www.dailyactor.com/wp-content/uploads/2014/08/audition-tapes-gerard-butler-aud.jpg
Audition Tapes: Gerard Butler Auditions for 'Dracula 2000′
Check out Gerard Butler auditioning for the role of Dracula in the movie, Dracula 2000. The film, about a group of thieves who break into a chamber expecting to find paintings, but instead find Dracula himself, also starred Christopher Plummer, Jonny Lee Miller and Nathan Fillion. Bulter has some sweet rock star hair, huh?
http://www.dailyactor.com/2014/08/audition-tapes-gerard-butler-dracula-2000/
http://www.dailyactor.com/wp-content/uploads/2014/08/interview-matt-dillon-and-carla.jpg
Interview: Matt Dillon and Carla Gugino Talk 'Wayward Pines'
FOX has a new limited-series that's got a terrific cast and interesting premise. It's called Wayward Pines and stars Matt Dillon, Carla Gugino, Melissa Leo, Toby Jones, Terrance Howard, Juliette Lewis, Tim Griffin and Shannyn Sossamon. The show, whose pilot was directed by M. Night Shyamalan, is about a Secret Service agent (Dillon) goes to […]
http://www.dailyactor.com/2014/08/interview-matt-dillon-carla-gugino-wayward-pines-comic-con/
http://www.dailyactor.com/wp-content/uploads/2014/08/interview-wayward-pines-stars-ti.jpg
Interview: 'Wayward Pines' Stars Tim Griffin and Shannyn Sossamon on the Show, Their Characters and More!
Griffin and Sossamonwere at Comic-Con where they sat in on some roundtable interviews to talk about the show.
http://www.dailyactor.com/2014/08/interview-wayward-pines-stars-tim-griffin-shannyn-sossamon-comic-con/
http://www.dailyactor.com/wp-content/uploads/2014/08/interview-m-night-shyamalan-talk.jpg
Interview: M. Night Shyamalan Talks 'Wayward Pines' and Why He Expanded a Young Actors Role on the Show
I talked to Shyamalan at Comic-Con in a roundtable interview where he talked about the cast, what he learned from working in TV and how young actor Charlie Tahan started out with a small part but as the story grew, so did his role.
http://www.dailyactor.com/2014/08/interview-m-night-shyamalan-wayward-pines-comic-con/
http://www.dailyactor.com/wp-content/uploads/2014/08/interview-wayward-pines-producer.jpg
Interview: 'Wayward Pines' Producers and Writer Talk Casting and the 10-Episode Format
FOX's upcoming limited series Wayward Pines looks very cool. The show is supposed to be very Twin Peaks-ish in tone which, just hearing that, definitely sparks my interest. The pilot was directed by M. Night Shyamalan and stars Matt Dillon, Carla Gugino, Melissa Leo, Toby Jones, Terrance Howard and Juliette Lewis and is about a […]
http://www.dailyactor.com/2014/08/interview-wayward-pines-creators-comic-con/