Screenplay: 'August: Osage County'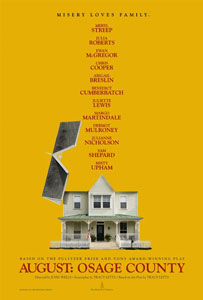 August: Osage County tells the dark, hilarious and deeply touching story of the strong-willed women of the Weston family, whose lives have diverged until a family crisis brings them back to the Midwest house they grew up in, and to the dysfunctional woman who raised them.
Letts' play made its Broadway debut in December 2007 after premiering at Chicago's legendary Steppenwolf Theatre earlier that year. It continued with a successful international run.
Cast
Meryl Streep as Violet Weston
Julia Roberts as Barbara Weston-Fordham
Ewan McGregor as Bill Fordham
Chris Cooper as Charles Aiken
Abigail Breslin as Jean Fordham
Benedict Cumberbatch as "Little" Charles Aiken
Juliette Lewis as Karen Weston
Margo Martindale as Mattie Fae Aiken
Dermot Mulroney as Steve Heidebrecht
Julianne Nicholson as Ivy Weston
Sam Shepard as Beverly Weston
Misty Upham as Johnna Monevata
Directed by:  John Wells

Written by: Tracey Letts
Click here for the script to August: Osage County
http://www.dailyactor.com/wp-content/uploads/2015/05/Chrissie-Fit.jpg
Chrissie Fit on How She Landed Her Role in 'Pitch Perfect 2′
"I remember getting the audition and being like, "This might not happen," just because it is such a massive movie." - Chrissie Fit
http://www.dailyactor.com/2015/05/chrissie-fit-on-how-she-landed-her-role-in-pitch-perfect-2/
http://www.dailyactor.com/wp-content/uploads/2015/05/Sam-Elliott.jpg
Sam Elliot on How he "F–ked" Himself Out of a Career as a Lead Actor
The rugged Sam Elliot has most often cast in character actor roles throughout his long career in film, though the 70 year-old Elliot thinks it wasn't always meant to be that way.
http://www.dailyactor.com/2015/05/sam-elliot-on-how-he-f-ked-himself-out-of-a-career-as-a-lead-actor/
http://www.dailyactor.com/wp-content/uploads/2015/05/Anna-Kendrick-Pitch-Perfect-2.jpg
Anna Kendrick Talks Hollywood and its Gender Bias
"As an actress you're perpetually about to be unemployed." - Anna Kendrick
http://www.dailyactor.com/2015/05/anna-kendrick-talks-hollywood-and-its-gender-bias/
http://www.dailyactor.com/wp-content/uploads/2015/05/tom-hardy-mad-max-fury-road.jpg
Tom Hardy on Fame, Acting School, and His 'Mad Respect' for Michael Fassbender
"Do what you love doing, do it well—everything should fit into place." - Tom Hardy
http://www.dailyactor.com/2015/05/tom-hardy-fame-acting-school-michael-fassbender/
http://www.dailyactor.com/wp-content/uploads/2015/05/cabaret-emma-stone.jpg
Emma Stone on How Broadway Boosted Her Confidence
"I feel more like I understand acting in a different way." - Emma Stone on Her Broadway Experience
http://www.dailyactor.com/2015/05/emma-stone-on-how-broadway-boosted-her-confidence/