'Rocky: The Musical' Star Andy Karl on Trying Out for the Role and Taking Hits to the Head: "I'm suffering for my art"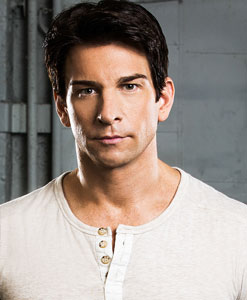 Famously, the story of the making of the 1976 film Rocky is an example of art imitating life. While writer/star Sylvester Stallone might not have been a professional boxer, he was a down-on-his-luck 29 year-old actor who became an overnight success with Rocky. Over three decades later Rocky is being turned into a Broadway musical, and art is again imitating life. 39 year-old star Andy Karl, a Broadway vet who has jumped from understudy role to supporting role throughout his career on stage, and has finally landed his first opening lead role.
He spoke to The New York Times about taking on the famous role, how his life has paralleled Rocky's, and what it's like to get slugged on stage.
Karl admits that the plot of Rocky inspired him to try out for the Broadway role after years of never opening a show as a lead actor. He recalls, "Something came to me. It's like: 'You're either going to sit here and whine about it and let it slip through your fingers, or you're going to stand up to the challenge. And if you don't get this role, at least you fought with everything you could to have it.'"
While he learned the script and songs and went through physical training he insisted to himself that it was all worth it. He explains, "I kept telling myself, like a mantra: 'I'm going to do this. This is going to happen.'" Through it all, Karl identified with the struggle of Rocky as a character. He adds, "His life is all about pain, cleaning up the bruises. I found that out for myself in training for the show. There's so much pain involved, and you have to reach beyond that pain."
In particular, one of the challenges of the musical is that during the boxing scenes the blows that Karl receives from his opponents aren't typical stage punches. He reveals, "There's ways in which you do this full-contact boxing that are safe but also dramatic. We want the audience to feel engrossed." Still, he admits, "I'm suffering for my art."
In fact, during one rehearsal Karl took a rough hit to the head. However, he refused to call it a day and returned to the scene after applying an icepack. The situation fit into Karl's insistence on remaining tough through the challenges he faces. He explains, "I felt like more of a man. I know how to take a punch. I know what it feels like. I'm not afraid of the gloves coming at me."
Karl better be prepared for the gloves coming at him when the musical gets seen by more critics and audiences. The first preview performance of Rocky was pushed back to February 13 from February 11, though the show will still open on March 13 as planned.
http://www.dailyactor.com/wp-content/uploads/2015/02/Helen-Mirren-The-Queen.jpg
Helen Mirren on Winning an Oscar: "It's an indescribable moment"
"It's hard to say, because you don't know what would have happened if you hadn't won" - Helen Mirren When Asked If Winning an Oscar Changed Her Career
http://www.dailyactor.com/2015/02/helen-mirren-on-winning-an-oscar/
http://www.dailyactor.com/wp-content/uploads/2015/02/anna-chlumsky-james-earl-jones.jpg
Anna Chlumsky on Her Broadway Debut: "For me, it was an opportunity to go in the direction that I hadn't played in a while"
"I think my personality lends itself to ensembles" - Anna Chlumsky
http://www.dailyactor.com/2015/02/anna-chlumsky-broadway-debut-ensemble/
http://www.dailyactor.com/wp-content/uploads/2015/02/joanne-froggatt-downton-abbey.jpg
'Downton Abbey' Star Joanne Froggatt on Creating Her Own Backstory and How She's "Not a Big-Budget Hollywood Type"
"They want the model type, classically beautiful, and I'm not" - Joanne Froggatt on Working in Hollywood
http://www.dailyactor.com/2015/02/downton-abbey-star-joanne-froggatt-character-backstory-hollywood/
http://www.dailyactor.com/wp-content/uploads/2015/01/al-pacino-the-humbling.jpg
Al Pacino on Acting: "It becomes such a part of your nature you rarely ever think about quitting"
After working infrequently in film over the last decade, Al Pacino appears in several films released in 2015, including The Humbling, an indie drama directed by Barry Levinson.
http://www.dailyactor.com/2015/02/al-pacino-on-acting-it-becomes-such-a-part-of-your-nature/
http://www.dailyactor.com/wp-content/uploads/2015/01/still-alice-julianne-moore.jpg
Julianne Moore Talks Her Research for 'Still Alice' and How the Movie Came Together
Moore talks about shooting Still Alice, research of Alzheimer's patients and how she didn't expect that the film would come together on such a small budget.
http://www.dailyactor.com/2015/02/julianne-moore-research-for-still-alice/