'Rocky: The Musical' Star Andy Karl on Trying Out for the Role and Taking Hits to the Head: "I'm suffering for my art"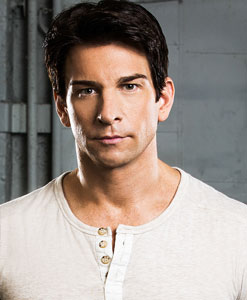 Famously, the story of the making of the 1976 film Rocky is an example of art imitating life. While writer/star Sylvester Stallone might not have been a professional boxer, he was a down-on-his-luck 29 year-old actor who became an overnight success with Rocky. Over three decades later Rocky is being turned into a Broadway musical, and art is again imitating life. 39 year-old star Andy Karl, a Broadway vet who has jumped from understudy role to supporting role throughout his career on stage, and has finally landed his first opening lead role.
He spoke to The New York Times about taking on the famous role, how his life has paralleled Rocky's, and what it's like to get slugged on stage.
Karl admits that the plot of Rocky inspired him to try out for the Broadway role after years of never opening a show as a lead actor. He recalls, "Something came to me. It's like: 'You're either going to sit here and whine about it and let it slip through your fingers, or you're going to stand up to the challenge. And if you don't get this role, at least you fought with everything you could to have it.'"
While he learned the script and songs and went through physical training he insisted to himself that it was all worth it. He explains, "I kept telling myself, like a mantra: 'I'm going to do this. This is going to happen.'" Through it all, Karl identified with the struggle of Rocky as a character. He adds, "His life is all about pain, cleaning up the bruises. I found that out for myself in training for the show. There's so much pain involved, and you have to reach beyond that pain."
In particular, one of the challenges of the musical is that during the boxing scenes the blows that Karl receives from his opponents aren't typical stage punches. He reveals, "There's ways in which you do this full-contact boxing that are safe but also dramatic. We want the audience to feel engrossed." Still, he admits, "I'm suffering for my art."
In fact, during one rehearsal Karl took a rough hit to the head. However, he refused to call it a day and returned to the scene after applying an icepack. The situation fit into Karl's insistence on remaining tough through the challenges he faces. He explains, "I felt like more of a man. I know how to take a punch. I know what it feels like. I'm not afraid of the gloves coming at me."
Karl better be prepared for the gloves coming at him when the musical gets seen by more critics and audiences. The first preview performance of Rocky was pushed back to February 13 from February 11, though the show will still open on March 13 as planned.
Latest Videos
http://www.dailyactor.com/wp-content/uploads/2014/08/audition-tapes-gerard-butler-aud.jpg
Audition Tapes: Gerard Butler Auditions for 'Dracula 2000′
Check out Gerard Butler auditioning for the role of Dracula in the movie, Dracula 2000. The film, about a group of thieves who break into a chamber expecting to find paintings, but instead find Dracula himself, also starred Christopher Plummer, Jonny Lee Miller and Nathan Fillion. Bulter has some sweet rock star hair, huh?
http://www.dailyactor.com/2014/08/audition-tapes-gerard-butler-dracula-2000/
http://www.dailyactor.com/wp-content/uploads/2014/08/interview-matt-dillon-and-carla.jpg
Interview: Matt Dillon and Carla Gugino Talk 'Wayward Pines'
FOX has a new limited-series that's got a terrific cast and interesting premise. It's called Wayward Pines and stars Matt Dillon, Carla Gugino, Melissa Leo, Toby Jones, Terrance Howard, Juliette Lewis, Tim Griffin and Shannyn Sossamon. The show, whose pilot was directed by M. Night Shyamalan, is about a Secret Service agent (Dillon) goes to […]
http://www.dailyactor.com/2014/08/interview-matt-dillon-carla-gugino-wayward-pines-comic-con/
http://www.dailyactor.com/wp-content/uploads/2014/08/interview-wayward-pines-stars-ti.jpg
Interview: 'Wayward Pines' Stars Tim Griffin and Shannyn Sossamon on the Show, Their Characters and More!
Griffin and Sossamonwere at Comic-Con where they sat in on some roundtable interviews to talk about the show.
http://www.dailyactor.com/2014/08/interview-wayward-pines-stars-tim-griffin-shannyn-sossamon-comic-con/
http://www.dailyactor.com/wp-content/uploads/2014/08/interview-m-night-shyamalan-talk.jpg
Interview: M. Night Shyamalan Talks 'Wayward Pines' and Why He Expanded a Young Actors Role on the Show
I talked to Shyamalan at Comic-Con in a roundtable interview where he talked about the cast, what he learned from working in TV and how young actor Charlie Tahan started out with a small part but as the story grew, so did his role.
http://www.dailyactor.com/2014/08/interview-m-night-shyamalan-wayward-pines-comic-con/
http://www.dailyactor.com/wp-content/uploads/2014/08/interview-wayward-pines-producer.jpg
Interview: 'Wayward Pines' Producers and Writer Talk Casting and the 10-Episode Format
FOX's upcoming limited series Wayward Pines looks very cool. The show is supposed to be very Twin Peaks-ish in tone which, just hearing that, definitely sparks my interest. The pilot was directed by M. Night Shyamalan and stars Matt Dillon, Carla Gugino, Melissa Leo, Toby Jones, Terrance Howard and Juliette Lewis and is about a […]
http://www.dailyactor.com/2014/08/interview-wayward-pines-creators-comic-con/