Review: 'The Monuments Men'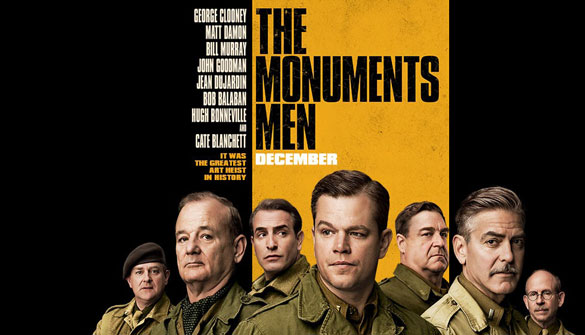 To say The Monuments Men is a disappointment is a huge understatement.
The film was originally scheduled to open in the crowded Christmas season but due to some post-FX shots, it wasn't finished in time. Moving the film wasn't a bad idea though. February is a wasteland and to try and find good films is sometimes a difficult task. And, having such a powerhouse cast (George Clooney, Matt Damon, Bill Murray, John Goodman, Jean Dujardin, Bob Balaban, Hugh Bonneville, and Cate Blanchett) should conceivably bring in the audience.
Unfortunately, Clooney, as director and co-writer, delivers a slow and meandering film that weaves in and has no real drive or push to get to the ending of the story.
The film, based on a true story, starts off wonderfully. During World War II, Hitler has this idea that he's going to build the world's best art museum. So, he tasks his Nazi's to find valuable art pieces, steal them and put them in safe keeping until the museum can be built.
When American Frank Stokes (Clooney) tells President Roosevelt the news, he's given the chance to round up his top guys and find these treasures.
The opening scenes are really fun; Clooney acts as the Sgt. Fury of the group and recruits his own set of Avengers; seven museum directors, curators, and art historians. They clearly aren't ready for war but in order to serve their country, they have to go through some basic training. To see Goodman and Murray in these scenes are a treat.
But, as soon as they get overseas to start the mission, the guys break off into separate groups and the film loses all of its momentum. Clooney, usually a fine director, seems to sacrifice the story for moments and scenes that aren't crucial to the overall plot. He gives each Monument Man a nice little bit that while nice, doesn't add anything and it just makes the film drag more than it actually should. Did he fall in love with his scenes too much? Feels like it, yeah.
Damon's character goes off by himself early on in the film and meets up with Blanchett, who plays the secretary of one of the main Nazi thieves. Honestly, these scenes didn't even need to be included in the film. They could have been cut out entirely and it wouldn't have affected anything plot-wise.
That's not to say the film is bad. It's slow at times and you just wish things would move along. The actors are in fine form, especially Murray, Goodman and Balaban. Those three are the heart of the film. And hey, if anyone wants to make a movie just staring those three, I'd be first in line.  
http://www.dailyactor.com/wp-content/uploads/2015/02/Larry-David.jpg
Larry David on Who he Wanted to Star in his Broadway Play 'Fish in the Dark': "Anybody but me"
"It's one of the reasons I didn't like acting. I don't like not being able to interject" – Larry David on acting with a script Who doesn't like Larry David? Well, to be honest, Larry David probably doesn't like Larry David. In fact, David didn't even want to cast himself in the lead of […]
http://www.dailyactor.com/2015/02/larry-david-on-who-he-wanted-to-star-broadway-play-fish-in-the-dark/
http://www.dailyactor.com/wp-content/uploads/2015/02/Helen-Mirren-The-Queen.jpg
Helen Mirren on Winning an Oscar: "It's an indescribable moment"
"It's hard to say, because you don't know what would have happened if you hadn't won" - Helen Mirren When Asked If Winning an Oscar Changed Her Career
http://www.dailyactor.com/2015/02/helen-mirren-on-winning-an-oscar/
http://www.dailyactor.com/wp-content/uploads/2015/02/anna-chlumsky-james-earl-jones.jpg
Anna Chlumsky on Her Broadway Debut: "For me, it was an opportunity to go in the direction that I hadn't played in a while"
"I think my personality lends itself to ensembles" - Anna Chlumsky
http://www.dailyactor.com/2015/02/anna-chlumsky-broadway-debut-ensemble/
http://www.dailyactor.com/wp-content/uploads/2015/02/joanne-froggatt-downton-abbey.jpg
'Downton Abbey' Star Joanne Froggatt on Creating Her Own Backstory and How She's "Not a Big-Budget Hollywood Type"
"They want the model type, classically beautiful, and I'm not" - Joanne Froggatt on Working in Hollywood
http://www.dailyactor.com/2015/02/downton-abbey-star-joanne-froggatt-character-backstory-hollywood/
http://www.dailyactor.com/wp-content/uploads/2015/01/al-pacino-the-humbling.jpg
Al Pacino on Acting: "It becomes such a part of your nature you rarely ever think about quitting"
After working infrequently in film over the last decade, Al Pacino appears in several films released in 2015, including The Humbling, an indie drama directed by Barry Levinson.
http://www.dailyactor.com/2015/02/al-pacino-on-acting-it-becomes-such-a-part-of-your-nature/