Review: San Diego's Moxie Theatre Delivers with the Terrific 'Crumbs from the Table of Joy'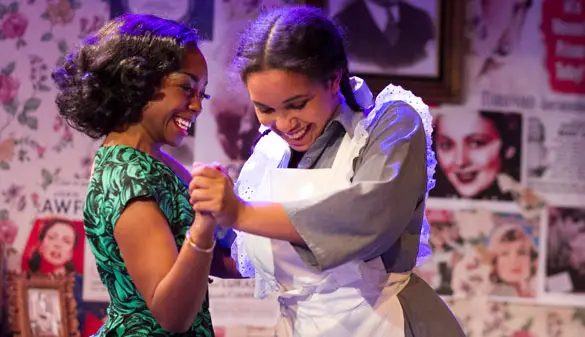 Moxie Theatre may be small in size, but it certainly does pack a punch. A terrific, wonderful punch.
The theatre is currently offering up Pulitzer Prize winning playwright Lynn Nottage's Crumbs from the Table of Joy, a coming of age story that's about race and changing times. Set in 1950's, the Crump family is in search of a new life. Daughters Ermina (Deja Fields) and Ernestine (Jada Temple) have just lost their mother and their father, Godfrey (Vimel Sephus) has packed them up and moved them to Brooklyn to follow the spiritual Father Divine's 'Mission'.
Godfrey, works in a bakery and is trying to provide for his daughters. When he's home, he's there but mentally, he's elsewhere and the girls walk around on pins and needles trying not to aggravate him. No loud music, dating or any type of fun is allowed. It's a life that they've unfortunately grown accustomed to.
But, when their whirlwind of an aunt Lily (Cashae Monya) moves in, everything changes. She comes in preaching feminism and shows the girls a different way of life. She's not the best role model for a pair of young girls but she breathes energy into the stale household, for better or worse.
When Godfrey suddenly marries and brings home a white woman from Germany (Jennifer Eve Thorn), that's just another match to throw on the household tinderbox.
The play is wonderfully directed by Delicia Turner Sonnenberg. She knows how to wring a scene dry of every nuance and there wasn't one time my mind drifted from what was happening on-stage. And with my ADD-rattled brain, that's a true feat.
Sonnenberg, though, is helped by a cast that is almost perfect. Sephus' Godfrey is the strong-silent type and you can feel his intensity from your seat. Monya is terrific. From her very first entrance, she's got a monologue that she kills and she just doesn't stop.
But the true light in this show comes from Jada Temple. She carries the show and her Ernestine, with everything that is thrown at her, always manages to be hopeful and true. Temple is fantastic, especially at the end of the show where she fills us in on the what happens in each characters lives. It's sad, tragic but yet, uplifting. In her show bio, she writes that she's moving to New York in the fall. I have no doubt that good things are in her future.
Crumbs from the Table of Joy runs at Moxie Theatre (6663 El Cajon Blvd Suite N, San Diego, CA 92115) until March 2nd.
For tickets and more information: www.moxietheatre.com/crumbs
Written by Lynn Nottage. Directed by Delicia Turner Sonnenberg
Cast: Deja Fields, Cashae Monya, Vimel Sephus, Jada Temple, Jennifer Eve Thorn
http://www.dailyactor.com/wp-content/uploads/2015/03/alec-baldwin.jpg
Alec Baldwin On Keeping SNL Fresh, His Daily Routine and His Ideal Role
Alec Baldwin is an ordinary guy. Well, that's what he said in a recent Reddit AMA, anyway. The actor took the chance to open up about what his average day was like, holding the public's interest and why he chooses not to do many films any more. "My average day is pretty ordinary," he says. […]
http://www.dailyactor.com/2015/04/alec-baldwin-snl-daily-routine-his-ideal-role/
http://www.dailyactor.com/wp-content/uploads/2015/03/steve-buscemi-boardwalk-empire.jpg
Steve Buscemi's "Ask Me Anything" Chat on Reddit: "I don't think you can point to any one character and say that that's 'me'"
"With any role I play, I only have myself" - Steve Buscemi
http://www.dailyactor.com/2015/03/steve-buscemi-ask-me-anything-chat-on-reddit/
http://www.dailyactor.com/wp-content/uploads/2015/03/sally-field-hello-my-name-is-doris.jpg
Sally Field On Improvisation, How She Chooses Her Roles and 'Hello, My Name is Doris'
"There's a dearth of roles for women. I turn down a lot of stuff because there's just nothing in it for me to do." – Sally Field Actress Sally Field put in an appearance at SXSW last week to promote her new film, Hello My Name is Doris. Michael Showalter has directed the movie […]
http://www.dailyactor.com/2015/03/sally-field-improvisation-roles-hello-my-name-is-doris/
http://www.dailyactor.com/wp-content/uploads/2015/03/Will-Ferrell-Get-Hard.jpg
Will Ferrell on His Comedy Roots, 'Get Hard' and His Favorite Roles to Play
Ferrell was on hand to take part in a Q&A and spoke more about how working with Hart came about. When asked if he chooses his projects based on who he wants to work with, or the script itself, Ferrell explained that each project was different.
http://www.dailyactor.com/2015/03/will-ferrell-on-his-comedy-roots-get-hard-and-his-favorite-roles-to-play/
http://www.dailyactor.com/wp-content/uploads/2015/03/daniel-dae-kim.jpg
Hawaii Five-0's Daniel Dae Kim Talks Directorial Debut: "The first day I had to yell action, it was kind of odd"
Hawaii Five-0's Daniel Dae Kim, who fans know best as Chin Ho Kelly, recently made his directorial debut on the CBS series. Kim shared his experience with The Hollywood Reporter, saying that his experience was "weird at first," as he had to direct his co-stars. "The first day I had to yell action, it was […]
http://www.dailyactor.com/2015/03/hawaii-five-0-daniel-dae-kim-directorial-debut/