Kelli O'Hara on Co-Starring with Friend Steven Pasquale in 'The Bridges of Madison County' and Why She Stretches Before Singing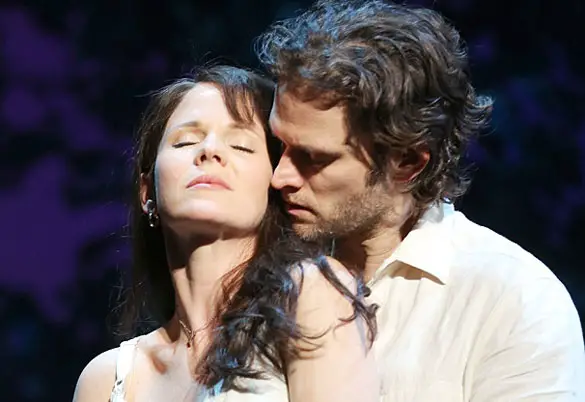 Despite the influx of Hollywood stars on Broadway stages in recent years, the theater community in New York City can often seem like a small world. It's not uncommon for actors to find themselves working with actors over again in different shows. Such is the case with Kelli O'Hara and Steven Pasquale, who stars as the leads in the new musical The Bridges of Madison County. O'Hara and Pasquale previously appeared together in the Seattle and Chicago tryouts of The Light in the Piazza, which was incidentally also directed by Bridges director Bartlett Sher.
However, Pasquale's role on TV's Rescue Me prevented him from playing that role on Broadway. But nearly ten years later the pair finally get to work together on Broadway. O'Hara spoke to The Wall Street Journal about working with Pasquale and why she thinks it's important to stretch before singing.
O'Hara points out that co-starring with longtime friend Pasquale is one of the things that makes this musical enjoyable. She explains, "Steve and I have known each other for so long. We met really early on, toward the beginning of both of our moves here. So that was easy." She later adds, "You get on stage and you can really lose yourself in something because of the trust you have in a person."
Yet although Pasquale is the male lead, make no mistake — O'Hara is the star, and she is on the stage the longest. "I've always been too confident because I'm pretty hardy, you know? I usually have been. But then you bring babies into the mix who bring colds from school, or you're not sleeping enough. So, this past week I kind of thought well, it's time to stop coffee. I drink so much water. I have a face steamer, I steam my voice. I stretch my body so my body's warm so I can actually support my voice. I think people think the voice is one thing but it's basically like being a runner. If you don't stretch, you could pull something."
http://www.dailyactor.com/wp-content/uploads/2015/01/watch-al-pacino-talks-the-humbli.jpg
Watch: Al Pacino Talks 'The Humbling' and His Extraordinary Career
In this conversation with Al Pacino talks about his role in The Humbling -- including working with Greta Gerwig -- and his historic acting career
http://www.dailyactor.com/2015/01/watch-al-pacino-extraordinary-career/
http://www.dailyactor.com/wp-content/uploads/2015/01/watch-oscar-nominee-steve-carell.jpg
Watch: Oscar Nominee Steve Carell Talks Improv, Auditioning for 'The Office' and 'Foxcatcher'
Carell talks about his entire career as an actor, including his background in improv, how he landed the Michael Scott role on The Office, and Foxcatcher
http://www.dailyactor.com/2015/01/oscar-nominee-steve-carell-improv-auditioning-for-the-office-foxcatcher/
http://www.dailyactor.com/wp-content/uploads/2015/01/ethan-hawke-ellar-coltrane-boyhood.jpg
Ethan Hawke Calls 'Boyhood' the "most special endeavor of my life"
Ethan Hawke is riding high with his fourth Oscar nomination for the Richard Linklater-directed Boyhood. In a recent "Ask Me Anything" on Reddit, the 44-year-old actor gave some thoughtful insight into his career and the 12-year creative endeavor that became the biggest film of the Oscar season. When asked what was the most difficult thing about […]
http://www.dailyactor.com/2015/01/ethan-hawke-boyhood-reddit-amaife/
http://www.dailyactor.com/wp-content/uploads/2015/01/martha-plimpton-a-delicate-balance.jpg
Martha Plimpton Takes a Refreshing Approach to a Long-Lasting Career
Martha Plimpton is an actress who enjoys the work, she's not in it for the fame. The proof is in her continually excellent work that she is doing on-screen and on the stage. She's currently starring in A Delicate Balance on Broadway. It's the audience who gives her the ultimate thrill. "I try to get […]
http://www.dailyactor.com/2015/01/martha-plimpton-long-lasting-career/
http://www.dailyactor.com/wp-content/uploads/2015/01/watch-michael-keaton-talks-candi.jpg
Watch: Michael Keaton Talks Candidly About His Career and His Approach to Acting in 'Birdman'
In this nearly 90 minute conversation, Michael Keaton is his usual affable self but is also remarkably candid about his career and his approach to acting.
http://www.dailyactor.com/2015/01/michael-keaton-career-approach-to-acting-birdman/