Hugh Jackman Returns to Host The 68th Annual Tony Awards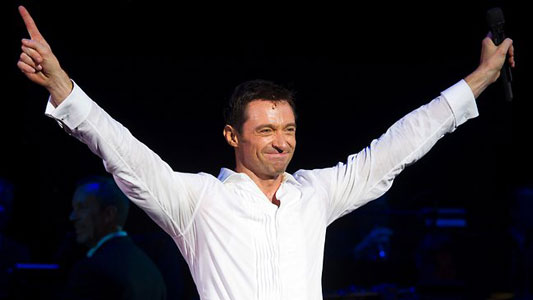 Tony Award winner, Academy Award® nominated and Golden Globe-winning actor Hugh Jackman is returning to host The 68TH Annual Tony Awards!
The show will be at Radio City Music Hall and airs on Sunday, June 8 (8:00-11:00 PM, live ET/delayed PT) on CBS.
This will be Jackman's fourth time hosting the Tony Awards. He previously hosted the 57th, 58th, and 59th Annual Tony Awards. Jackman received an Emmy Award for hosting the 58th Annual Tony Awards in the category of Outstanding Individual Performance in a Variety or Music Program.
"We are thrilled that Hugh will be joining us, once again, at Radio City Music Hall to host 'The 68th Annual Tony Awards,' said Charlotte St. Martin, Executive Director of The Broadway League and Heather Hitchens, Executive Director of the American Theatre Wing. "Hugh is an extraordinary talent and loyal supporter of the Broadway community – whether he is on-stage or in the audience – and we are honored to have him back as host."
Jackman made his return to Broadway his one-man show "Hugh Jackman – Back on Broadway" in the fall of 2011. Although the show ran only until the end of the year, Jackman's continued dedication to the Broadway community was feted at the 2012 Tony Awards, where he received a Special Award from the Tony Awards Administration Committee, recognizing his accomplishments both as a performer as well as a humanitarian. In the fall of 2009, Broadway-goers could see Jackman in the Keith Huff penned "A Steady Rain" with Daniel Craig.
http://www.dailyactor.com/wp-content/uploads/2015/05/Caitriona-Balfe-Outlander.jpg
Outlander's Caitriona Balfe On The Emotional Toll of Filming Violent Scenes
"Having to put yourself in that place is tough. To sit in that emotional space, especially when you're doing it day after day." - Caitriona Balfe
http://www.dailyactor.com/2015/05/outlander-catriona-balfe-emotional-toll-of-filming-violent-scenes/
http://www.dailyactor.com/wp-content/uploads/2015/05/Chrissie-Fit.jpg
Chrissie Fit on How She Landed Her Role in 'Pitch Perfect 2′
"I remember getting the audition and being like, "This might not happen," just because it is such a massive movie." - Chrissie Fit
http://www.dailyactor.com/2015/05/chrissie-fit-on-how-she-landed-her-role-in-pitch-perfect-2/
http://www.dailyactor.com/wp-content/uploads/2015/05/Sam-Elliott.jpg
Sam Elliot on How he "F–ked" Himself Out of a Career as a Lead Actor
The rugged Sam Elliot has most often cast in character actor roles throughout his long career in film, though the 70 year-old Elliot thinks it wasn't always meant to be that way.
http://www.dailyactor.com/2015/05/sam-elliot-on-how-he-f-ked-himself-out-of-a-career-as-a-lead-actor/
http://www.dailyactor.com/wp-content/uploads/2015/05/Anna-Kendrick-Pitch-Perfect-2.jpg
Anna Kendrick Talks Hollywood and its Gender Bias
"As an actress you're perpetually about to be unemployed." - Anna Kendrick
http://www.dailyactor.com/2015/05/anna-kendrick-talks-hollywood-and-its-gender-bias/
http://www.dailyactor.com/wp-content/uploads/2015/05/tom-hardy-mad-max-fury-road.jpg
Tom Hardy on Fame, Acting School, and His 'Mad Respect' for Michael Fassbender
"Do what you love doing, do it well—everything should fit into place." - Tom Hardy
http://www.dailyactor.com/2015/05/tom-hardy-fame-acting-school-michael-fassbender/