Highlights from Mary-Louise Parker's Reddit AMA: "I'm Mary-Louise Parker, actress, writer and goat-herder"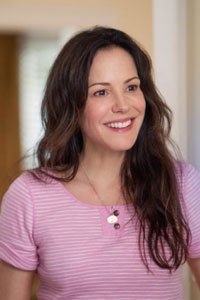 Reddit's Ask Me Anything has become a fantastic way for celebrities to interact with their fans. On Wednesday, actress Mary-Louise Parker participated in the site's chat and talked about how she loves her "kids, my goats and my donkey named Seamus" as well as having "a sweet ass."
In addition to her quirky sense of humor, the 49-year-old star talked about her career with questions fielded from her fans.
When asked where she found inspiration for characters like Nancy Botwin from Weeds or Ruth from the 1991 film, Fried Green Tomatoes, Parker gave some interesting perspective on those roles.
She said, "Ruth was based on my mother largely. I mean, she was a character in a book first, so I tried to draw from the text. But I used my mother a lot in bringing her to life. Nancy felt very separate from me, which is what made her fun to play. Her instincts were very different from my instincts, and the scenes where I felt like I failed were when I erred more on the side of Mary-Louise than Nancy. There were several scenes that I asked to reshoot that I actually did reshoot. When you do a show for that long you run the danger of, at times, starting to creep into your character."
It may surprise some that Parker turned down Teri Hatcher's role on Desperate Housewives to do Weeds instead. A fan asked if there was a particular role she regretted turning down.
"I don't. You're usually not the first choice for any job, so someone probably turned down half the jobs that I've done, and when I think of the things I have turned down, one actress that I know in particular has ended up doing some of them, and each time I thought she did so much better than I would have. I'm not a competitive person with other women or other actresses. With my female actress friends I'm always proud and happy for them to do well," she responded.
The multi-talented star has moved fluidly between TV, film and the theatre. She revealed that she doesn't have a favorite medium with good reason.
"I like working, period," she shared. "Generally, "I've enjoyed stage more, but as I get older, and now that I'm a mother, stage can be incredibly taxing, so I have to be really in love with a play to decide to do it."
As for the one film she recommends everyone watch, it's a true classic.
"I have a hard time turning on my TV. I don't watch a ton of movies. I would say I love To Kill a Mockingbird and I love the scene with Gregory Peck, when he comes back and he has that long monologue about everything that happened and you can only see part of his face, which I think is kind of remarkable, that coverage of it – that the camera doesn't move and it shows how much you can get from someone when really all you can see is their back. He's doing it all with what they're not showing you," she said.
For a full schedule of upcoming reddit AMA chats, follow them on Twitter.
Latest Videos
http://www.dailyactor.com/wp-content/uploads/2014/10/alex-sharp-curious-incident-of-the-dog.jpg
Alex Sharp Talks About His Broadway Debut in 'The Curious Incident of the Dog in the Night-Time' (video)
Alex Sharp went from working in a call-center and renovating houses to going to Julliard. And now, he's starring in one of the most talked about shows of the season, The Curious Incident of the Dog in the Night-Time. Check out this great, inspiring video!
http://www.dailyactor.com/2014/10/alex-sharp-broadway-debut-the-curious-incident-of-the-dog-in-the-night-time-video/
http://www.dailyactor.com/wp-content/uploads/2014/10/Its-only-a-play.jpg
Watch a Scene From Terrance McNally's, 'It's Only a Play', Featuring Nathan Lane and Micah Stock
Here's a quick scene from Terrance McNally's It's Only a Play, currently on Broadway at the Schoenfeld Theater. In this scene, Nathan Lane and Micah Stock meet for the first time. The show, about the opening night of a new play, also stars Matthew Broderick, Stockard Channing, F. Murray Abraham, Rupert Grint and Megan Mullally.
http://www.dailyactor.com/2014/10/watch-a-scene-terrance-mcnally-its-only-a-play-nathan-lane-micah-stock/
http://www.dailyactor.com/wp-content/uploads/2014/10/birdman-director-alejandro-g-ina.jpg
'Birdman' Director Alejandro G. Iñárritu Narrates a Scene from the Film Featuring Michael Keaton and Edward Norton
Director Alejandro G. Iñárritu narrates a scene from Birdman or The Unexpected Virtue of Ignorance that features stars Michael Keaton and Edward Norton. The film is wonderful and if it's playing in your town, definitely check it out!
http://www.dailyactor.com/2014/10/birdman-director-alejandro-g-inarritu-michael-keaton-edward-norton/
http://www.dailyactor.com/wp-content/uploads/2014/10/the-cast-of-mad-men-on-the-final.jpg
The Cast of 'Mad Men' on the Final Season and More
Though the AMC television series Mad Men might not carry the same cultural weight that it did a few years ago (splitting your final season over two years might do that to you), the second half of the show's final season is expected to be full of powerful performances from its ensemble cast. With the […]
http://www.dailyactor.com/2014/10/cast-of-mad-men-final-season/
http://www.dailyactor.com/wp-content/uploads/2014/10/behind-the-scenes-of-a-sex-scene.jpg
Behind the Scenes of a Sex Scene with Patrick Wilson, Brooklyn Decker and Director Joe Carnahan
Director Joe Carnahan is giving viewers an inside look at what it is like to film a big screen Hollywood sex scene, as confirmed by Gawker. Carnahan released a brief video clip taken from the set of his latest film Stretch starring supermodel and actress Brooklyn Decker and Patrick Wilson. The video showcases the two […]
http://www.dailyactor.com/2014/10/behind-the-scenes-of-a-sex-scene-patrick-wilson-brooklyn-decker-director-joe-carnahan/