Highlights from Mary-Louise Parker's Reddit AMA: "I'm Mary-Louise Parker, actress, writer and goat-herder"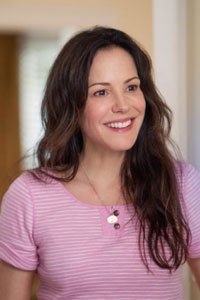 Reddit's Ask Me Anything has become a fantastic way for celebrities to interact with their fans. On Wednesday, actress Mary-Louise Parker participated in the site's chat and talked about how she loves her "kids, my goats and my donkey named Seamus" as well as having "a sweet ass."
In addition to her quirky sense of humor, the 49-year-old star talked about her career with questions fielded from her fans.
When asked where she found inspiration for characters like Nancy Botwin from Weeds or Ruth from the 1991 film, Fried Green Tomatoes, Parker gave some interesting perspective on those roles.
She said, "Ruth was based on my mother largely. I mean, she was a character in a book first, so I tried to draw from the text. But I used my mother a lot in bringing her to life. Nancy felt very separate from me, which is what made her fun to play. Her instincts were very different from my instincts, and the scenes where I felt like I failed were when I erred more on the side of Mary-Louise than Nancy. There were several scenes that I asked to reshoot that I actually did reshoot. When you do a show for that long you run the danger of, at times, starting to creep into your character."
It may surprise some that Parker turned down Teri Hatcher's role on Desperate Housewives to do Weeds instead. A fan asked if there was a particular role she regretted turning down.
"I don't. You're usually not the first choice for any job, so someone probably turned down half the jobs that I've done, and when I think of the things I have turned down, one actress that I know in particular has ended up doing some of them, and each time I thought she did so much better than I would have. I'm not a competitive person with other women or other actresses. With my female actress friends I'm always proud and happy for them to do well," she responded.
The multi-talented star has moved fluidly between TV, film and the theatre. She revealed that she doesn't have a favorite medium with good reason.
"I like working, period," she shared. "Generally, "I've enjoyed stage more, but as I get older, and now that I'm a mother, stage can be incredibly taxing, so I have to be really in love with a play to decide to do it."
As for the one film she recommends everyone watch, it's a true classic.
"I have a hard time turning on my TV. I don't watch a ton of movies. I would say I love To Kill a Mockingbird and I love the scene with Gregory Peck, when he comes back and he has that long monologue about everything that happened and you can only see part of his face, which I think is kind of remarkable, that coverage of it – that the camera doesn't move and it shows how much you can get from someone when really all you can see is their back. He's doing it all with what they're not showing you," she said.
For a full schedule of upcoming reddit AMA chats, follow them on Twitter.
Latest Videos
http://www.dailyactor.com/wp-content/uploads/2014/09/audtion-tapes-robin-wright-and-h.jpg
Audition Tapes: Robin Wright and Haley Joel Osment Audition with Tom Hanks for 'Forrest Gump'
Check out Robin Wright auditioning for the role of Jenny from Forest Gump opposite Tom Hanks. Interestingly enough, Hanks doesn't quite have Gump's southern drawl down just yet while the other actors audition with him. In fact, Hanks would base Gump's voice on the voice of Michael Conner Humphreys, who played the young Forrest and […]
http://www.dailyactor.com/2014/09/audtion-tapes-robin-wright-haley-joel-osment-tom-hanks-forrest-gump/
http://www.dailyactor.com/wp-content/uploads/2014/08/bryan-cranston-emmy-award-speech.jpg
Watch: Bryan Cranston's Emmy Award Speech: "I love to act. It is a passion of mine and I will do it until my last breath."
The Emmy Awards weren't the most exciting awards show this year but with Bryan Cranston winning for Outstanding Actor in a Drama for Breaking Bad, we at least got to hear one heck of a fantastic acceptance speech. "I was a kid who always looked for the shortcut," he said. "I did happen to stumble […]
http://www.dailyactor.com/2014/08/watch-bryan-cranston-and-aaron-pauls-emmy-award-speeches/
http://www.dailyactor.com/wp-content/uploads/2014/08/audition-tapes-gerard-butler-aud.jpg
Audition Tapes: Gerard Butler Auditions for 'Dracula 2000′
Check out Gerard Butler auditioning for the role of Dracula in the movie, Dracula 2000. The film, about a group of thieves who break into a chamber expecting to find paintings, but instead find Dracula himself, also starred Christopher Plummer, Jonny Lee Miller and Nathan Fillion. Bulter has some sweet rock star hair, huh?
http://www.dailyactor.com/2014/08/audition-tapes-gerard-butler-dracula-2000/
http://www.dailyactor.com/wp-content/uploads/2014/08/interview-matt-dillon-and-carla.jpg
Interview: Matt Dillon and Carla Gugino Talk 'Wayward Pines'
FOX has a new limited-series that's got a terrific cast and interesting premise. It's called Wayward Pines and stars Matt Dillon, Carla Gugino, Melissa Leo, Toby Jones, Terrance Howard, Juliette Lewis, Tim Griffin and Shannyn Sossamon. The show, whose pilot was directed by M. Night Shyamalan, is about a Secret Service agent (Dillon) goes to […]
http://www.dailyactor.com/2014/08/interview-matt-dillon-carla-gugino-wayward-pines-comic-con/
http://www.dailyactor.com/wp-content/uploads/2014/08/interview-wayward-pines-stars-ti.jpg
Interview: 'Wayward Pines' Stars Tim Griffin and Shannyn Sossamon on the Show, Their Characters and More!
Griffin and Sossamonwere at Comic-Con where they sat in on some roundtable interviews to talk about the show.
http://www.dailyactor.com/2014/08/interview-wayward-pines-stars-tim-griffin-shannyn-sossamon-comic-con/