'Game of Thrones' Star Kit Harington Knows His Way Around Ash, Thanks to his Role in 'Pompeii'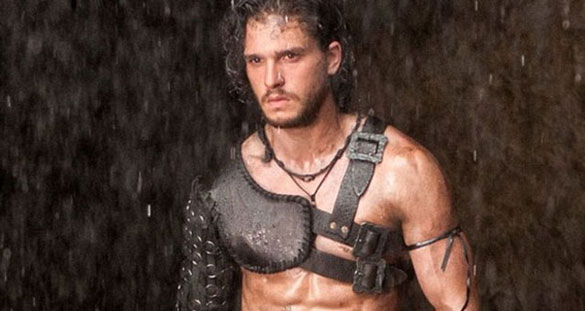 When actors make an action film, there are always hazards to the job. Just ask Kit Harington about his time on set during the filming of Pompeii. He has stories to tell.
The Game of Thrones star shared, "It was boiling hot in the studio and the ash was so horrid to work in, you couldn't really keep your eyes open for long. You'd inhale a piece and you'd start coughing. You'd turn black from the soot."
He spent several days in those condition until the ash was gone.
Harington continued, "After being in the ash for three days, they said, 'Oh, we've run out of ash, we'll CGI it in,' … Don't even tell me you could have done that all along."
Well, it definitely offered up an authentic experience for the 27-year-old actor.
One thing he is grateful for is the opportunity to work on a big-budget film.
"I don't think I would have been offered this role had it not been for Game of Thrones," he said.
From his work on the HBO show, director Paul W.S. Anderson knew he struck gold with an actor who has a strong following and excellent stage combat skills.
The British actor touched upon that, "One of the great things about being an actor is the kind of skill set you're forced to have — and my [résumé ] pretty much says swordfighting now. I'm not sure I'll be touching swords other than in Thrones for a while. I want to try guns or something next … or a romantic drama!"
There has to be a rom-com in his future.
Pompeii opens nationwide on Feb. 21.
http://www.dailyactor.com/wp-content/uploads/2015/05/Caitriona-Balfe-Outlander.jpg
Outlander's Caitriona Balfe On The Emotional Toll of Filming Violent Scenes
"Having to put yourself in that place is tough. To sit in that emotional space, especially when you're doing it day after day." - Caitriona Balfe
http://www.dailyactor.com/2015/05/outlander-catriona-balfe-emotional-toll-of-filming-violent-scenes/
http://www.dailyactor.com/wp-content/uploads/2015/05/Chrissie-Fit.jpg
Chrissie Fit on How She Landed Her Role in 'Pitch Perfect 2′
"I remember getting the audition and being like, "This might not happen," just because it is such a massive movie." - Chrissie Fit
http://www.dailyactor.com/2015/05/chrissie-fit-on-how-she-landed-her-role-in-pitch-perfect-2/
http://www.dailyactor.com/wp-content/uploads/2015/05/Sam-Elliott.jpg
Sam Elliot on How he "F–ked" Himself Out of a Career as a Lead Actor
The rugged Sam Elliot has most often cast in character actor roles throughout his long career in film, though the 70 year-old Elliot thinks it wasn't always meant to be that way.
http://www.dailyactor.com/2015/05/sam-elliot-on-how-he-f-ked-himself-out-of-a-career-as-a-lead-actor/
http://www.dailyactor.com/wp-content/uploads/2015/05/Anna-Kendrick-Pitch-Perfect-2.jpg
Anna Kendrick Talks Hollywood and its Gender Bias
"As an actress you're perpetually about to be unemployed." - Anna Kendrick
http://www.dailyactor.com/2015/05/anna-kendrick-talks-hollywood-and-its-gender-bias/
http://www.dailyactor.com/wp-content/uploads/2015/05/tom-hardy-mad-max-fury-road.jpg
Tom Hardy on Fame, Acting School, and His 'Mad Respect' for Michael Fassbender
"Do what you love doing, do it well—everything should fit into place." - Tom Hardy
http://www.dailyactor.com/2015/05/tom-hardy-fame-acting-school-michael-fassbender/