Chris Lowell Recalls His Very First Audition and Network Test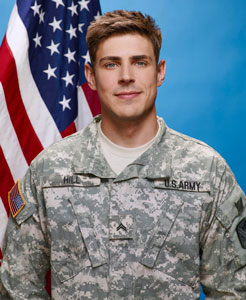 Chris Lowell is ready to have a big year in 2014. The 29-year-old actor just had his new sitcom Enlisted premiere on FOX, his first leading-man film Brightest Star was just released, Veronica Mars will hit the big screen, his directorial debut for Beside Still Waters is happening and he's headed to the stage in A Moveable Feast. Are you exhausted yet?
The multi-talented actor talked to Interview about his busy career and how he got started in the industry.
Lowell revealed that his decision to be an actor came early.
"I was a kid. I remember having a very concrete thought in kindergarten or first grade. The teacher was asking, 'What do you want to be when you grow up? A fireman? A policeman? An astronaut? A vet?' And I remember all the kids picking their chosen career paths and I was thinking, If I'm an actor I can be an astronaut and a policeman and a firefighter. At the time I was so young that I actually thought actors were all of those things," said the FOX star.
His first big break came with the 2004 TV show Life As We Know It and it's a pretty incredible story. Many other actors would be jealous to hear how it all unfolded.
"Life As We Know It was my first audition ever. It was all luck. I came to L.A. to go to film school at USC. I'd been in town for literally weeks; it was Labor Day weekend and my uncle at the time was living in Hermosa Beach. He invited me and there was a guy who was trying to get a job as a manager. He was just trying to collect actors so that he could say, 'Look at all these clients that I could bring you.' I don't think he even knew what he was doing. He was just talking to anybody," Lowell said. "He helped me get headshots and then I met the boss of this company—this little boutique management firm. She was like, 'We'll send you out on a couple of auditions—we'll see if you're ready yet. Maybe we'll hold you back and you'll go to some classes.' So they sent me on this pilot audition, which at the time was called Doing It."
That one audition led to a series of callbacks for the show.
"So I went in for the audition, got a callback, got another callback, and then a producer session, and then a studio [session]. When it came time to go to network, I didn't have an agent yet. William Morris, who was representing a lot of the other actors, agreed to negotiate this one contract. I don't think they thought I was going to book the job. Then I booked the job and all of a sudden I was signed with William Morris, doing a pilot, the pilot got picked up. It all happened really quickly—and that was a great thing, and also kind of a curse. I think the reason I actually booked the job was that I had no sense of the stakes. I was still a full-time college freshman."
He continued, "I remember being at my network test, waiting around—which is the worst part; typically that's when people psych themselves out—and I was doing French homework. I think that saved me. The producers of the show, one of them was this amazing photographer, Gabe Sachs. Gabe took me out one day and he gave me this Lykke M3 camera and taught me how to use it. There's no light meter on it, so he taught me how to read the light. He was like, 'Any photographs you take, we'll pay for all the processing and give them back to you.' And that's really how I caught the bug. I have these crazy photographs of that cast—of Kelly [Osbourne] and Jon [Foster] and Sean [Faris] and Missy [Peregrym] and Jessica [Lucas]. Gabe and [one of the show's writers] Jeff Judah are the same guys who worked on Freaks and Geeks and Undeclared, and they were trying so hard to get all those actors parts on the show, because none of those actors were getting work. I remember Jeff repeatedly trying to get Seth Rogen a part, and the network just would not have it."
Even though the show was cancelled after one season, it was an incredible start to his carer. No wonder 2014 is going to the year audiences really get to know Chris Lowell.
Brightest Star was released in theaters on Jan. 31. Veronica Mars will be out on March 14 and Enlisted is on on FOX on Fridays.
Latest Videos
http://www.dailyactor.com/wp-content/uploads/2014/04/director-david-gordon-greene-nar.jpg
Director David Gordon Green Narrates a Scene From 'Joe'
Director David Gordon Green narrates a sequence from his new film, Joe, featuring Nicolas Cage and Tye Sheridan. In the video, he mentions his reasons why he likes to hire non-traditional actors. He likes people who have real skill-sets and not actors who have the skills on their resume. He also talked about this in […]
http://www.dailyactor.com/2014/04/director-david-gordon-green-narrates-a-scene-from-joe/
http://www.dailyactor.com/wp-content/uploads/2014/04/david-gordon-green-joe.jpg
Director David Gordon Green: "I find actors in unusual places"
I keep missing screenings of director David Gordon Greene's new film, Joe. I hear it's really good so I'm looking forward to catching it at some point. Joe stars Nicholas Cage as ex-con Joe Ransom, who isn't the greatest of role models until he meets a 15-year-old boy (Mud's Tye Sheridan). In this featurette, Green […]
http://www.dailyactor.com/2014/04/director-david-gordon-green-i-find-actors-in-unusual-places/
http://www.dailyactor.com/wp-content/uploads/2014/04/judy-greer-i-dont-know-why-you-know-me-from.jpg
Please Don't Say These Things To Judy Greer (video)
Judy Greer - who we love here at Daily Actor – has a new book called, I Don't Know What You Know Me From (Confessions of a Co-Star), a series of essays about her life as an actress, friend and someone who everyone thinks they might know. Here's a blurb about the book: "Want to […]
http://www.dailyactor.com/2014/04/please-dont-say-these-things-to-judy-greer-video/
http://www.dailyactor.com/wp-content/uploads/2014/04/Captain-America-SamuelNick-Fury.jpg
How Samuel L. Jackson Learns His Lines for the Marvel Movies (video)
Samuel L. Jackson stopped by Good Morning America earlier this week to talk about Captain America: The Winter Soldier – which is terrific, by the way – and he told Robin Roberts that for the first Cap film, he had trouble learning his lines. "I sat at home and I did all my studying, and […]
http://www.dailyactor.com/2014/04/how-samuel-l-jackson-learns-his-lines-for-the-marvel-movies-video/
http://www.dailyactor.com/wp-content/uploads/2014/04/andy-karl-margot-seibert-rocky.jpg
Andy Karl and Margo Seibert Talk 'Rocky: The Musical' on 'Today'
Andy Karl and Margo Seibert, the stars of Rocky: The Musical, talked to Today's Matt Lauer about the new Broadway musical. Karl talks about the final fight and taking on the iconic role. This is Seibert's Broadway debut and she's asked about her callbacks (9 in all!) and more. Check it out!
http://www.dailyactor.com/2014/04/andy-karl-and-margo-seibert-talk-rocky-the-musical-on-today/