After a 15-Year Absence, Richard Jenkins Returns to the Stage… as a Director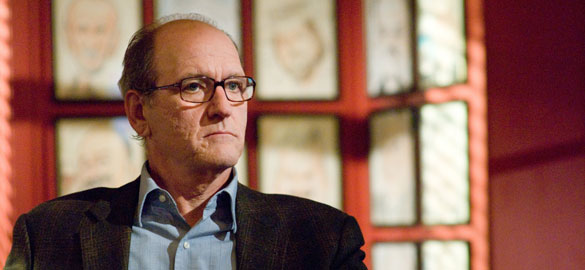 After working for Trinty Repertory Company in Providence, Rhode Island for 14 seasons as a company member beginning in 1970 and serving as its artistic director from 1990-1994, Richard Jenkins has finally returned to his roots. The actor has been busy the few decades as in films like his Oscar-nominated turn in The Visitor and on HBO's Six Feet Under.
This time around, he's not getting onstage, he's directing and choreographing the theatre's latest musical, Oliver!. He's not doing it alone though, he is sharing the duties with his wife, Sharon, just in time for the company's 50th anniversary.
He talked to The Boston Globe as to why he left the stage behind so long ago.
Jenkins shared, "I loved it [but] I always wanted to be in movies. I haven't been on stage in so long, I don't know if I could anymore. It's a different skill. I just don't have that desire. I'm sometimes embarrassed to say it, but I love doing what I'm doing."
While he's returning to the stage behind the scenes, the 66-year-old actor is still pursuing his on-camera career. He recently shot a four-part HBO miniseries called Olive Kitteridge and he has three other projects on slate for the next two years including Lullaby with Amy Adams.
Although this is the first official collaboration with his wife, Jenkins knows they have been collaborating together for years off the stage.
He said, "We collaborate all the time. If I'm doing a film, I talk about it with her. When she's choreographing something, she comes home and talks about it with me. We always talk about it, so we kind of never stopped collaborating, really. But we've never had it on a piece of paper that we're co-directing."
Oliver! runs through March 30 at Trinty Rep.
Latest Videos
http://www.dailyactor.com/wp-content/uploads/2014/07/bill-hader.jpg
Bill Hader: "I kind of fell into acting" (video)
Bill Hader, starring in the soon to be released The Skeleton Twins, talks about the film and how he fell into acting and then got "crazy lucky" in this quick video from USA Today. Share on Tumblr
http://www.dailyactor.com/2014/07/bill-hader-fell-into-acting-video/
http://www.dailyactor.com/wp-content/uploads/2014/07/director-john-carney-narrates-a.jpg
Director John Carney Narrates a Scene from 'Begin Again' Starring Kiera Knightley and Mark Ruffalo
Director John Carney (Once) narrates a scene from his new film, Begin Again. Starring Keira Knightley and Mark Ruffalo, the scene shows the first time the two characters meet. I haven't seen it yet but I've heard it's great.
http://www.dailyactor.com/2014/07/begin-again-scene-director-john-carney-keira-knightley-mark-ruffalo/
http://www.dailyactor.com/wp-content/uploads/2014/07/holler-if-you-hear-me-gma.jpg
Watch the Cast of Broadway's 'Holler If You Hear Me' Perform 'California Love' on GMA
The cast of Broadway's newest musical, Holler If You Hear Me with music from Tupac Shakur, performed on Good Morning America this morning. Singing 'California Love', the cast (including the teriffic Christopher Jackson – read our interview here), show why they're the most energetic and inspiring group of actors on Broadway. Holler If Ya Hear [...]
http://www.dailyactor.com/2014/07/watch-cast-broadways-holler-hear-perform-california-love-gma/
http://www.dailyactor.com/wp-content/uploads/2014/07/behind-the-scenes-of-dawn-of-the.jpg
Behind the Scenes of 'Dawn of the Planet of the Apes' with Performance Capture Actor Terry Notary
Actor Terry Notary is 1 of 5 actors playing the apes in the new Dawn of the Planet of the Apes. "When you see armies of apes," he says, that's "five of us." Check out the video where you can watch his performance capture work.
http://www.dailyactor.com/2014/07/dawn-planet-apes-performance-capture-actor-terry-notary/
http://www.dailyactor.com/wp-content/uploads/2014/07/melissa-mccarthy-daily-show.jpg
Melissa McCarthy and John Stewart Talk About Terrible Commercial Auditions on 'The Daily Show'
Melissa McCarthy stopped by The Daily Show last week to plug about her new movie, Tammy. She talked about how she loved working with her husband, Ben Falcone (director of Tammy) and then segued into talking about some horrible working situations. The always hilarious McCarthy then started to tell host John Stewart about a particular [...]
http://www.dailyactor.com/2014/07/melissa-mccarthy-john-stewart-commercial-auditions-the-daily-show/