After a 15-Year Absence, Richard Jenkins Returns to the Stage… as a Director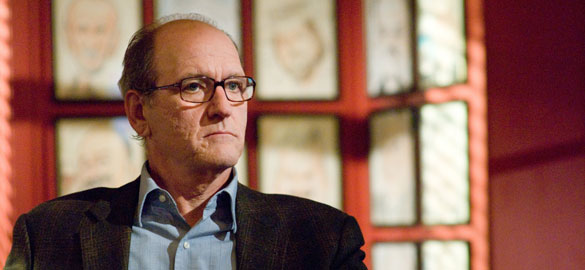 After working for Trinty Repertory Company in Providence, Rhode Island for 14 seasons as a company member beginning in 1970 and serving as its artistic director from 1990-1994, Richard Jenkins has finally returned to his roots. The actor has been busy the few decades as in films like his Oscar-nominated turn in The Visitor and on HBO's Six Feet Under.
This time around, he's not getting onstage, he's directing and choreographing the theatre's latest musical, Oliver!. He's not doing it alone though, he is sharing the duties with his wife, Sharon, just in time for the company's 50th anniversary.
He talked to The Boston Globe as to why he left the stage behind so long ago.
Jenkins shared, "I loved it [but] I always wanted to be in movies. I haven't been on stage in so long, I don't know if I could anymore. It's a different skill. I just don't have that desire. I'm sometimes embarrassed to say it, but I love doing what I'm doing."
While he's returning to the stage behind the scenes, the 66-year-old actor is still pursuing his on-camera career. He recently shot a four-part HBO miniseries called Olive Kitteridge and he has three other projects on slate for the next two years including Lullaby with Amy Adams.
Although this is the first official collaboration with his wife, Jenkins knows they have been collaborating together for years off the stage.
He said, "We collaborate all the time. If I'm doing a film, I talk about it with her. When she's choreographing something, she comes home and talks about it with me. We always talk about it, so we kind of never stopped collaborating, really. But we've never had it on a piece of paper that we're co-directing."
Oliver! runs through March 30 at Trinty Rep.
Latest Videos
http://www.dailyactor.com/wp-content/uploads/2014/09/watch-david-mamet-in-the-1976-sh.jpg
Watch: David Mamet in the 1976 Short Documentary 'The Playwright Directs'
Though David Mamet is best known for his distinctive writing style in his scripts for the stage and screen, he has also directed theater and film. The 1976 short documentary titled The Playwright Directs depicts Mamet directing actors through several scenes at an almost frantic pace, dispensing pearls of wisdom throughout, like his thoughts on […]
http://www.dailyactor.com/2014/09/watch-david-mamet-1976-documentary-the-playwright-directs/
http://www.dailyactor.com/wp-content/uploads/2014/09/audtion-tapes-robin-wright-and-h.jpg
Audition Tapes: Robin Wright and Haley Joel Osment Audition with Tom Hanks for 'Forrest Gump'
Check out Robin Wright auditioning for the role of Jenny from Forest Gump opposite Tom Hanks. Interestingly enough, Hanks doesn't quite have Gump's southern drawl down just yet while the other actors audition with him. In fact, Hanks would base Gump's voice on the voice of Michael Conner Humphreys, who played the young Forrest and […]
http://www.dailyactor.com/2014/09/audtion-tapes-robin-wright-haley-joel-osment-tom-hanks-forrest-gump/
http://www.dailyactor.com/wp-content/uploads/2014/08/bryan-cranston-emmy-award-speech.jpg
Watch: Bryan Cranston's Emmy Award Speech: "I love to act. It is a passion of mine and I will do it until my last breath."
The Emmy Awards weren't the most exciting awards show this year but with Bryan Cranston winning for Outstanding Actor in a Drama for Breaking Bad, we at least got to hear one heck of a fantastic acceptance speech. "I was a kid who always looked for the shortcut," he said. "I did happen to stumble […]
http://www.dailyactor.com/2014/08/watch-bryan-cranston-and-aaron-pauls-emmy-award-speeches/
http://www.dailyactor.com/wp-content/uploads/2014/08/audition-tapes-gerard-butler-aud.jpg
Audition Tapes: Gerard Butler Auditions for 'Dracula 2000′
Check out Gerard Butler auditioning for the role of Dracula in the movie, Dracula 2000. The film, about a group of thieves who break into a chamber expecting to find paintings, but instead find Dracula himself, also starred Christopher Plummer, Jonny Lee Miller and Nathan Fillion. Bulter has some sweet rock star hair, huh?
http://www.dailyactor.com/2014/08/audition-tapes-gerard-butler-dracula-2000/
http://www.dailyactor.com/wp-content/uploads/2014/08/interview-matt-dillon-and-carla.jpg
Interview: Matt Dillon and Carla Gugino Talk 'Wayward Pines'
FOX has a new limited-series that's got a terrific cast and interesting premise. It's called Wayward Pines and stars Matt Dillon, Carla Gugino, Melissa Leo, Toby Jones, Terrance Howard, Juliette Lewis, Tim Griffin and Shannyn Sossamon. The show, whose pilot was directed by M. Night Shyamalan, is about a Secret Service agent (Dillon) goes to […]
http://www.dailyactor.com/2014/08/interview-matt-dillon-carla-gugino-wayward-pines-comic-con/