After a 15-Year Absence, Richard Jenkins Returns to the Stage… as a Director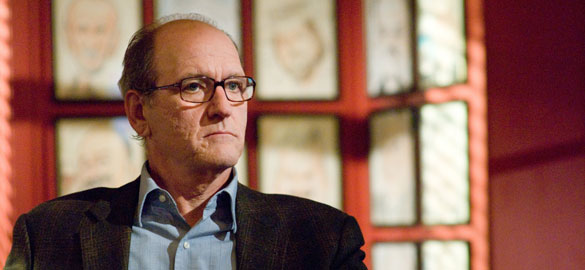 After working for Trinty Repertory Company in Providence, Rhode Island for 14 seasons as a company member beginning in 1970 and serving as its artistic director from 1990-1994, Richard Jenkins has finally returned to his roots. The actor has been busy the few decades as in films like his Oscar-nominated turn in The Visitor and on HBO's Six Feet Under.
This time around, he's not getting onstage, he's directing and choreographing the theatre's latest musical, Oliver!. He's not doing it alone though, he is sharing the duties with his wife, Sharon, just in time for the company's 50th anniversary.
He talked to The Boston Globe as to why he left the stage behind so long ago.
Jenkins shared, "I loved it [but] I always wanted to be in movies. I haven't been on stage in so long, I don't know if I could anymore. It's a different skill. I just don't have that desire. I'm sometimes embarrassed to say it, but I love doing what I'm doing."
While he's returning to the stage behind the scenes, the 66-year-old actor is still pursuing his on-camera career. He recently shot a four-part HBO miniseries called Olive Kitteridge and he has three other projects on slate for the next two years including Lullaby with Amy Adams.
Although this is the first official collaboration with his wife, Jenkins knows they have been collaborating together for years off the stage.
He said, "We collaborate all the time. If I'm doing a film, I talk about it with her. When she's choreographing something, she comes home and talks about it with me. We always talk about it, so we kind of never stopped collaborating, really. But we've never had it on a piece of paper that we're co-directing."
Oliver! runs through March 30 at Trinty Rep.
http://www.dailyactor.com/wp-content/uploads/2015/01/watch-al-pacino-talks-the-humbli.jpg
Watch: Al Pacino Talks 'The Humbling' and His Extraordinary Career
In this conversation with Al Pacino talks about his role in The Humbling -- including working with Greta Gerwig -- and his historic acting career
http://www.dailyactor.com/2015/01/watch-al-pacino-extraordinary-career/
http://www.dailyactor.com/wp-content/uploads/2015/01/watch-oscar-nominee-steve-carell.jpg
Watch: Oscar Nominee Steve Carell Talks Improv, Auditioning for 'The Office' and 'Foxcatcher'
Carell talks about his entire career as an actor, including his background in improv, how he landed the Michael Scott role on The Office, and Foxcatcher
http://www.dailyactor.com/2015/01/oscar-nominee-steve-carell-improv-auditioning-for-the-office-foxcatcher/
http://www.dailyactor.com/wp-content/uploads/2015/01/ethan-hawke-ellar-coltrane-boyhood.jpg
Ethan Hawke Calls 'Boyhood' the "most special endeavor of my life"
Ethan Hawke is riding high with his fourth Oscar nomination for the Richard Linklater-directed Boyhood. In a recent "Ask Me Anything" on Reddit, the 44-year-old actor gave some thoughtful insight into his career and the 12-year creative endeavor that became the biggest film of the Oscar season. When asked what was the most difficult thing about […]
http://www.dailyactor.com/2015/01/ethan-hawke-boyhood-reddit-amaife/
http://www.dailyactor.com/wp-content/uploads/2015/01/martha-plimpton-a-delicate-balance.jpg
Martha Plimpton Takes a Refreshing Approach to a Long-Lasting Career
Martha Plimpton is an actress who enjoys the work, she's not in it for the fame. The proof is in her continually excellent work that she is doing on-screen and on the stage. She's currently starring in A Delicate Balance on Broadway. It's the audience who gives her the ultimate thrill. "I try to get […]
http://www.dailyactor.com/2015/01/martha-plimpton-long-lasting-career/
http://www.dailyactor.com/wp-content/uploads/2015/01/watch-michael-keaton-talks-candi.jpg
Watch: Michael Keaton Talks Candidly About His Career and His Approach to Acting in 'Birdman'
In this nearly 90 minute conversation, Michael Keaton is his usual affable self but is also remarkably candid about his career and his approach to acting.
http://www.dailyactor.com/2015/01/michael-keaton-career-approach-to-acting-birdman/