Why 2013 Was Undoubtedly Robert De Niro's Worst Year at the Movies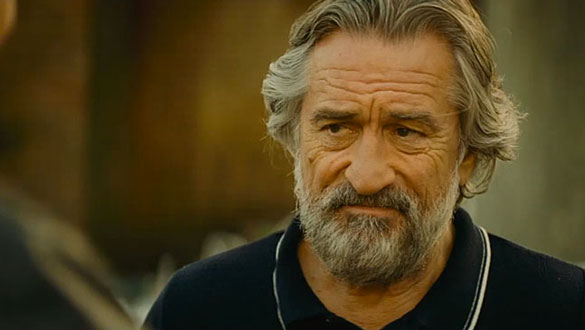 In 2013, Robert De Niro left his sixth decade behind when he turned 70 in August. He also left behind six movies of varying quality, though five of those six 2013 films vary from "awful" to "really awful."
De Niro's role choices in recent years have made him an easy target, but it's important to note just how far he's fallen from his peak as an actor.  He was generally considered one of the greatest film actors of all time from his 1973 starring role in Mean Streets through 1997, when he starred in three really good movies: Cop Land, Wag the Dog, and Jackie Brown.  During that period he was rarely in a dud as evidenced by his two Oscars (for The Godfather: Part II and Raging Bull) and his four other nominations from 1975 to 1992.  Yet since 1997 he's been in far more misfires than hits, though his praised supporting role in 2012′s Silver Linings Playbook brought him his first Oscar nomination in twenty years.  Many speculated that the nomination would fuel a comeback of sorts for De Niro to return to the types of roles that made him such an icon.
Alas, 2013 proved that the speculation couldn't be more wrong.  Based on the sheer quantity of bad movies, 2013 was De Niro's absolute worst year in his career.
De Niro kicked off 2013 with the April release of The Big Wedding, a remake of the 2006 French film Mon frère se marie in which he romances ex-wife Diane Keaton and girlfriend Susan Sarandon while juggling a dysfunctional family preparing for a wedding. Critics found little to celebrate, with the film scoring an abysmal 7% on Rotten Tomatoes, and audiences outright rejected the movie, which only grossed $21.8 despite a number of big-name stars.  However, if audiences thought it couldn't get any worse than The Big Wedding they couldn't be more wrong.
You'd be forgiven if you forgot that De Niro starred in Killing Season, which was released in July.  That's because this thriller that pits John Travolta against De Niro was only released in 12 theaters and grossed less than $40,000.  It was made available the same day on video-on-demand, which is at first surprising considering the name recognition of De Niro and Travolta.  After seeing it through, it's no surprise.  Millennium Entertainment did a lot to hide the film from the critics, but the ones that did see it gave it a paltry 10% on Rotten Tomatoes.  The film was actually developed as a project to reunite Travolta with Nicolas Cage, with whom he co-starred in the popular 1997 action movie Face/Off, but somehow De Niro ended up starring instead.  However, it's hard to imagine the film doing any worse with Cage starring instead… and we're talking about Nicolas Cage here!
September saw De Niro starring in the schizophrenic The Family as a former mobster in the witness protection program living in Normandy.  Despite being directed by Luc Besson and produced by De Niro's one-time frequent collaborator Martin Scorsese (The Family is the first movie De Niro and Scorsese collaborated on since 1995′s Casino), the film can't decide if it's a fish-out-of-water comedy or a thriller about a family being hunted down by former rivals.  De Niro and co-star Michelle Pfeiffer have decent chemistry, but like many of De Niro's post-1997 comedies he is simply riffing on his gangster persona. For example, The Family could have easily been a second sequel to Analyze This with hardly any alteration to the narrative. Though it fared bared with the critics than The Big Wedding and Killing Season (29% on Rotten Tomatoes), it still did poorly at the box office ($36.9 million).
De Niro has more success with the comedy Last Vegas, which was released in November.  Critics were lukewarm about it (47% on Rotten Tomatoes), though they seemed to mostly enjoy the chemistry of De Niro with the other leads, Michael Douglas, Morgan Freeman, and Kevin Kline.  Despite most dismissing it as The Hangover with old dudes and PG-13 humor, the film has been moderately successful at the box office (grossing $89.4 million worldwide as of December 31), and has still yet to open in a few key markets, meaning it could possibly end up making $100 million worldwide.  As a result, it is by far the most successful 2013 De Niro movie both critically and financially despite being underwhelming on both fronts.
The most talked-about De Niro movie in 2013 was Grudge Match, which was released on Christmas.  Starring De Niro and Sylvester Stallone as a pair of senior citizen boxers who get back in the ring to settle their decades-long rivalry, Grudge Match is the same sort of comedy that De Niro has done ad nauseum that riffs on his past roles.  The only difference is that Grudge Match doesn't riff on his gangster roles (like The Family), it riffs on Raging Bull and Stallone's Rocky.  Frankly, I actually liked De Niro (and Stallone) in Grudge Match, but overall it's just not a very good movie.  There are far too many secondary characters that don't warrant the screentime given to them in this nearly two hour comedy.  Like his other 2013 films, it was largely dismissed by critics (21% on Rotten Tomatoes) and so far has been weak at the box office, opening at #11.  Stallone remains a much bigger draw overseas so it might perform better worldwide, but time will soon tell if the pairing of film's two most iconic movie boxers ends up successful at the box office.
After all that, is it any surprise that the best film that De Niro appeared in in 2013 isn't a "Robert De Niro" movie?  In fact, his role in this particular movie even went uncredited.  De Niro's cameo in American Hustle reunited him with David O. Russell, who directed Silver Linings Playbook.  De Niro plays a powerful mob boss, and it's not hard to see that his heart is actually into it in this Scorsese-influenced movie despite his brief appearance.  If nothing else, the cameo proves that De Niro isn't reduced to just going through the motions in bad comedies.
I hate to kick one of my favorite actors when he's down, but 2013 was a tough year for anyone who purchased a ticket to a Robert De Niro movie.  As of now, he's slated to star in only two films that will be released in 2014: the crime thriller The Bag Man and the boxing biopic Hands of Stone.  So even if they both turn out to be bad films, that still means that 2014 will be a better year for De Niro and De Niro fans alike.  Now, isn't that a comforting thought?
Latest Videos
http://www.dailyactor.com/wp-content/uploads/2014/04/director-david-gordon-greene-nar.jpg
Director David Gordon Green Narrates a Scene From 'Joe'
Director David Gordon Green narrates a sequence from his new film, Joe, featuring Nicolas Cage and Tye Sheridan. In the video, he mentions his reasons why he likes to hire non-traditional actors. He likes people who have real skill-sets and not actors who have the skills on their resume. He also talked about this in […]
http://www.dailyactor.com/2014/04/director-david-gordon-green-narrates-a-scene-from-joe/
http://www.dailyactor.com/wp-content/uploads/2014/04/david-gordon-green-joe.jpg
Director David Gordon Green: "I find actors in unusual places"
I keep missing screenings of director David Gordon Greene's new film, Joe. I hear it's really good so I'm looking forward to catching it at some point. Joe stars Nicholas Cage as ex-con Joe Ransom, who isn't the greatest of role models until he meets a 15-year-old boy (Mud's Tye Sheridan). In this featurette, Green […]
http://www.dailyactor.com/2014/04/director-david-gordon-green-i-find-actors-in-unusual-places/
http://www.dailyactor.com/wp-content/uploads/2014/04/judy-greer-i-dont-know-why-you-know-me-from.jpg
Please Don't Say These Things To Judy Greer (video)
Judy Greer - who we love here at Daily Actor – has a new book called, I Don't Know What You Know Me From (Confessions of a Co-Star), a series of essays about her life as an actress, friend and someone who everyone thinks they might know. Here's a blurb about the book: "Want to […]
http://www.dailyactor.com/2014/04/please-dont-say-these-things-to-judy-greer-video/
http://www.dailyactor.com/wp-content/uploads/2014/04/Captain-America-SamuelNick-Fury.jpg
How Samuel L. Jackson Learns His Lines for the Marvel Movies (video)
Samuel L. Jackson stopped by Good Morning America earlier this week to talk about Captain America: The Winter Soldier – which is terrific, by the way – and he told Robin Roberts that for the first Cap film, he had trouble learning his lines. "I sat at home and I did all my studying, and […]
http://www.dailyactor.com/2014/04/how-samuel-l-jackson-learns-his-lines-for-the-marvel-movies-video/
http://www.dailyactor.com/wp-content/uploads/2014/04/andy-karl-margot-seibert-rocky.jpg
Andy Karl and Margo Seibert Talk 'Rocky: The Musical' on 'Today'
Andy Karl and Margo Seibert, the stars of Rocky: The Musical, talked to Today's Matt Lauer about the new Broadway musical. Karl talks about the final fight and taking on the iconic role. This is Seibert's Broadway debut and she's asked about her callbacks (9 in all!) and more. Check it out!
http://www.dailyactor.com/2014/04/andy-karl-and-margo-seibert-talk-rocky-the-musical-on-today/