WGN America is Ready To Take on Cable with Three Original Series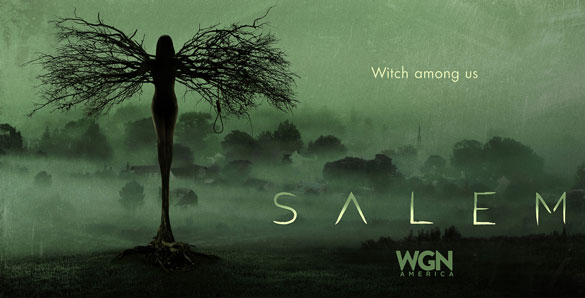 With the Winter Television Critics Association previews going on right now, it's easy for some news to get lost in the shuffle. However, it's good to see even more creativity coming out of a new cable network, WGN America.
On Sunday, the network announced a slate of original series that will be hitting the channel over the next year. The presentation included three original shows that made many in the media take notice.
The first standout production is a 13-episode series called Salem which will premiere on April 20. The show stars Shane West, Seth Gabel, Janet Montgomery and Ashley Madekwe. The show will take a fresh approach on the witch trials in 17th century Massachusetts.
WGN America's next project will be Manhattan which is set for a July 2014 premiere. That series will follow the race to build the world's first first atomic bomb. However, this show will also take a close look at how the event affected families and friendships during that time period.
Finally, The Weinstein Company is delivering a 10-episode, 10-consecutive night special, Ten Commandments. They are taking a creative approach to this event series with 10 different filmmakers giving their own modern interpretation of a particular Commandment. Currently, Gus Van Sant, Lee Daniels, Jim Sheridan, Michael Cera and Wes Craven are slated to direct one episode each.
Matt Cherniss, President and General Manager, WGN America and Tribune Studios talked on Sunday about the network's strategy, "We want our series to transport the audience to worlds that they have never experienced and tell big, operatic stories that entice and entertain. We've harnessed some incredible talent to depict these worlds in a way that highlights the universalities in human nature that bind us all."
WGN America can currently be found in 75 million satellite and cable subscriber homes. 
Latest Videos
http://www.dailyactor.com/wp-content/uploads/2014/07/bill-hader.jpg
Bill Hader: "I kind of fell into acting" (video)
Bill Hader, starring in the soon to be released The Skeleton Twins, talks about the film and how he fell into acting and then got "crazy lucky" in this quick video from USA Today. Share on Tumblr
http://www.dailyactor.com/2014/07/bill-hader-fell-into-acting-video/
http://www.dailyactor.com/wp-content/uploads/2014/07/director-john-carney-narrates-a.jpg
Director John Carney Narrates a Scene from 'Begin Again' Starring Kiera Knightley and Mark Ruffalo
Director John Carney (Once) narrates a scene from his new film, Begin Again. Starring Keira Knightley and Mark Ruffalo, the scene shows the first time the two characters meet. I haven't seen it yet but I've heard it's great.
http://www.dailyactor.com/2014/07/begin-again-scene-director-john-carney-keira-knightley-mark-ruffalo/
http://www.dailyactor.com/wp-content/uploads/2014/07/holler-if-you-hear-me-gma.jpg
Watch the Cast of Broadway's 'Holler If You Hear Me' Perform 'California Love' on GMA
The cast of Broadway's newest musical, Holler If You Hear Me with music from Tupac Shakur, performed on Good Morning America this morning. Singing 'California Love', the cast (including the teriffic Christopher Jackson – read our interview here), show why they're the most energetic and inspiring group of actors on Broadway. Holler If Ya Hear [...]
http://www.dailyactor.com/2014/07/watch-cast-broadways-holler-hear-perform-california-love-gma/
http://www.dailyactor.com/wp-content/uploads/2014/07/behind-the-scenes-of-dawn-of-the.jpg
Behind the Scenes of 'Dawn of the Planet of the Apes' with Performance Capture Actor Terry Notary
Actor Terry Notary is 1 of 5 actors playing the apes in the new Dawn of the Planet of the Apes. "When you see armies of apes," he says, that's "five of us." Check out the video where you can watch his performance capture work.
http://www.dailyactor.com/2014/07/dawn-planet-apes-performance-capture-actor-terry-notary/
http://www.dailyactor.com/wp-content/uploads/2014/07/melissa-mccarthy-daily-show.jpg
Melissa McCarthy and John Stewart Talk About Terrible Commercial Auditions on 'The Daily Show'
Melissa McCarthy stopped by The Daily Show last week to plug about her new movie, Tammy. She talked about how she loved working with her husband, Ben Falcone (director of Tammy) and then segued into talking about some horrible working situations. The always hilarious McCarthy then started to tell host John Stewart about a particular [...]
http://www.dailyactor.com/2014/07/melissa-mccarthy-john-stewart-commercial-auditions-the-daily-show/