WGN America is Ready To Take on Cable with Three Original Series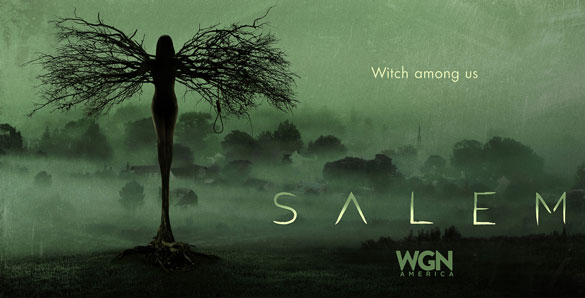 With the Winter Television Critics Association previews going on right now, it's easy for some news to get lost in the shuffle. However, it's good to see even more creativity coming out of a new cable network, WGN America.
On Sunday, the network announced a slate of original series that will be hitting the channel over the next year. The presentation included three original shows that made many in the media take notice.
The first standout production is a 13-episode series called Salem which will premiere on April 20. The show stars Shane West, Seth Gabel, Janet Montgomery and Ashley Madekwe. The show will take a fresh approach on the witch trials in 17th century Massachusetts.
WGN America's next project will be Manhattan which is set for a July 2014 premiere. That series will follow the race to build the world's first first atomic bomb. However, this show will also take a close look at how the event affected families and friendships during that time period.
Finally, The Weinstein Company is delivering a 10-episode, 10-consecutive night special, Ten Commandments. They are taking a creative approach to this event series with 10 different filmmakers giving their own modern interpretation of a particular Commandment. Currently, Gus Van Sant, Lee Daniels, Jim Sheridan, Michael Cera and Wes Craven are slated to direct one episode each.
Matt Cherniss, President and General Manager, WGN America and Tribune Studios talked on Sunday about the network's strategy, "We want our series to transport the audience to worlds that they have never experienced and tell big, operatic stories that entice and entertain. We've harnessed some incredible talent to depict these worlds in a way that highlights the universalities in human nature that bind us all."
WGN America can currently be found in 75 million satellite and cable subscriber homes. 
Latest Videos
http://www.dailyactor.com/wp-content/uploads/2014/08/audition-tapes-gerard-butler-aud.jpg
Audition Tapes: Gerard Butler Auditions for 'Dracula 2000′
Check out Gerard Butler auditioning for the role of Dracula in the movie, Dracula 2000. The film, about a group of thieves who break into a chamber expecting to find paintings, but instead find Dracula himself, also starred Christopher Plummer, Jonny Lee Miller and Nathan Fillion. Bulter has some sweet rock star hair, huh?
http://www.dailyactor.com/2014/08/audition-tapes-gerard-butler-dracula-2000/
http://www.dailyactor.com/wp-content/uploads/2014/08/interview-matt-dillon-and-carla.jpg
Interview: Matt Dillon and Carla Gugino Talk 'Wayward Pines'
FOX has a new limited-series that's got a terrific cast and interesting premise. It's called Wayward Pines and stars Matt Dillon, Carla Gugino, Melissa Leo, Toby Jones, Terrance Howard, Juliette Lewis, Tim Griffin and Shannyn Sossamon. The show, whose pilot was directed by M. Night Shyamalan, is about a Secret Service agent (Dillon) goes to […]
http://www.dailyactor.com/2014/08/interview-matt-dillon-carla-gugino-wayward-pines-comic-con/
http://www.dailyactor.com/wp-content/uploads/2014/08/interview-wayward-pines-stars-ti.jpg
Interview: 'Wayward Pines' Stars Tim Griffin and Shannyn Sossamon on the Show, Their Characters and More!
Griffin and Sossamonwere at Comic-Con where they sat in on some roundtable interviews to talk about the show.
http://www.dailyactor.com/2014/08/interview-wayward-pines-stars-tim-griffin-shannyn-sossamon-comic-con/
http://www.dailyactor.com/wp-content/uploads/2014/08/interview-m-night-shyamalan-talk.jpg
Interview: M. Night Shyamalan Talks 'Wayward Pines' and Why He Expanded a Young Actors Role on the Show
I talked to Shyamalan at Comic-Con in a roundtable interview where he talked about the cast, what he learned from working in TV and how young actor Charlie Tahan started out with a small part but as the story grew, so did his role.
http://www.dailyactor.com/2014/08/interview-m-night-shyamalan-wayward-pines-comic-con/
http://www.dailyactor.com/wp-content/uploads/2014/08/interview-wayward-pines-producer.jpg
Interview: 'Wayward Pines' Producers and Writer Talk Casting and the 10-Episode Format
FOX's upcoming limited series Wayward Pines looks very cool. The show is supposed to be very Twin Peaks-ish in tone which, just hearing that, definitely sparks my interest. The pilot was directed by M. Night Shyamalan and stars Matt Dillon, Carla Gugino, Melissa Leo, Toby Jones, Terrance Howard and Juliette Lewis and is about a […]
http://www.dailyactor.com/2014/08/interview-wayward-pines-creators-comic-con/