Screenplay: 'Frozen'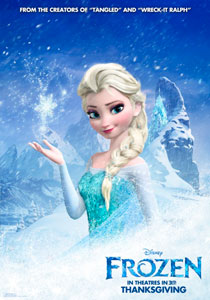 Frozen: Featuring the voices of Kristen Bell and Idina Menzel, "Frozen" is the coolest comedy-adventure ever to hit the big screen. When a prophecy traps a kingdom in eternal winter, Anna, a fearless optimist, teams up with extreme mountain man Kristoff and his sidekick reindeer Sven on an epic journey to find Anna's sister Elsa, the Snow Queen, and put an end to her icy spell. Encountering mystical trolls, a funny snowman named Olaf, Everest-like extremes and magic at every turn, Anna and Kristoff battle the elements in a race to save the kingdom from destruction.
Voice cast
Kristen Bell as Anna, princess of Arendelle and Elsa's younger sister

Livvy Stubenrauch as Young Anna
Katie Lopez as Young Anna (singing)
Agatha Lee Monn as Teenage Anna (singing)
Idina Menzel as Elsa, the Snow Queen and Anna's older sister
Eva Bella as Young Elsa
Spencer Lacey Ganus as Teenage Elsa
Jonathan Groff as Kristoff, a mountain man, who owns a reindeer named Sven.
Josh Gad as Olaf, a humorous snowman with intentions of experiencing summer
Santino Fontana as Hans, a prince from the Southern Isles
Alan Tudyk as the Duke of Weselton
Ciarán Hinds as Grand Pabbie the Troll King
Chris Williams as Oaken, the owner of Wandering Oaken's Trading Post and Sauna
Maia Wilson as Bulda, a troll
Jack Whitehall as a troll
Maurice LaMarche as the King of Arendelle, Anna and Elsa's father.
Director: Chris Buck, Jennifer Lee
http://www.dailyactor.com/wp-content/uploads/2015/05/Caitriona-Balfe-Outlander.jpg
Outlander's Caitriona Balfe On The Emotional Toll of Filming Violent Scenes
"Having to put yourself in that place is tough. To sit in that emotional space, especially when you're doing it day after day." - Caitriona Balfe
http://www.dailyactor.com/2015/05/outlander-catriona-balfe-emotional-toll-of-filming-violent-scenes/
http://www.dailyactor.com/wp-content/uploads/2015/05/Chrissie-Fit.jpg
Chrissie Fit on How She Landed Her Role in 'Pitch Perfect 2′
"I remember getting the audition and being like, "This might not happen," just because it is such a massive movie." - Chrissie Fit
http://www.dailyactor.com/2015/05/chrissie-fit-on-how-she-landed-her-role-in-pitch-perfect-2/
http://www.dailyactor.com/wp-content/uploads/2015/05/Sam-Elliott.jpg
Sam Elliot on How he "F–ked" Himself Out of a Career as a Lead Actor
The rugged Sam Elliot has most often cast in character actor roles throughout his long career in film, though the 70 year-old Elliot thinks it wasn't always meant to be that way.
http://www.dailyactor.com/2015/05/sam-elliot-on-how-he-f-ked-himself-out-of-a-career-as-a-lead-actor/
http://www.dailyactor.com/wp-content/uploads/2015/05/Anna-Kendrick-Pitch-Perfect-2.jpg
Anna Kendrick Talks Hollywood and its Gender Bias
"As an actress you're perpetually about to be unemployed." - Anna Kendrick
http://www.dailyactor.com/2015/05/anna-kendrick-talks-hollywood-and-its-gender-bias/
http://www.dailyactor.com/wp-content/uploads/2015/05/tom-hardy-mad-max-fury-road.jpg
Tom Hardy on Fame, Acting School, and His 'Mad Respect' for Michael Fassbender
"Do what you love doing, do it well—everything should fit into place." - Tom Hardy
http://www.dailyactor.com/2015/05/tom-hardy-fame-acting-school-michael-fassbender/