Screenplay: 'Dallas Buyers Club'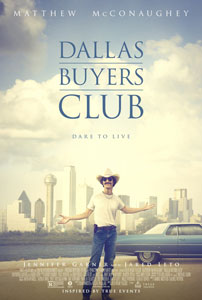 Dallas Buyers Club is a 2013 American biographical drama film directed by Jean-Marc Vallée and starring Matthew McConaughey, Jared Leto, Jennifer Garner and Steve Zahn. The film is based on the true-life tale of Ron Woodroof, an AIDS patient who began smuggling unapproved pharmaceutical drugs into Texas when he found them effective at improving his symptoms. The film has been critically acclaimed and received several awards and nominations, including two Golden Globe Award wins for McConaughey and Leto.
Cast
Matthew McConaughey as Ron Woodroof
Jennifer Garner as Dr. Eve Saks
Jared Leto as Rayon
Steve Zahn as Tucker
Dallas Roberts as David Wayne
Michael O'Neill as Richard Barkley
Denis O'Hare as Dr. Sevard
Griffin Dunne as Dr. Vass
Jane McNeill as Francine Suskind
James DuMont as Rayon's father
Bradford Cox as Sunny, Rayon's lover
Kevin Rankin as T. J.
Lawrence Turner as Larry
Matthew Thompson as Effeminate Man
Adam Dunn as Neddie Jay
Director: Jean-Marc Vallée
http://www.dailyactor.com/wp-content/uploads/2015/05/Caitriona-Balfe-Outlander.jpg
Outlander's Caitriona Balfe On The Emotional Toll of Filming Violent Scenes
"Having to put yourself in that place is tough. To sit in that emotional space, especially when you're doing it day after day." - Caitriona Balfe
http://www.dailyactor.com/2015/05/outlander-catriona-balfe-emotional-toll-of-filming-violent-scenes/
http://www.dailyactor.com/wp-content/uploads/2015/05/Chrissie-Fit.jpg
Chrissie Fit on How She Landed Her Role in 'Pitch Perfect 2′
"I remember getting the audition and being like, "This might not happen," just because it is such a massive movie." - Chrissie Fit
http://www.dailyactor.com/2015/05/chrissie-fit-on-how-she-landed-her-role-in-pitch-perfect-2/
http://www.dailyactor.com/wp-content/uploads/2015/05/Sam-Elliott.jpg
Sam Elliot on How he "F–ked" Himself Out of a Career as a Lead Actor
The rugged Sam Elliot has most often cast in character actor roles throughout his long career in film, though the 70 year-old Elliot thinks it wasn't always meant to be that way.
http://www.dailyactor.com/2015/05/sam-elliot-on-how-he-f-ked-himself-out-of-a-career-as-a-lead-actor/
http://www.dailyactor.com/wp-content/uploads/2015/05/Anna-Kendrick-Pitch-Perfect-2.jpg
Anna Kendrick Talks Hollywood and its Gender Bias
"As an actress you're perpetually about to be unemployed." - Anna Kendrick
http://www.dailyactor.com/2015/05/anna-kendrick-talks-hollywood-and-its-gender-bias/
http://www.dailyactor.com/wp-content/uploads/2015/05/tom-hardy-mad-max-fury-road.jpg
Tom Hardy on Fame, Acting School, and His 'Mad Respect' for Michael Fassbender
"Do what you love doing, do it well—everything should fit into place." - Tom Hardy
http://www.dailyactor.com/2015/05/tom-hardy-fame-acting-school-michael-fassbender/