Sam Troughton Loses his Voice Mid-Performance in Sam Mendes' 'King Lear'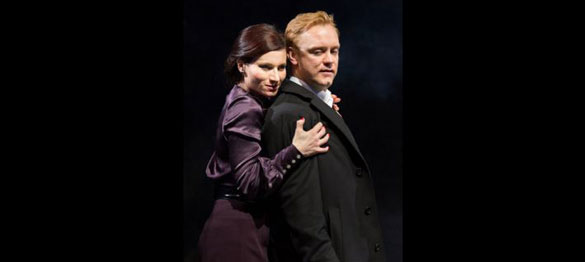 One of an actor's most important instruments in his career is his voice. However, that instrument can give out from time to time, just ask Sam Troughton.
He was in the middle of a preview performance of the Sam Mendes-directed King Lear at the National Theatre in London when he lost his voice mid-sentence. Troughton was playing Edmund, the main antagonist in the Shakespeare play, who resolves to get rid of his father and brother in order to become Earl of Gloucester.
Simon Russell Beale, who plays King Lear in the show, told Radio 4, "It must have been terrifying. Apparently his voice just completely gave out."
The actor explained what happened next, "We had to nip and tuck on the wing: various actors had to do monologues, so it was rather skillful … There is a bit of you that goes in your head: 'We can't do the second half, we can't throw someone on that's never done this on stage in front of 1,000 people.' But that's not the way we do things and I was really proud of everyone."
The cast banded together and got everyone through the scene. Troughton's understudy, Paapa Essiedu, finished off the second half of the show and the next day's performance. Mendes even appeared at intermission to explain to the audience what had happened onstage.
The show runs at the National Theatre until May 28.
Via The Guardian
http://www.dailyactor.com/wp-content/uploads/2015/05/Caitriona-Balfe-Outlander.jpg
Outlander's Caitriona Balfe On The Emotional Toll of Filming Violent Scenes
"Having to put yourself in that place is tough. To sit in that emotional space, especially when you're doing it day after day." - Caitriona Balfe
http://www.dailyactor.com/2015/05/outlander-catriona-balfe-emotional-toll-of-filming-violent-scenes/
http://www.dailyactor.com/wp-content/uploads/2015/05/Chrissie-Fit.jpg
Chrissie Fit on How She Landed Her Role in 'Pitch Perfect 2′
"I remember getting the audition and being like, "This might not happen," just because it is such a massive movie." - Chrissie Fit
http://www.dailyactor.com/2015/05/chrissie-fit-on-how-she-landed-her-role-in-pitch-perfect-2/
http://www.dailyactor.com/wp-content/uploads/2015/05/Sam-Elliott.jpg
Sam Elliot on How he "F–ked" Himself Out of a Career as a Lead Actor
The rugged Sam Elliot has most often cast in character actor roles throughout his long career in film, though the 70 year-old Elliot thinks it wasn't always meant to be that way.
http://www.dailyactor.com/2015/05/sam-elliot-on-how-he-f-ked-himself-out-of-a-career-as-a-lead-actor/
http://www.dailyactor.com/wp-content/uploads/2015/05/Anna-Kendrick-Pitch-Perfect-2.jpg
Anna Kendrick Talks Hollywood and its Gender Bias
"As an actress you're perpetually about to be unemployed." - Anna Kendrick
http://www.dailyactor.com/2015/05/anna-kendrick-talks-hollywood-and-its-gender-bias/
http://www.dailyactor.com/wp-content/uploads/2015/05/tom-hardy-mad-max-fury-road.jpg
Tom Hardy on Fame, Acting School, and His 'Mad Respect' for Michael Fassbender
"Do what you love doing, do it well—everything should fit into place." - Tom Hardy
http://www.dailyactor.com/2015/05/tom-hardy-fame-acting-school-michael-fassbender/