Review: 'The Truth About Emanuel' Starring Kaya Scodelario and Jessica Biel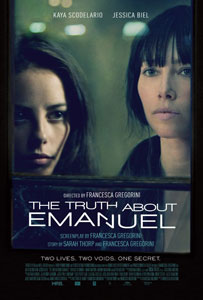 The Truth About Emanuel, writer/director's Francesca Gregorini sophomore effort, is a puzzling sort of film. Not in a bad way but also not in the best of ways either.
Emanuel (Kaya Scodelario from the U.K.'s Skins) is seventeen years old and thinks she's not supposed to be here, as in alive. She's walking around with the guilt of her mother dying while giving birth to her and she's carrying this notion that she's a "murderer." That's heavy stuff for a young girl to deal with and as the story begins, she's in full-on 'acting out' mode, Not in the rebellious sense, more of a shock value sense (like telling her step-mother about a recent sex dream.)
When the new neighbor, single mother Linda (Jessica Biel), says she's looking for a babysitter, Emanuel agrees to help out. Linda's a doting and protective mother who seems a bit off. She wears long flowing dresses and non-period clothes and always has a faraway look in her eyes.
We quickly find out the reason why she seems so odd: Her baby isn't real. It's a doll.
Emaunel's discovery of the fake baby doesn't push her away from Linda though; it brings her closer and makes her more protective. She makes huge efforts to always get in the way every time Linda might show off the baby to someone.
Is the reason she's doing this because Emaunel is a bit off as well? She's randomly seeing things that aren't there. Is she damaged the way Linda is? Is that the truth about Emanuel?
Unfortunately, the truth isn't all that interesting. I kept waiting for some 'a-ha' moment in her story but it never arrived. The real truth lies in Linda and why she's caring for a doll-baby. And when we find that out, that's the best moment of the film.
The film starts off great; a psychological drama that seems to be adding the building blocks of its story in perfect place. As the film unfolds though, we begin to realize that the story isn't as deep as we think it's going to be and the easily wrapped up ending disappoints.
The performances are all fine. Scodelario and Biel work wonders with some of the stilted and clichéd dialogue and it was nice to see Biel in a role she doesn't usually get to play. Her moments after the baby reveal are quite good. Alfred Molina, as Emanuel's put upon father, is always a joy to watch. He took a character that we've seen hundreds of times and made it solely his own.
Gregorini's story about loss and how people deal with it is like an English language foreign film. The way it feels and its style and story reminded me of late 1970's French films I watched back in college. Not that that is a bad thing. In fact, it made it more interesting. I'd love to see what she does next because she's definitely an original voice.
The Truth About Emanuel opens at the Reading Gaslamp 15 Friday, January 10th.
It is also opening in the cities below:
New York: Village East – opens January 10
Los Angeles: Los Feliz 3 and the Royal
San Diego, CA: Gaslamp – opens January 10
Phoenix, AZ: Shea 14 – opens January 10
Miami: Shea 14 – opens January 10
Phoenix, AZ: Sunset Place 24 – opens January 10
Denver: Highlands Ranch 24 – opens January 10
Dallas: Grapevine 30 – opens January 10
Houston: Gulf Pointe 30 – opens January 10
Minneapolis: Eden Prairie 18 – opens January 10
Cherry Hill, NJ: Cherry Hill 24 – opens January 10
http://www.dailyactor.com/wp-content/uploads/2015/03/sally-field-hello-my-name-is-doris.jpg
Sally Field On Improvisation, How She Chooses Her Roles and 'Hello, My Name is Doris'
"There's a dearth of roles for women. I turn down a lot of stuff because there's just nothing in it for me to do." – Sally Field Actress Sally Field put in an appearance at SXSW last week to promote her new film, Hello My Name is Doris. Michael Showalter has directed the movie […]
http://www.dailyactor.com/2015/03/sally-field-improvisation-roles-hello-my-name-is-doris/
http://www.dailyactor.com/wp-content/uploads/2015/03/Will-Ferrell-Get-Hard.jpg
Will Ferrell on His Comedy Roots, 'Get Hard' and His Favorite Roles to Play
Ferrell was on hand to take part in a Q&A and spoke more about how working with Hart came about. When asked if he chooses his projects based on who he wants to work with, or the script itself, Ferrell explained that each project was different.
http://www.dailyactor.com/2015/03/will-ferrell-on-his-comedy-roots-get-hard-and-his-favorite-roles-to-play/
http://www.dailyactor.com/wp-content/uploads/2015/03/daniel-dae-kim.jpg
Hawaii Five-0's Daniel Dae Kim Talks Directorial Debut: "The first day I had to yell action, it was kind of odd"
Hawaii Five-0's Daniel Dae Kim, who fans know best as Chin Ho Kelly, recently made his directorial debut on the CBS series. Kim shared his experience with The Hollywood Reporter, saying that his experience was "weird at first," as he had to direct his co-stars. "The first day I had to yell action, it was […]
http://www.dailyactor.com/2015/03/hawaii-five-0-daniel-dae-kim-directorial-debut/
http://www.dailyactor.com/wp-content/uploads/2015/03/Ellie-Kemper-Unbreakable-Kimmy-Schmidt.jpg
Ellie Kemper on 'Unbreakable Kimmy Schmidt', Doomsday Cults and Tina Fey
When Ellie Kemper joined The Office in season 5, her character Erin Hannon wasn't intended to be one of the show's primary characters. However, Kemper won producers over with her portrayal of the cheerful, naive receptionist and Erin was heavily featured in the series' final seasons. Her portrayal also impressed 30 Rock producers Tina Fey […]
http://www.dailyactor.com/2015/03/ellie-kemper-unbreakable-kimmy-schmidt-tina-fey/
http://www.dailyactor.com/wp-content/uploads/2015/03/lily-james-cinderella.jpg
Lily James on Auditioning for 'Cinderella' and the Hardest Scenes She Had to Shoot
"The good thing is wearing something like that sort of changes how you stand and it gives you a sense of grace that you can use to your advantage as an actor" - Lily James on wearing corsets
http://www.dailyactor.com/2015/03/lily-james-on-auditioning-for-cinderella/