Review: 'The Truth About Emanuel' Starring Kaya Scodelario and Jessica Biel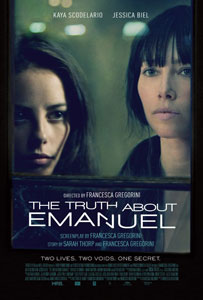 The Truth About Emanuel, writer/director's Francesca Gregorini sophomore effort, is a puzzling sort of film. Not in a bad way but also not in the best of ways either.
Emanuel (Kaya Scodelario from the U.K.'s Skins) is seventeen years old and thinks she's not supposed to be here, as in alive. She's walking around with the guilt of her mother dying while giving birth to her and she's carrying this notion that she's a "murderer." That's heavy stuff for a young girl to deal with and as the story begins, she's in full-on 'acting out' mode, Not in the rebellious sense, more of a shock value sense (like telling her step-mother about a recent sex dream.)
When the new neighbor, single mother Linda (Jessica Biel), says she's looking for a babysitter, Emanuel agrees to help out. Linda's a doting and protective mother who seems a bit off. She wears long flowing dresses and non-period clothes and always has a faraway look in her eyes.
We quickly find out the reason why she seems so odd: Her baby isn't real. It's a doll.
Emaunel's discovery of the fake baby doesn't push her away from Linda though; it brings her closer and makes her more protective. She makes huge efforts to always get in the way every time Linda might show off the baby to someone.
Is the reason she's doing this because Emaunel is a bit off as well? She's randomly seeing things that aren't there. Is she damaged the way Linda is? Is that the truth about Emanuel?
Unfortunately, the truth isn't all that interesting. I kept waiting for some 'a-ha' moment in her story but it never arrived. The real truth lies in Linda and why she's caring for a doll-baby. And when we find that out, that's the best moment of the film.
The film starts off great; a psychological drama that seems to be adding the building blocks of its story in perfect place. As the film unfolds though, we begin to realize that the story isn't as deep as we think it's going to be and the easily wrapped up ending disappoints.
The performances are all fine. Scodelario and Biel work wonders with some of the stilted and clichéd dialogue and it was nice to see Biel in a role she doesn't usually get to play. Her moments after the baby reveal are quite good. Alfred Molina, as Emanuel's put upon father, is always a joy to watch. He took a character that we've seen hundreds of times and made it solely his own.
Gregorini's story about loss and how people deal with it is like an English language foreign film. The way it feels and its style and story reminded me of late 1970's French films I watched back in college. Not that that is a bad thing. In fact, it made it more interesting. I'd love to see what she does next because she's definitely an original voice.
The Truth About Emanuel opens at the Reading Gaslamp 15 Friday, January 10th.
It is also opening in the cities below:
New York: Village East – opens January 10
Los Angeles: Los Feliz 3 and the Royal
San Diego, CA: Gaslamp – opens January 10
Phoenix, AZ: Shea 14 – opens January 10
Miami: Shea 14 – opens January 10
Phoenix, AZ: Sunset Place 24 – opens January 10
Denver: Highlands Ranch 24 – opens January 10
Dallas: Grapevine 30 – opens January 10
Houston: Gulf Pointe 30 – opens January 10
Minneapolis: Eden Prairie 18 – opens January 10
Cherry Hill, NJ: Cherry Hill 24 – opens January 10
http://www.dailyactor.com/wp-content/uploads/2015/01/watch-al-pacino-talks-the-humbli.jpg
Watch: Al Pacino Talks 'The Humbling' and His Extraordinary Career
In this conversation with Al Pacino talks about his role in The Humbling -- including working with Greta Gerwig -- and his historic acting career
http://www.dailyactor.com/2015/01/watch-al-pacino-extraordinary-career/
http://www.dailyactor.com/wp-content/uploads/2015/01/watch-oscar-nominee-steve-carell.jpg
Watch: Oscar Nominee Steve Carell Talks Improv, Auditioning for 'The Office' and 'Foxcatcher'
Carell talks about his entire career as an actor, including his background in improv, how he landed the Michael Scott role on The Office, and Foxcatcher
http://www.dailyactor.com/2015/01/oscar-nominee-steve-carell-improv-auditioning-for-the-office-foxcatcher/
http://www.dailyactor.com/wp-content/uploads/2015/01/ethan-hawke-ellar-coltrane-boyhood.jpg
Ethan Hawke Calls 'Boyhood' the "most special endeavor of my life"
Ethan Hawke is riding high with his fourth Oscar nomination for the Richard Linklater-directed Boyhood. In a recent "Ask Me Anything" on Reddit, the 44-year-old actor gave some thoughtful insight into his career and the 12-year creative endeavor that became the biggest film of the Oscar season. When asked what was the most difficult thing about […]
http://www.dailyactor.com/2015/01/ethan-hawke-boyhood-reddit-amaife/
http://www.dailyactor.com/wp-content/uploads/2015/01/martha-plimpton-a-delicate-balance.jpg
Martha Plimpton Takes a Refreshing Approach to a Long-Lasting Career
Martha Plimpton is an actress who enjoys the work, she's not in it for the fame. The proof is in her continually excellent work that she is doing on-screen and on the stage. She's currently starring in A Delicate Balance on Broadway. It's the audience who gives her the ultimate thrill. "I try to get […]
http://www.dailyactor.com/2015/01/martha-plimpton-long-lasting-career/
http://www.dailyactor.com/wp-content/uploads/2015/01/watch-michael-keaton-talks-candi.jpg
Watch: Michael Keaton Talks Candidly About His Career and His Approach to Acting in 'Birdman'
In this nearly 90 minute conversation, Michael Keaton is his usual affable self but is also remarkably candid about his career and his approach to acting.
http://www.dailyactor.com/2015/01/michael-keaton-career-approach-to-acting-birdman/