Review: Skip This 'Ride Along'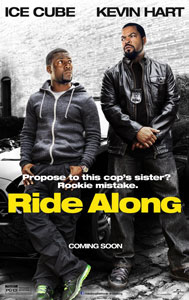 Kevin Hart deserves much better than Ride Along. He's is tremendously funny and definitely a talented guy but he can't save this pointless film.
Hart plays Ben, a high-school security guard who's a master at playing video games. His dream is to become a police officer and when he's finally accepted into the academy, he thinks he'll earn the respect of his fiancé's brother, James (Ice Cube).
James thinks Ben is a big, worthless baby who won't be able to provide for his sister. So, he comes up with a plan to bring him on a ride along, knowing full well that he'll cave and decide not to go into the academy. But, as in films like this, the night doesn't go according to plan and Ben turns out to be much more than James expected.
We've seen this film dozens of times before: the main character is a stunted man-child who is somehow dating an incredibly attractive woman and one of said attractive woman's family members tries to sabotage the relationship.
There's nothing new here and it's as stale as a piece of week-old bread. Hart does his best but he gets zero help from Director Tim Story, who helmed the horrible Fantastic Four films. A good edit would have helped; scenes go one way too long and some things just don't make sense. For instance, early on we find out that Ben has been trying to get into the academy. We then see him in a long scene where he's trying to help out a kid at the high school where he works. Once the kid walks out of the scene, Ben takes a letter out of his pocket – the letter where he'll find out if he's been accepted into the academy – to read it. You're telling me he didn't rip open that letter the very second it was given to him? He just carries it around with him for hours and hours? And where did he get the letter? Does he have it delivered to the high school?
Ice Cube is fine and the two do have some chemistry together but in an hour and a half, I only laughed three times.
Latest Videos
http://www.dailyactor.com/wp-content/uploads/2014/07/bill-hader.jpg
Bill Hader: "I kind of fell into acting" (video)
Bill Hader, starring in the soon to be released The Skeleton Twins, talks about the film and how he fell into acting and then got "crazy lucky" in this quick video from USA Today. Share on Tumblr
http://www.dailyactor.com/2014/07/bill-hader-fell-into-acting-video/
http://www.dailyactor.com/wp-content/uploads/2014/07/director-john-carney-narrates-a.jpg
Director John Carney Narrates a Scene from 'Begin Again' Starring Kiera Knightley and Mark Ruffalo
Director John Carney (Once) narrates a scene from his new film, Begin Again. Starring Keira Knightley and Mark Ruffalo, the scene shows the first time the two characters meet. I haven't seen it yet but I've heard it's great.
http://www.dailyactor.com/2014/07/begin-again-scene-director-john-carney-keira-knightley-mark-ruffalo/
http://www.dailyactor.com/wp-content/uploads/2014/07/holler-if-you-hear-me-gma.jpg
Watch the Cast of Broadway's 'Holler If You Hear Me' Perform 'California Love' on GMA
The cast of Broadway's newest musical, Holler If You Hear Me with music from Tupac Shakur, performed on Good Morning America this morning. Singing 'California Love', the cast (including the teriffic Christopher Jackson – read our interview here), show why they're the most energetic and inspiring group of actors on Broadway. Holler If Ya Hear [...]
http://www.dailyactor.com/2014/07/watch-cast-broadways-holler-hear-perform-california-love-gma/
http://www.dailyactor.com/wp-content/uploads/2014/07/behind-the-scenes-of-dawn-of-the.jpg
Behind the Scenes of 'Dawn of the Planet of the Apes' with Performance Capture Actor Terry Notary
Actor Terry Notary is 1 of 5 actors playing the apes in the new Dawn of the Planet of the Apes. "When you see armies of apes," he says, that's "five of us." Check out the video where you can watch his performance capture work.
http://www.dailyactor.com/2014/07/dawn-planet-apes-performance-capture-actor-terry-notary/
http://www.dailyactor.com/wp-content/uploads/2014/07/melissa-mccarthy-daily-show.jpg
Melissa McCarthy and John Stewart Talk About Terrible Commercial Auditions on 'The Daily Show'
Melissa McCarthy stopped by The Daily Show last week to plug about her new movie, Tammy. She talked about how she loved working with her husband, Ben Falcone (director of Tammy) and then segued into talking about some horrible working situations. The always hilarious McCarthy then started to tell host John Stewart about a particular [...]
http://www.dailyactor.com/2014/07/melissa-mccarthy-john-stewart-commercial-auditions-the-daily-show/