Review: 'Brightest Star' Starring Chris Lowell, Rose McIver and Jessica Szohr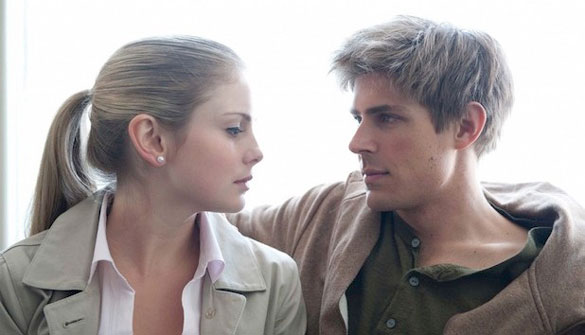 Chris Lowell (Enlisted, Veronica Mars) is just a boy trying to figure out his place in life. The Boy, as he's called in the credits (his character is never given a name), has just gotten dumped by Charlotte (Rose McIver) and man, does he have it bad.
He's mopey and floating through life, still convinced that he's going to get her back. Charlotte is rapidly climbing the corporate ladder so he decides to turn himself into what he thinks she wants in a man. That always works out, right? With the help from his friend, Lita (the wonderful Jessica Szohr), he gets a high-level job at her father's (Clark Gregg) company.
The only snag in his plan is that he's now fallen for Lita, the complete opposite of Charlotte; she's a cool singer/songwriter and has personality to spare.
Life should be great now, right?
Nope… he's still pining for Charlotte which will make life for all of them a bit complicated.
This is actress Maggie Kiley's first venture as a feature director and while there are some bumps – most notably the ending – that doesn't stop the film from being immensely watchable. She's got a great ear for dialogue and her female lead characters are not the usual women you'd see in a film like this. None of them are bitches! Yay! They're both normal modern-day women. Flawed and complicated but also nice, caring and interesting. Any guy would love to settle down with these girls.
Another thing she does is that she doesn't give us the ending we expect. I wasn't a fan of how it worked out but good on her for having the guts to go in a direction no one can see coming.
Kiley also has the three leads to thank for giving her winning performances. Lowell takes a guy who could have easily been a sad sack throughout the entire film and makes him into a three-dimensional guy. Him, McIver and Szohr capture life as young NYC'ers in search of their place in life and you just sit there envying them, even though they're sometimes aimless and sad, because you know that they're all going to turn out all right.
http://www.dailyactor.com/wp-content/uploads/2015/01/watch-al-pacino-talks-the-humbli.jpg
Watch: Al Pacino Talks 'The Humbling' and His Extraordinary Career
In this conversation with Al Pacino talks about his role in The Humbling -- including working with Greta Gerwig -- and his historic acting career
http://www.dailyactor.com/2015/01/watch-al-pacino-extraordinary-career/
http://www.dailyactor.com/wp-content/uploads/2015/01/watch-oscar-nominee-steve-carell.jpg
Watch: Oscar Nominee Steve Carell Talks Improv, Auditioning for 'The Office' and 'Foxcatcher'
Carell talks about his entire career as an actor, including his background in improv, how he landed the Michael Scott role on The Office, and Foxcatcher
http://www.dailyactor.com/2015/01/oscar-nominee-steve-carell-improv-auditioning-for-the-office-foxcatcher/
http://www.dailyactor.com/wp-content/uploads/2015/01/ethan-hawke-ellar-coltrane-boyhood.jpg
Ethan Hawke Calls 'Boyhood' the "most special endeavor of my life"
Ethan Hawke is riding high with his fourth Oscar nomination for the Richard Linklater-directed Boyhood. In a recent "Ask Me Anything" on Reddit, the 44-year-old actor gave some thoughtful insight into his career and the 12-year creative endeavor that became the biggest film of the Oscar season. When asked what was the most difficult thing about […]
http://www.dailyactor.com/2015/01/ethan-hawke-boyhood-reddit-amaife/
http://www.dailyactor.com/wp-content/uploads/2015/01/martha-plimpton-a-delicate-balance.jpg
Martha Plimpton Takes a Refreshing Approach to a Long-Lasting Career
Martha Plimpton is an actress who enjoys the work, she's not in it for the fame. The proof is in her continually excellent work that she is doing on-screen and on the stage. She's currently starring in A Delicate Balance on Broadway. It's the audience who gives her the ultimate thrill. "I try to get […]
http://www.dailyactor.com/2015/01/martha-plimpton-long-lasting-career/
http://www.dailyactor.com/wp-content/uploads/2015/01/watch-michael-keaton-talks-candi.jpg
Watch: Michael Keaton Talks Candidly About His Career and His Approach to Acting in 'Birdman'
In this nearly 90 minute conversation, Michael Keaton is his usual affable self but is also remarkably candid about his career and his approach to acting.
http://www.dailyactor.com/2015/01/michael-keaton-career-approach-to-acting-birdman/