'Rake' star John Ortiz Reflects on his 20-Year Career: From 'Carlito's Way' to his New FOX Show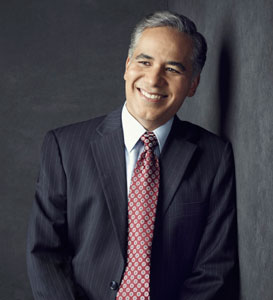 Actor John Ortiz is back on TV. He will hitting the small screen on Jan. 23 in FOX's new show Rake with Greg Kinnear. The series focuses in on a Los Angeles defense attorney, played by Kinnear, who can't seem to stay out of trouble. Ortiz plays a fellow lawyer who's a gambler in love with a prostitute.
Off-beat characters like this are familiar territory to Ortiz who first hit the big screen as a drug dealer in Carlito's Way in 1993. He even went on to the Great White Way in 2003 in the Pulitzer Prize-winning show Anna in the Tropics. The show also starred Jimmy Smits and David Zayas.
The 45-year-old actor reflected on his varied career with the New York Daily News, "I feel blessed. I never wanted to be an actor. It just happened all by chance and fate. I was studying to be a teacher."
Things seemed to have worked out quite well for the Ortiz because he's still in the game decades later.
He said, "I decided to give it a try, and 20 years later, here I am doing something that I never in a million years imagined myself making a career out of. I always felt that, without trying to sound too hokey, I was just a part of it… that it was a gift. And I still feel that way. And sometimes I have to remind myself of that."
It's also something he doesn't take for granted though. He's grateful for a career that has given him incredible opportunities.
"Yeah, I think I was given a talent, and I've been able to nurture it and feed it, and hone in on those things and work on some of my weaknesses," Ortiz explained. "But for the big-picture part of it, it still is a true blessing."
http://www.dailyactor.com/wp-content/uploads/2015/01/watch-al-pacino-talks-the-humbli.jpg
Watch: Al Pacino Talks 'The Humbling' and His Extraordinary Career
In this conversation with Al Pacino talks about his role in The Humbling -- including working with Greta Gerwig -- and his historic acting career
http://www.dailyactor.com/2015/01/watch-al-pacino-extraordinary-career/
http://www.dailyactor.com/wp-content/uploads/2015/01/watch-oscar-nominee-steve-carell.jpg
Watch: Oscar Nominee Steve Carell Talks Improv, Auditioning for 'The Office' and 'Foxcatcher'
Carell talks about his entire career as an actor, including his background in improv, how he landed the Michael Scott role on The Office, and Foxcatcher
http://www.dailyactor.com/2015/01/oscar-nominee-steve-carell-improv-auditioning-for-the-office-foxcatcher/
http://www.dailyactor.com/wp-content/uploads/2015/01/ethan-hawke-ellar-coltrane-boyhood.jpg
Ethan Hawke Calls 'Boyhood' the "most special endeavor of my life"
Ethan Hawke is riding high with his fourth Oscar nomination for the Richard Linklater-directed Boyhood. In a recent "Ask Me Anything" on Reddit, the 44-year-old actor gave some thoughtful insight into his career and the 12-year creative endeavor that became the biggest film of the Oscar season. When asked what was the most difficult thing about […]
http://www.dailyactor.com/2015/01/ethan-hawke-boyhood-reddit-amaife/
http://www.dailyactor.com/wp-content/uploads/2015/01/martha-plimpton-a-delicate-balance.jpg
Martha Plimpton Takes a Refreshing Approach to a Long-Lasting Career
Martha Plimpton is an actress who enjoys the work, she's not in it for the fame. The proof is in her continually excellent work that she is doing on-screen and on the stage. She's currently starring in A Delicate Balance on Broadway. It's the audience who gives her the ultimate thrill. "I try to get […]
http://www.dailyactor.com/2015/01/martha-plimpton-long-lasting-career/
http://www.dailyactor.com/wp-content/uploads/2015/01/watch-michael-keaton-talks-candi.jpg
Watch: Michael Keaton Talks Candidly About His Career and His Approach to Acting in 'Birdman'
In this nearly 90 minute conversation, Michael Keaton is his usual affable self but is also remarkably candid about his career and his approach to acting.
http://www.dailyactor.com/2015/01/michael-keaton-career-approach-to-acting-birdman/