'Rake' star John Ortiz Reflects on his 20-Year Career: From 'Carlito's Way' to his New FOX Show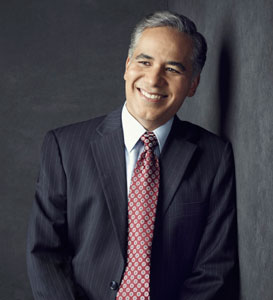 Actor John Ortiz is back on TV. He will hitting the small screen on Jan. 23 in FOX's new show Rake with Greg Kinnear. The series focuses in on a Los Angeles defense attorney, played by Kinnear, who can't seem to stay out of trouble. Ortiz plays a fellow lawyer who's a gambler in love with a prostitute.
Off-beat characters like this are familiar territory to Ortiz who first hit the big screen as a drug dealer in Carlito's Way in 1993. He even went on to the Great White Way in 2003 in the Pulitzer Prize-winning show Anna in the Tropics. The show also starred Jimmy Smits and David Zayas.
The 45-year-old actor reflected on his varied career with the New York Daily News, "I feel blessed. I never wanted to be an actor. It just happened all by chance and fate. I was studying to be a teacher."
Things seemed to have worked out quite well for the Ortiz because he's still in the game decades later.
He said, "I decided to give it a try, and 20 years later, here I am doing something that I never in a million years imagined myself making a career out of. I always felt that, without trying to sound too hokey, I was just a part of it… that it was a gift. And I still feel that way. And sometimes I have to remind myself of that."
It's also something he doesn't take for granted though. He's grateful for a career that has given him incredible opportunities.
"Yeah, I think I was given a talent, and I've been able to nurture it and feed it, and hone in on those things and work on some of my weaknesses," Ortiz explained. "But for the big-picture part of it, it still is a true blessing."
Latest Videos
http://www.dailyactor.com/wp-content/uploads/2014/07/bill-hader.jpg
Bill Hader: "I kind of fell into acting" (video)
Bill Hader, starring in the soon to be released The Skeleton Twins, talks about the film and how he fell into acting and then got "crazy lucky" in this quick video from USA Today. Share on Tumblr
http://www.dailyactor.com/2014/07/bill-hader-fell-into-acting-video/
http://www.dailyactor.com/wp-content/uploads/2014/07/director-john-carney-narrates-a.jpg
Director John Carney Narrates a Scene from 'Begin Again' Starring Kiera Knightley and Mark Ruffalo
Director John Carney (Once) narrates a scene from his new film, Begin Again. Starring Keira Knightley and Mark Ruffalo, the scene shows the first time the two characters meet. I haven't seen it yet but I've heard it's great.
http://www.dailyactor.com/2014/07/begin-again-scene-director-john-carney-keira-knightley-mark-ruffalo/
http://www.dailyactor.com/wp-content/uploads/2014/07/holler-if-you-hear-me-gma.jpg
Watch the Cast of Broadway's 'Holler If You Hear Me' Perform 'California Love' on GMA
The cast of Broadway's newest musical, Holler If You Hear Me with music from Tupac Shakur, performed on Good Morning America this morning. Singing 'California Love', the cast (including the teriffic Christopher Jackson – read our interview here), show why they're the most energetic and inspiring group of actors on Broadway. Holler If Ya Hear [...]
http://www.dailyactor.com/2014/07/watch-cast-broadways-holler-hear-perform-california-love-gma/
http://www.dailyactor.com/wp-content/uploads/2014/07/behind-the-scenes-of-dawn-of-the.jpg
Behind the Scenes of 'Dawn of the Planet of the Apes' with Performance Capture Actor Terry Notary
Actor Terry Notary is 1 of 5 actors playing the apes in the new Dawn of the Planet of the Apes. "When you see armies of apes," he says, that's "five of us." Check out the video where you can watch his performance capture work.
http://www.dailyactor.com/2014/07/dawn-planet-apes-performance-capture-actor-terry-notary/
http://www.dailyactor.com/wp-content/uploads/2014/07/melissa-mccarthy-daily-show.jpg
Melissa McCarthy and John Stewart Talk About Terrible Commercial Auditions on 'The Daily Show'
Melissa McCarthy stopped by The Daily Show last week to plug about her new movie, Tammy. She talked about how she loved working with her husband, Ben Falcone (director of Tammy) and then segued into talking about some horrible working situations. The always hilarious McCarthy then started to tell host John Stewart about a particular [...]
http://www.dailyactor.com/2014/07/melissa-mccarthy-john-stewart-commercial-auditions-the-daily-show/