Matthew McConaughey on His Decision to Star in HBO's 'True Detective' and Why He Requested a Different Character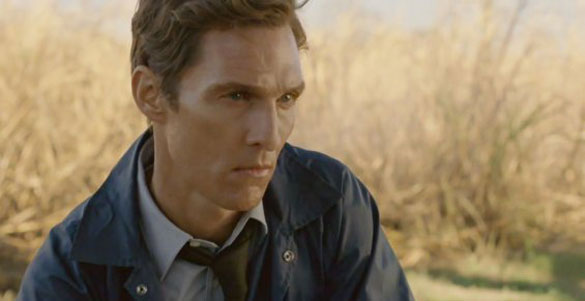 Just a few years ago it would sound like insanity for a film actor on the hottest streak of his career to decide to do television, but with shows like Mad Men and Breaking Bad changing the way television is perceived, it's no surprise anymore when a major film actor announces that he or she will star in a new cable television show. One of those actors is Matthew McConaughey, who is starring in the eight episode HBO series True Detective with real-life friend (and himself a former television star) Woody Harrelson. He spoke to NPR about why he decided to do the show and why he requested a different character than the one producers wanted him for.
McConaughey has gotten praise and awards for his recent film roles in movies like Killer Joe, Mud and Dallas Buyers Club, so he stresses that the decision to do True Detective was based on his search for strong material regardless of the medium. He explains, "We didn't know where it was going to be [shown]. I read the first two episodes, and I was in…I was just, at the time, looking for quality. And so it wasn't something that said, 'I'm in, but wait. Wait a minute. It's TV.'…That transition is much more seamless, in reality and perception, more now than ever. So it was to me, it was, 'Television? Great. Let's go to the right place to do it.' And I've said this before. Some of the best drama going on has been on television and you know, in comparison to some films. So it was a 450 page film, is what it was. It was also finite. It didn't mean we had to come back this year, next year if we were under contract. It was finite. So in that way it was exactly a 450 page film script."
In the series McConaguhey portrays a loner cop named Cohle, but producers originally wanted him to play the role of Hart, a warmer, family man character eventually portrayed by Harrelson. However, McConaughey requested the change. He explains, "I understood objectively why they would be coming to me with the role of Hart…[he was] probably closer to some of my past work. But Cohle was the voice that I remember writing down, 'I can't wait to turn the page and hear what's coming out of this guy's mouth. It's got fire on it every time.' And I was like, 'You know what? That I have not done, but boy, I know who this guy is. I love this guy's mind. Let me in.'"
Latest Videos
http://www.dailyactor.com/wp-content/uploads/2014/08/bryan-cranston-emmy-award-speech.jpg
Watch: Bryan Cranston's Emmy Award Speech: "I love to act. It is a passion of mine and I will do it until my last breath."
The Emmy Awards weren't the most exciting awards show this year but with Bryan Cranston winning for Outstanding Actor in a Drama for Breaking Bad, we at least got to hear one heck of a fantastic acceptance speech. "I was a kid who always looked for the shortcut," he said. "I did happen to stumble […]
http://www.dailyactor.com/2014/08/watch-bryan-cranston-and-aaron-pauls-emmy-award-speeches/
http://www.dailyactor.com/wp-content/uploads/2014/08/audition-tapes-gerard-butler-aud.jpg
Audition Tapes: Gerard Butler Auditions for 'Dracula 2000′
Check out Gerard Butler auditioning for the role of Dracula in the movie, Dracula 2000. The film, about a group of thieves who break into a chamber expecting to find paintings, but instead find Dracula himself, also starred Christopher Plummer, Jonny Lee Miller and Nathan Fillion. Bulter has some sweet rock star hair, huh?
http://www.dailyactor.com/2014/08/audition-tapes-gerard-butler-dracula-2000/
http://www.dailyactor.com/wp-content/uploads/2014/08/interview-matt-dillon-and-carla.jpg
Interview: Matt Dillon and Carla Gugino Talk 'Wayward Pines'
FOX has a new limited-series that's got a terrific cast and interesting premise. It's called Wayward Pines and stars Matt Dillon, Carla Gugino, Melissa Leo, Toby Jones, Terrance Howard, Juliette Lewis, Tim Griffin and Shannyn Sossamon. The show, whose pilot was directed by M. Night Shyamalan, is about a Secret Service agent (Dillon) goes to […]
http://www.dailyactor.com/2014/08/interview-matt-dillon-carla-gugino-wayward-pines-comic-con/
http://www.dailyactor.com/wp-content/uploads/2014/08/interview-wayward-pines-stars-ti.jpg
Interview: 'Wayward Pines' Stars Tim Griffin and Shannyn Sossamon on the Show, Their Characters and More!
Griffin and Sossamonwere at Comic-Con where they sat in on some roundtable interviews to talk about the show.
http://www.dailyactor.com/2014/08/interview-wayward-pines-stars-tim-griffin-shannyn-sossamon-comic-con/
http://www.dailyactor.com/wp-content/uploads/2014/08/interview-m-night-shyamalan-talk.jpg
Interview: M. Night Shyamalan Talks 'Wayward Pines' and Why He Expanded a Young Actors Role on the Show
I talked to Shyamalan at Comic-Con in a roundtable interview where he talked about the cast, what he learned from working in TV and how young actor Charlie Tahan started out with a small part but as the story grew, so did his role.
http://www.dailyactor.com/2014/08/interview-m-night-shyamalan-wayward-pines-comic-con/