Martin Freeman on Starring in the 'Fargo' TV Series: "I'm not interested in playing an echo of something that was done 20 years ago. This is its own thing"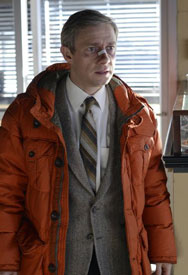 Fargo remains one of the highest regarded films of the 1990s, so many people are leery of the idea of FX turning the Coen brothers' crime masterpiece into a limited television series.
Nonetheless, the series will tell a different story than the original film and Joel and Ethan Coen are executive producers of the series. However, it's hard to argue with the acting talent involved so far. The cast includes Billy Bob Thornton, Oliver Platt, Keith Carradine and Martin Freeman, who will be portraying a character named Lester in the series.
He spoke to New York magazine about why he took the project, working on his American accent, and how his real-life wife ended up playing his fictional wife on Sherlock.
Freeman admits that before he read the script he wasn't interested, but his mind changed after reading the pilot script. He explains, "The first I knew about it, I was getting the script for episode one and the offer to play Lester. In a vacuum, just hearing about it, I might have thought Well, do we need that? I had the same feeling, by the way, about Sherlock. Really? Do we need that? But after the first few pages, that turned into, Yes. We do need it, and I need to be in it." Later, he continues to praise the script by adding, "I can only go on the script that I'm sent, and this one was interesting, it was engaging, and it was surprising. I got to cover ground that I haven't covered before. I showed it to my Mrs. and she's like, 'You have to fuckin' do this.' So I did."
Freeman also points out that he was interested because it wasn't simply a rehashing of the film. He reveals, "I'm not interested in playing an echo of something that was done 20 years ago. This is its own thing."
In addition, the role comes with a few challenges for Freeman. In particular, this is the first time Freeman has to use an American accent. Though the thick Midwestern accents were one of the most notable part of the original Fargo, Freeman notes that there are just as many quirky things about British English. He says, "The truth of some of those Minnesota accents is that even some Minnesotans think that they're kind of funny. So it's a fine line of getting that and honoring those characters. Not being reverential to them or patronizing them, but to also acknowledge that some of the things the characters say are funny in the way that some of the things that are classically English are kind of ridiculous."
Of course, Fargo is only one of the television series that Freeman stars in. On the other side of the Atlantic he stars as Watson in Sherlock, the BBC series that retells the Sherlock Holmes stories in a contemporary setting. Recently, Freeman's Watson got married, and his television wife is none other than Freeman's real-life wife Amanda Abbington. On how that happened, Freeman reveals, "During season two, Mark [Gatiss, executive producer] said to me, 'You haven't talked about who might play Mary.' That was the first time this conversation had ever come up. I said, 'Well, to be honest, I think Amanda would be pretty good,' and he goes, 'That's exactly what we were thinking.' They knew she was able to be funny and engaging and just right. I mean, the last thing you want is to feel like you're being John and Yoko, but Amanda can do this all day long in her sleep. Of course, I love her, but I know also she's really fucking good. I wouldn't say she should play everything in the world, but as far as this casting, it's pretty good."
Latest Videos
http://www.dailyactor.com/wp-content/uploads/2014/07/bill-hader.jpg
Bill Hader: "I kind of fell into acting" (video)
Bill Hader, starring in the soon to be released The Skeleton Twins, talks about the film and how he fell into acting and then got "crazy lucky" in this quick video from USA Today. Share on Tumblr
http://www.dailyactor.com/2014/07/bill-hader-fell-into-acting-video/
http://www.dailyactor.com/wp-content/uploads/2014/07/director-john-carney-narrates-a.jpg
Director John Carney Narrates a Scene from 'Begin Again' Starring Kiera Knightley and Mark Ruffalo
Director John Carney (Once) narrates a scene from his new film, Begin Again. Starring Keira Knightley and Mark Ruffalo, the scene shows the first time the two characters meet. I haven't seen it yet but I've heard it's great.
http://www.dailyactor.com/2014/07/begin-again-scene-director-john-carney-keira-knightley-mark-ruffalo/
http://www.dailyactor.com/wp-content/uploads/2014/07/holler-if-you-hear-me-gma.jpg
Watch the Cast of Broadway's 'Holler If You Hear Me' Perform 'California Love' on GMA
The cast of Broadway's newest musical, Holler If You Hear Me with music from Tupac Shakur, performed on Good Morning America this morning. Singing 'California Love', the cast (including the teriffic Christopher Jackson – read our interview here), show why they're the most energetic and inspiring group of actors on Broadway. Holler If Ya Hear [...]
http://www.dailyactor.com/2014/07/watch-cast-broadways-holler-hear-perform-california-love-gma/
http://www.dailyactor.com/wp-content/uploads/2014/07/behind-the-scenes-of-dawn-of-the.jpg
Behind the Scenes of 'Dawn of the Planet of the Apes' with Performance Capture Actor Terry Notary
Actor Terry Notary is 1 of 5 actors playing the apes in the new Dawn of the Planet of the Apes. "When you see armies of apes," he says, that's "five of us." Check out the video where you can watch his performance capture work.
http://www.dailyactor.com/2014/07/dawn-planet-apes-performance-capture-actor-terry-notary/
http://www.dailyactor.com/wp-content/uploads/2014/07/melissa-mccarthy-daily-show.jpg
Melissa McCarthy and John Stewart Talk About Terrible Commercial Auditions on 'The Daily Show'
Melissa McCarthy stopped by The Daily Show last week to plug about her new movie, Tammy. She talked about how she loved working with her husband, Ben Falcone (director of Tammy) and then segued into talking about some horrible working situations. The always hilarious McCarthy then started to tell host John Stewart about a particular [...]
http://www.dailyactor.com/2014/07/melissa-mccarthy-john-stewart-commercial-auditions-the-daily-show/