Julianne Nicholson Calls 'August: Osage County' Role a "Dream Come True": "I still don't really believe it, even though the proof is out there"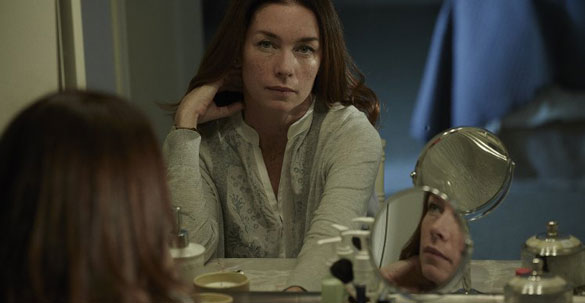 While Meryl Streep and Julia Roberts are getting most of the awards recognition for August: Osage County, it's fair to say that neither role would've been as impressive if they hadn't had another great performance in the film to play off of — Ivy Weston, portrayed by Julianne Nicholson. Nicholson's character is Roberts' character's sister and Streep's character's daughter, so Ivy plays a central role in the family feuds that make up the story of the movie. Because she is not normally an actress in lead roles, Nicholson spoke to Reuters about what she found difficult about the role and why she hopes her next project will be something completely different.
Even though thousands have seen the film and it has garnered several awards (including a nomination for the Outstanding Performance by a Cast Screen Actors Guild Award), Nicholson admits that the "dream come true" experience still doesn't feel real, confessing, "I still don't really believe it, even though the proof is out there."
Of course, suggesting that Nicholson is a new face ignores all of the roles that she has appeared since her career began in the 1990s, including roles on the popular television series Masters of Sex, Boardwalk Empire, Law & Order: Criminal Intent, and Ally McBeal, among many others.
Still, Nicholson admits that August: Osage County was one of the most challenging roles of her career because of its intensity. She explains, "I found this job to be very hard, mostly just the character and trying to be true to her experience but also living in that place for nine weeks. I don't bring it home with me but it's still – I don't want to give anything away – but some of the things you go through, obviously it's fake, but your body is going through the actions of these things. So it was very exhausting and I just was trying to do it right."
So it's no surprise that Nicholson says that she hopes her next role will be something much lighter. She says, "The last couple of years, I think they've all been quite serious, strong, maybe a little tough. I want to play something a little lighter next. The next new job I get … I'd like to do something funny again. I did Ally McBeal, which I loved and a comedy film Seeing Other People, and I feel I'd like to exercise that muscle again. And also let people know that I can smile, I'm not always so flipping unhappy! It's not because I'm unhappy in my life."
http://www.dailyactor.com/wp-content/uploads/2015/05/Caitriona-Balfe-Outlander.jpg
Outlander's Caitriona Balfe On The Emotional Toll of Filming Violent Scenes
"Having to put yourself in that place is tough. To sit in that emotional space, especially when you're doing it day after day." - Caitriona Balfe
http://www.dailyactor.com/2015/05/outlander-catriona-balfe-emotional-toll-of-filming-violent-scenes/
http://www.dailyactor.com/wp-content/uploads/2015/05/Chrissie-Fit.jpg
Chrissie Fit on How She Landed Her Role in 'Pitch Perfect 2′
"I remember getting the audition and being like, "This might not happen," just because it is such a massive movie." - Chrissie Fit
http://www.dailyactor.com/2015/05/chrissie-fit-on-how-she-landed-her-role-in-pitch-perfect-2/
http://www.dailyactor.com/wp-content/uploads/2015/05/Sam-Elliott.jpg
Sam Elliot on How he "F–ked" Himself Out of a Career as a Lead Actor
The rugged Sam Elliot has most often cast in character actor roles throughout his long career in film, though the 70 year-old Elliot thinks it wasn't always meant to be that way.
http://www.dailyactor.com/2015/05/sam-elliot-on-how-he-f-ked-himself-out-of-a-career-as-a-lead-actor/
http://www.dailyactor.com/wp-content/uploads/2015/05/Anna-Kendrick-Pitch-Perfect-2.jpg
Anna Kendrick Talks Hollywood and its Gender Bias
"As an actress you're perpetually about to be unemployed." - Anna Kendrick
http://www.dailyactor.com/2015/05/anna-kendrick-talks-hollywood-and-its-gender-bias/
http://www.dailyactor.com/wp-content/uploads/2015/05/tom-hardy-mad-max-fury-road.jpg
Tom Hardy on Fame, Acting School, and His 'Mad Respect' for Michael Fassbender
"Do what you love doing, do it well—everything should fit into place." - Tom Hardy
http://www.dailyactor.com/2015/05/tom-hardy-fame-acting-school-michael-fassbender/