Interview: Janet Montgomery Talks Her New Series 'Salem': "I'd never read a character that interested me as much"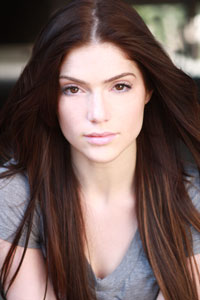 One of the most fascinating panels at this winter's Television Critics Association panel was for WGN America's new scripted series Salem. The press inquired about the fact versus fiction angle and how the network planned to honor the real Salem Witch Trials.
Even though the press gave creator Brannon Braga a hard time at the panel, the cast seemed to embrace the nature of the series. It's also a show that should resonate with fantasy and historical fans.
Daily Actor sat down with Janet Montgomery during a roundtable discussion to talk about the series and what it's like working with a new cable network.
What's your first thought when you read the script?
Janet Montgomery: Well, I read the script and I think that I'd never read a character that interested me as much as I thought was in my reach. I thought there's always been a part of me that struggles with very powerful women and maybe it's my age or my stance. I think I have a people-pleasing thing where I'm very smiley and I'm very friendly. So to play something like this, I was like I want to challenge myself and I want to tap into this maturity and this womanhood with this character. And then I met with Brannon, he was in London and he sold me on the whole concept of the show and the whole world and, yeah, I was in. I've also, you know, the fact that it's a new cable network. To work in cable TV, all the shows that I'm watching right now are all cable. I thought this is a really exceptional opportunity. You know? To be part of something new.
How has it been working with them being a new network?
Janet Montgomery: To be honest, it's been great so far. We've shot one episode. I'm blown away by the amount of money that's gone into it. I'm not gonna lie, I'm being paid a fortune. [She says jokingly.] No, the sets are unreal. I can't… people have said that to me before I would've been like, "Oh, great. Great sets," but this is a world. It's like they built a village. Like you can go inside, you can… I could sleep there if I wanted to. I won't, but I'll think about it.
It's easier to get into character obviously.
Janet Montgomery: Yeah…hey don't have to shoot in a certain way because there's no actual back to the front of this house or whatever. It's like it's all there. That is like a big obstacle to overcome. You know?
There seems to be some strong horror elements. Can you talk about what that brings to the show?
Janet Montgomery: Well, I think the horror stuff, I love horror movies and I also think that the horror fans are probably the most loyal out there for sure and they really know what they like and they wanna see it. And I think this is a TV show that… it's not just horror and gore, but we're not afraid to shock people and that's why I wanted to do it. I was like, "How are they gonna do this?" Thinking, "Ooh, can they really say that? Is that politically correct or whatever?" And then I was like, "I love it that it's not." But I come from England and we make TV shows that other countries wouldn't. Like America, yeah, America wouldn't show boobs before 8pm. WGN won't either, but I think that kind of taking risks and I think the shows that have really worked and the shows that I wanna watch, the stories I wanna see, are risky. I mean, starting with The Sopranos right up to Breaking Bad, which the whole world was gripped. And it's a risky story. I mean, he's cooking meth.
As far as the female aspect of the character, it comes across as a very strong female element here, which is you guys talked about a little bit, that hadn't been done before. Can you elaborate a little bit on that as far as the female element? 
Janet Montgomery: I get what you mean. I think what it is is like it's hard when you're trying to do a grounded performance and relate to everything if you've suddenly got something supernatural. Because you're like, "Well, I'm not a witch so how do I relate to this?" And I think the idea about feminism and in today's world and being, you know, you look back at women in history and the way they were treated to what we have now. If you take a witch, like a woman who has orgasms, who's sexual, who wants to speak her own mind, who's smart, but has no right to any of those things, is treated like below men and has absolutely no right to her voice or her opinions, you think no wonder you would turn to something where maybe the devil is saying no you do have a voice or no you can be sexual. Because maybe that's… maybe what would be so bad if they actually took over? Would it be like, you know, women would be equal or women take over and men would be treated like shit. Who knows. But it was that kind of element that I related to.
Can you talk about the evilness of your character, Mary Sibley?
Janet Montgomery: Because I do not believe that evil comes from nowhere and I think a lot of people that do bad, it's because they have no choice. They've taken enough from the world and they've been shat on enough to finally say, "You know what? No. Fuck you," and it happens all the time. It's like it's such a common thing that you look at some of the nastiest people in history and it's because they've been prejudiced against them… persecuted. Yeah, exactly. And even if you go to Margaret Thatcher, like the shit that she went through. People have a lot of things to say about her, but, at the same time, from where she came from and why she was probably like that was because people were like, "You're a woman. You don't know what you're doing," so then she took it too far and got really nasty.
Salem premieres on April 20 on WGN America for a 13-episode run.
Latest Videos
http://www.dailyactor.com/wp-content/uploads/2014/07/sir-ben-kingsley-talks-about-the.jpg
Sir Ben Kingsley Talks about the Unique Way He Voiced His Character in the Animated Film, 'The Boxtrolls' (video)
I could listen to Sir Ben Kingsley talk about acting and.. well, I could listen to him talk about anything. He's starring in the new Laika stop-motion animated film, The Boxtrolls, and he and some of the cast (along with the director) joined in on a Comic-Con panel about the film. The Boxtrolls is about [...]
http://www.dailyactor.com/2014/07/sir-ben-kingsley-the-boxtrolls-comic-con/
http://www.dailyactor.com/wp-content/uploads/2014/07/bill-hader.jpg
Bill Hader: "I kind of fell into acting" (video)
Bill Hader, starring in the soon to be released The Skeleton Twins, talks about the film and how he fell into acting and then got "crazy lucky" in this quick video from USA Today.
http://www.dailyactor.com/2014/07/bill-hader-fell-into-acting-video/
http://www.dailyactor.com/wp-content/uploads/2014/07/director-john-carney-narrates-a.jpg
Director John Carney Narrates a Scene from 'Begin Again' Starring Kiera Knightley and Mark Ruffalo
Director John Carney (Once) narrates a scene from his new film, Begin Again. Starring Keira Knightley and Mark Ruffalo, the scene shows the first time the two characters meet. I haven't seen it yet but I've heard it's great.
http://www.dailyactor.com/2014/07/begin-again-scene-director-john-carney-keira-knightley-mark-ruffalo/
http://www.dailyactor.com/wp-content/uploads/2014/07/holler-if-you-hear-me-gma.jpg
Watch the Cast of Broadway's 'Holler If You Hear Me' Perform 'California Love' on GMA
The cast of Broadway's newest musical, Holler If You Hear Me with music from Tupac Shakur, performed on Good Morning America this morning. Singing 'California Love', the cast (including the teriffic Christopher Jackson – read our interview here), show why they're the most energetic and inspiring group of actors on Broadway. Holler If Ya Hear [...]
http://www.dailyactor.com/2014/07/watch-cast-broadways-holler-hear-perform-california-love-gma/
http://www.dailyactor.com/wp-content/uploads/2014/07/behind-the-scenes-of-dawn-of-the.jpg
Behind the Scenes of 'Dawn of the Planet of the Apes' with Performance Capture Actor Terry Notary
Actor Terry Notary is 1 of 5 actors playing the apes in the new Dawn of the Planet of the Apes. "When you see armies of apes," he says, that's "five of us." Check out the video where you can watch his performance capture work.
http://www.dailyactor.com/2014/07/dawn-planet-apes-performance-capture-actor-terry-notary/