Bryan Cranston on Starring as LBJ in Broadway's 'All the Way' and Whether We'll Ever See Walter White Again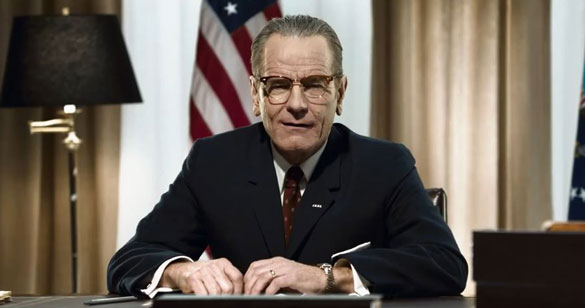 After the massive critical and rating success of Breaking Bad, Bryan Cranston could probably do whatever he wanted once he hung up Walter White's porkpie hat. So many were surprised that Cranston's next move was to make his Broadway debut portraying President Lyndon B. Johnson in All the Way after a sold-out run at the American Repertory Theater in Massachusetts. He spoke to Rolling Stone about the role, the difference between acting on stage and on television, and whether or not we'll see Walter White again.
On why he decided on starring in a play as President Johnson, Cranston says, "I was searching for something that would resonate with people. It had to be entertaining, of course, but it also had to have some meaning beyond the words. I found a lot of layers in this show."
When asked what type of roles he is looking for in his career at this moment, he responds, "Interesting and challenging ones. The most important thing for me, which was the case with Breaking Bad, is the story and the writing. In this case, the story of LBJ is so epic. It's enormous and wonderful and all encompassing and there is no way that you can "sort of" do it – you have to really dive into this situation that he was in. You need to wallow in his highs and his lows."
Naturally, the experience of doing a play is much different for an actor than starring in a television series — even one as wildly popular as Breaking Bad. Cranston points out, "There's more immediate reward on this stage then there was on the Breaking Bad set. You're in the moment. You can say something and then hear an audience gasp or just hear them feel a sentence. Or laugh. It's very powerful. With television and film, it's different. It's fun too but you have to wait a long time for that indulgence."
While Breaking Bad is finished, a spinoff series Better Call Saul is in the works. Will Cranston make a return appearance as Walter White on the series? He confesses, "I have no idea. Possibly? I'd be open to it for sure! It'd be fun to go back into the New Mexico desert and play with all my old friends."
http://www.dailyactor.com/wp-content/uploads/2015/05/kodi-smit-mcphee-x-men-nightcrawler.jpg
Kodi Smit-McPhee on Doing Research to Play X-Men's Nightcrawler and Intimidation During Auditions
"I'm doing so much research definitely — on Alan Cumming's take, on the comic books, on even the cartoons." - Kodi Smit-McPhee on character research for X-Men's Nightcrawler
http://www.dailyactor.com/2015/05/kodi-smit-mcphee-x-men-nightcrawler-intimidation-during-auditions/
http://www.dailyactor.com/wp-content/uploads/2015/05/chris-pratt-jurassic-world.jpg
Chris Pratt on How He Got Typecast as the A-hole Boyfriend or the Fat, Funny Guy
"Looking back, I think I know why. Physically, I looked like an asshole. I looked like the guy—like Johnny in The Karate Kid, you know?" - Chris Pratt on being typecast
http://www.dailyactor.com/2015/05/chris-pratt-on-how-he-got-typecast-as-the-a-hole-boyfriend-or-the-fat-funny-guy/
http://www.dailyactor.com/wp-content/uploads/2015/05/Caitriona-Balfe-Outlander.jpg
Outlander's Caitriona Balfe On The Emotional Toll of Filming Violent Scenes
"Having to put yourself in that place is tough. To sit in that emotional space, especially when you're doing it day after day." - Caitriona Balfe
http://www.dailyactor.com/2015/05/outlander-catriona-balfe-emotional-toll-of-filming-violent-scenes/
http://www.dailyactor.com/wp-content/uploads/2015/05/Chrissie-Fit.jpg
Chrissie Fit on How She Landed Her Role in 'Pitch Perfect 2′
"I remember getting the audition and being like, "This might not happen," just because it is such a massive movie." - Chrissie Fit
http://www.dailyactor.com/2015/05/chrissie-fit-on-how-she-landed-her-role-in-pitch-perfect-2/
http://www.dailyactor.com/wp-content/uploads/2015/05/Sam-Elliott.jpg
Sam Elliot on How he "F–ked" Himself Out of a Career as a Lead Actor
The rugged Sam Elliot has most often cast in character actor roles throughout his long career in film, though the 70 year-old Elliot thinks it wasn't always meant to be that way.
http://www.dailyactor.com/2015/05/sam-elliot-on-how-he-f-ked-himself-out-of-a-career-as-a-lead-actor/