Bryan Cranston on Starring as LBJ in Broadway's 'All the Way' and Whether We'll Ever See Walter White Again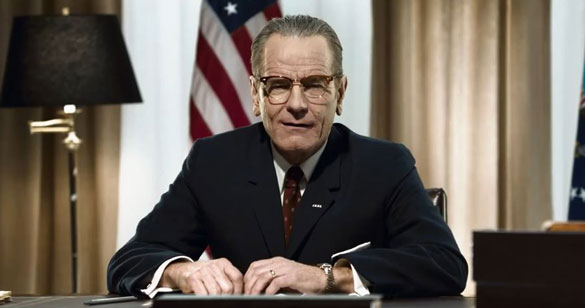 After the massive critical and rating success of Breaking Bad, Bryan Cranston could probably do whatever he wanted once he hung up Walter White's porkpie hat. So many were surprised that Cranston's next move was to make his Broadway debut portraying President Lyndon B. Johnson in All the Way after a sold-out run at the American Repertory Theater in Massachusetts. He spoke to Rolling Stone about the role, the difference between acting on stage and on television, and whether or not we'll see Walter White again.
On why he decided on starring in a play as President Johnson, Cranston says, "I was searching for something that would resonate with people. It had to be entertaining, of course, but it also had to have some meaning beyond the words. I found a lot of layers in this show."
When asked what type of roles he is looking for in his career at this moment, he responds, "Interesting and challenging ones. The most important thing for me, which was the case with Breaking Bad, is the story and the writing. In this case, the story of LBJ is so epic. It's enormous and wonderful and all encompassing and there is no way that you can "sort of" do it – you have to really dive into this situation that he was in. You need to wallow in his highs and his lows."
Naturally, the experience of doing a play is much different for an actor than starring in a television series — even one as wildly popular as Breaking Bad. Cranston points out, "There's more immediate reward on this stage then there was on the Breaking Bad set. You're in the moment. You can say something and then hear an audience gasp or just hear them feel a sentence. Or laugh. It's very powerful. With television and film, it's different. It's fun too but you have to wait a long time for that indulgence."
While Breaking Bad is finished, a spinoff series Better Call Saul is in the works. Will Cranston make a return appearance as Walter White on the series? He confesses, "I have no idea. Possibly? I'd be open to it for sure! It'd be fun to go back into the New Mexico desert and play with all my old friends."
http://www.dailyactor.com/wp-content/uploads/2015/02/Larry-David.jpg
Larry David on Who he Wanted to Star in his Broadway Play 'Fish in the Dark': "Anybody but me"
"It's one of the reasons I didn't like acting. I don't like not being able to interject" – Larry David on acting with a script Who doesn't like Larry David? Well, to be honest, Larry David probably doesn't like Larry David. In fact, David didn't even want to cast himself in the lead of […]
http://www.dailyactor.com/2015/02/larry-david-on-who-he-wanted-to-star-broadway-play-fish-in-the-dark/
http://www.dailyactor.com/wp-content/uploads/2015/02/Helen-Mirren-The-Queen.jpg
Helen Mirren on Winning an Oscar: "It's an indescribable moment"
"It's hard to say, because you don't know what would have happened if you hadn't won" - Helen Mirren When Asked If Winning an Oscar Changed Her Career
http://www.dailyactor.com/2015/02/helen-mirren-on-winning-an-oscar/
http://www.dailyactor.com/wp-content/uploads/2015/02/anna-chlumsky-james-earl-jones.jpg
Anna Chlumsky on Her Broadway Debut: "For me, it was an opportunity to go in the direction that I hadn't played in a while"
"I think my personality lends itself to ensembles" - Anna Chlumsky
http://www.dailyactor.com/2015/02/anna-chlumsky-broadway-debut-ensemble/
http://www.dailyactor.com/wp-content/uploads/2015/02/joanne-froggatt-downton-abbey.jpg
'Downton Abbey' Star Joanne Froggatt on Creating Her Own Backstory and How She's "Not a Big-Budget Hollywood Type"
"They want the model type, classically beautiful, and I'm not" - Joanne Froggatt on Working in Hollywood
http://www.dailyactor.com/2015/02/downton-abbey-star-joanne-froggatt-character-backstory-hollywood/
http://www.dailyactor.com/wp-content/uploads/2015/01/al-pacino-the-humbling.jpg
Al Pacino on Acting: "It becomes such a part of your nature you rarely ever think about quitting"
After working infrequently in film over the last decade, Al Pacino appears in several films released in 2015, including The Humbling, an indie drama directed by Barry Levinson.
http://www.dailyactor.com/2015/02/al-pacino-on-acting-it-becomes-such-a-part-of-your-nature/