Bryan Cranston on Starring as LBJ in Broadway's 'All the Way' and Whether We'll Ever See Walter White Again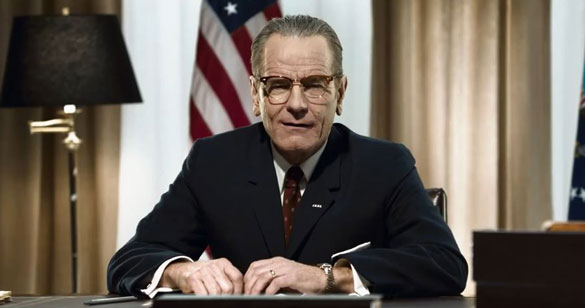 After the massive critical and rating success of Breaking Bad, Bryan Cranston could probably do whatever he wanted once he hung up Walter White's porkpie hat. So many were surprised that Cranston's next move was to make his Broadway debut portraying President Lyndon B. Johnson in All the Way after a sold-out run at the American Repertory Theater in Massachusetts. He spoke to Rolling Stone about the role, the difference between acting on stage and on television, and whether or not we'll see Walter White again.
On why he decided on starring in a play as President Johnson, Cranston says, "I was searching for something that would resonate with people. It had to be entertaining, of course, but it also had to have some meaning beyond the words. I found a lot of layers in this show."
When asked what type of roles he is looking for in his career at this moment, he responds, "Interesting and challenging ones. The most important thing for me, which was the case with Breaking Bad, is the story and the writing. In this case, the story of LBJ is so epic. It's enormous and wonderful and all encompassing and there is no way that you can "sort of" do it – you have to really dive into this situation that he was in. You need to wallow in his highs and his lows."
Naturally, the experience of doing a play is much different for an actor than starring in a television series — even one as wildly popular as Breaking Bad. Cranston points out, "There's more immediate reward on this stage then there was on the Breaking Bad set. You're in the moment. You can say something and then hear an audience gasp or just hear them feel a sentence. Or laugh. It's very powerful. With television and film, it's different. It's fun too but you have to wait a long time for that indulgence."
While Breaking Bad is finished, a spinoff series Better Call Saul is in the works. Will Cranston make a return appearance as Walter White on the series? He confesses, "I have no idea. Possibly? I'd be open to it for sure! It'd be fun to go back into the New Mexico desert and play with all my old friends."
Latest Videos
http://www.dailyactor.com/wp-content/uploads/2014/08/bryan-cranston-emmy-award-speech.jpg
Watch: Bryan Cranston's Emmy Award Speech: "I love to act. It is a passion of mine and I will do it until my last breath."
The Emmy Awards weren't the most exciting awards show this year but with Bryan Cranston winning for Outstanding Actor in a Drama for Breaking Bad, we at least got to hear one heck of a fantastic acceptance speech. "I was a kid who always looked for the shortcut," he said. "I did happen to stumble […]
http://www.dailyactor.com/2014/08/watch-bryan-cranston-and-aaron-pauls-emmy-award-speeches/
http://www.dailyactor.com/wp-content/uploads/2014/08/audition-tapes-gerard-butler-aud.jpg
Audition Tapes: Gerard Butler Auditions for 'Dracula 2000′
Check out Gerard Butler auditioning for the role of Dracula in the movie, Dracula 2000. The film, about a group of thieves who break into a chamber expecting to find paintings, but instead find Dracula himself, also starred Christopher Plummer, Jonny Lee Miller and Nathan Fillion. Bulter has some sweet rock star hair, huh?
http://www.dailyactor.com/2014/08/audition-tapes-gerard-butler-dracula-2000/
http://www.dailyactor.com/wp-content/uploads/2014/08/interview-matt-dillon-and-carla.jpg
Interview: Matt Dillon and Carla Gugino Talk 'Wayward Pines'
FOX has a new limited-series that's got a terrific cast and interesting premise. It's called Wayward Pines and stars Matt Dillon, Carla Gugino, Melissa Leo, Toby Jones, Terrance Howard, Juliette Lewis, Tim Griffin and Shannyn Sossamon. The show, whose pilot was directed by M. Night Shyamalan, is about a Secret Service agent (Dillon) goes to […]
http://www.dailyactor.com/2014/08/interview-matt-dillon-carla-gugino-wayward-pines-comic-con/
http://www.dailyactor.com/wp-content/uploads/2014/08/interview-wayward-pines-stars-ti.jpg
Interview: 'Wayward Pines' Stars Tim Griffin and Shannyn Sossamon on the Show, Their Characters and More!
Griffin and Sossamonwere at Comic-Con where they sat in on some roundtable interviews to talk about the show.
http://www.dailyactor.com/2014/08/interview-wayward-pines-stars-tim-griffin-shannyn-sossamon-comic-con/
http://www.dailyactor.com/wp-content/uploads/2014/08/interview-m-night-shyamalan-talk.jpg
Interview: M. Night Shyamalan Talks 'Wayward Pines' and Why He Expanded a Young Actors Role on the Show
I talked to Shyamalan at Comic-Con in a roundtable interview where he talked about the cast, what he learned from working in TV and how young actor Charlie Tahan started out with a small part but as the story grew, so did his role.
http://www.dailyactor.com/2014/08/interview-m-night-shyamalan-wayward-pines-comic-con/