'Blue Jasmine' star Cate Blanchett Seamlessly Transitions from Stage to Screen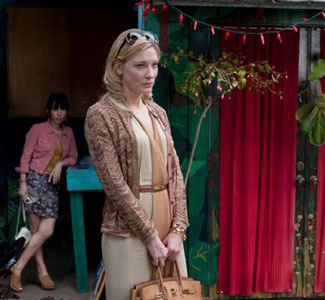 Cate Blanchett was just nominated for her sixth Academy Award for her performance in Woody Allen's Blue Jasmine. She plays a woman on the verge of a nervous breakdown after her husband leaves her for a younger woman.
What's interesting about the Australian actress is that she has been largely absent from most of the awards show campaign season because she's been busy working in the the theater. She talked to Robert Siegel of All Things Considered about how she bridges her work in the theater with her work on film.
The 44-year-old star explained, "I've been very grateful I've been able to move between the two forms, because they're not diametrically opposed; I think they feed each other. You know, you do have a self-awareness as an actor. That's what you bring from the theater, is that you're very aware that you have to hit that light, whilst also talking about the fact that you've lost your children and you know that someone is answering their mobile phone in Row G, and that someone else is opening a lolly wrapper in the back of the stalls."
Blanchett understands how her work is affected by having this necessary presence while acting for the stage.
She continued, "And so you have all of these awarenesses, and it makes you fearless, in a way. Because you can tell whether something is living or dying when you're on the stage, and you can do something about it."
It's that connection that keeps Blanchett going back to the theater because film sometimes doesn't have the same effect.
"I think sometimes when you're working consistently in film, and maybe this is just me, but you do feel quite dislocated from your audience. I was acutely aware of the audience in the cinema when I was doing Jasmine. I don't know whether that was the pace itself or whether that was just my recent experience," said The Aviator star.
Blanchett is considered a frontrunner for the Oscar against a strong field of veterans like Amy Adams, Sandra Bullock, Judi Dench and Meryl Streep. The Academy Awards will take place on March 2 in Hollywood, California.
Latest Videos
http://www.dailyactor.com/wp-content/uploads/2014/08/bryan-cranston-emmy-award-speech.jpg
Watch: Bryan Cranston's Emmy Award Speech: "I love to act. It is a passion of mine and I will do it until my last breath."
The Emmy Awards weren't the most exciting awards show this year but with Bryan Cranston winning for Outstanding Actor in a Drama for Breaking Bad, we at least got to hear one heck of a fantastic acceptance speech. "I was a kid who always looked for the shortcut," he said. "I did happen to stumble […]
http://www.dailyactor.com/2014/08/watch-bryan-cranston-and-aaron-pauls-emmy-award-speeches/
http://www.dailyactor.com/wp-content/uploads/2014/08/audition-tapes-gerard-butler-aud.jpg
Audition Tapes: Gerard Butler Auditions for 'Dracula 2000′
Check out Gerard Butler auditioning for the role of Dracula in the movie, Dracula 2000. The film, about a group of thieves who break into a chamber expecting to find paintings, but instead find Dracula himself, also starred Christopher Plummer, Jonny Lee Miller and Nathan Fillion. Bulter has some sweet rock star hair, huh?
http://www.dailyactor.com/2014/08/audition-tapes-gerard-butler-dracula-2000/
http://www.dailyactor.com/wp-content/uploads/2014/08/interview-matt-dillon-and-carla.jpg
Interview: Matt Dillon and Carla Gugino Talk 'Wayward Pines'
FOX has a new limited-series that's got a terrific cast and interesting premise. It's called Wayward Pines and stars Matt Dillon, Carla Gugino, Melissa Leo, Toby Jones, Terrance Howard, Juliette Lewis, Tim Griffin and Shannyn Sossamon. The show, whose pilot was directed by M. Night Shyamalan, is about a Secret Service agent (Dillon) goes to […]
http://www.dailyactor.com/2014/08/interview-matt-dillon-carla-gugino-wayward-pines-comic-con/
http://www.dailyactor.com/wp-content/uploads/2014/08/interview-wayward-pines-stars-ti.jpg
Interview: 'Wayward Pines' Stars Tim Griffin and Shannyn Sossamon on the Show, Their Characters and More!
Griffin and Sossamonwere at Comic-Con where they sat in on some roundtable interviews to talk about the show.
http://www.dailyactor.com/2014/08/interview-wayward-pines-stars-tim-griffin-shannyn-sossamon-comic-con/
http://www.dailyactor.com/wp-content/uploads/2014/08/interview-m-night-shyamalan-talk.jpg
Interview: M. Night Shyamalan Talks 'Wayward Pines' and Why He Expanded a Young Actors Role on the Show
I talked to Shyamalan at Comic-Con in a roundtable interview where he talked about the cast, what he learned from working in TV and how young actor Charlie Tahan started out with a small part but as the story grew, so did his role.
http://www.dailyactor.com/2014/08/interview-m-night-shyamalan-wayward-pines-comic-con/