Watch Lizzie Caplan Talk Masters of Sex, How She Fought for the Role, Nerves and More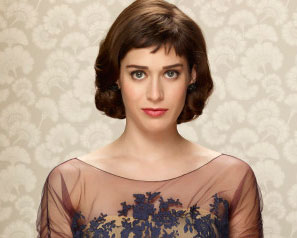 Here's a SAG Foundation Q & A with Lizzy Caplan where she talks about her new Showtime series, Masters of Sex.
In the interview, she talks about how she fought for the role of Virginia Johnson, why she waited so long for the part, shooting the pilot, nerves and more.
Masters of Sex stars Michael Sheen and Caplan as real-life pioneers of the science of human sexuality, William Masters and Virginia Johnson. The series chronicles their unusual lives, romance and unlikely pop culture trajectory.
Check it out below!
http://www.dailyactor.com/wp-content/uploads/2015/05/Chrissie-Fit.jpg
Chrissie Fit on How She Landed Her Role in 'Pitch Perfect 2′
"I remember getting the audition and being like, "This might not happen," just because it is such a massive movie." - Chrissie Fit
http://www.dailyactor.com/2015/05/chrissie-fit-on-how-she-landed-her-role-in-pitch-perfect-2/
http://www.dailyactor.com/wp-content/uploads/2015/05/Sam-Elliott.jpg
Sam Elliot on How he "F–ked" Himself Out of a Career as a Lead Actor
The rugged Sam Elliot has most often cast in character actor roles throughout his long career in film, though the 70 year-old Elliot thinks it wasn't always meant to be that way.
http://www.dailyactor.com/2015/05/sam-elliot-on-how-he-f-ked-himself-out-of-a-career-as-a-lead-actor/
http://www.dailyactor.com/wp-content/uploads/2015/05/Anna-Kendrick-Pitch-Perfect-2.jpg
Anna Kendrick Talks Hollywood and its Gender Bias
"As an actress you're perpetually about to be unemployed." - Anna Kendrick
http://www.dailyactor.com/2015/05/anna-kendrick-talks-hollywood-and-its-gender-bias/
http://www.dailyactor.com/wp-content/uploads/2015/05/tom-hardy-mad-max-fury-road.jpg
Tom Hardy on Fame, Acting School, and His 'Mad Respect' for Michael Fassbender
"Do what you love doing, do it well—everything should fit into place." - Tom Hardy
http://www.dailyactor.com/2015/05/tom-hardy-fame-acting-school-michael-fassbender/
http://www.dailyactor.com/wp-content/uploads/2015/05/cabaret-emma-stone.jpg
Emma Stone on How Broadway Boosted Her Confidence
"I feel more like I understand acting in a different way." - Emma Stone on Her Broadway Experience
http://www.dailyactor.com/2015/05/emma-stone-on-how-broadway-boosted-her-confidence/