Tom Hiddleston on His Early Years, Auditioning for Loki and What Your Real Job is as an Actor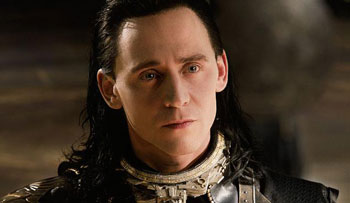 While it's hard to argue against Clark Gregg's Agent Phil Coulson being the unexpected breakout character of the Marvel Cinematic Universe — the guy went from being a background character in Iron Man to the lead role in a television series — a close second has to be Tom Hiddleston's Loki. 
Hiddleston's portrayal of the shape-shifting trickster god Loki in Thor and The Avengers has been embraced by audiences so strongly that it has threatened to overshadow the character's heroic brother Thor.  What's most surprising about it is that no one — not even Hiddleston himself — would have thought of the actor as having supervillain potential before Thor.  In a conversation with The New York Times, he speaks about his surprising success and his acting roots.
Though Hiddleston has an acting career that any classically trained actor would be envious of, Thor is what obviously broke him through to mainstream audiences.  He confesses that it is still very weird to him to have gained fame outside of the type of acting he was trained for.  He says, "The fame thing is so odd.  It's interesting that I've had that wide impact in a role that is so unlike me."
Despite his fame and skill, Hiddleston admits he doesn't know exactly when he first thought about acting, revealing, "It's rather like a murmuration of swallows. You can't tell which bird made the first move, it just takes shape. I'm wary of imposing narratives from a safe distance. It's always more arbitrary than it seems."  However, he admits that a life-changing moment happened in his early teens.  He reveals, "I saw Richard Eyre's production of Ibsen's John Gabriel Borkman, and it hit me like a train. I had that wonderful Alice-down-the-rabbit-hole experience of developing an insatiable appetite for watching and reading that I think is very particular to those adolescent years."
Hiddleston received some roles while attending Eton College and Cambridge University, including two HBO movies, but instead of launching right into an acting career he decided to go to drama school at the Royal Academy of Dramatic Arts because according to him, "I thought, 'I'm not trained, and I've been lucky.'"  While the education he received there was valuable, he realized that taking himself out of the running for three years hurt him professionally.  He explains, "I kept a diary, with all the details of every audition.  After about three months, I had to stop, because it was a catalog of failure, a long list of jobs I had failed to get." 
While he received stage work, especially after Kenneth Branagh took notice of him, television and film remained elusive.  He recalls showing up in Los Angeles for casting for pilots, pointing out, "You would turn up for every audition, and there would be a line of identical tall, blond 29-year-olds.  It was incredibly stressful. I didn't sleep and I didn't get any parts."
But that connection with Branagh paid off when Branagh was hired to direct Thor and he recommended Hiddleston for Loki's part.  Though the villain role in a big-budget franchise film wasn't something Hiddleston ever anticipated, his instincts told him that it was a golden opportunity.  He says, "I think before, my own fear of both success and failure would have stopped me.  But I knew Ken knew what I could do, and I remember thinking: 'I am never going to get closer. I might as well go for it.' I put on 25 percent more muscle, got down to 7 percent body fat, knew my lines inside out. I was a man possessed."  His dedication paid off, and Hiddleston has since embraced the character in a way that is so charming that it's impossible not to root for both of them — Loki and Hiddleston, I mean.
However, in between his appearances as Loki, Hiddleston has kept up his Shakespearean acting.  His next role will be the lead in Coriolanus on stage, which will be broadcast on National Theatre Live next year.  When asked how he shifts from big-budget superhero films to Shakespeare with easy, Hiddleston reveals, "Your job as an actor is to find a way of being truthful in those particular circumstances.  After that it is simple."
Latest Videos
http://www.dailyactor.com/wp-content/uploads/2014/04/director-david-gordon-greene-nar.jpg
Director David Gordon Green Narrates a Scene From 'Joe'
Director David Gordon Green narrates a sequence from his new film, Joe, featuring Nicolas Cage and Tye Sheridan. In the video, he mentions his reasons why he likes to hire non-traditional actors. He likes people who have real skill-sets and not actors who have the skills on their resume. He also talked about this in […]
http://www.dailyactor.com/2014/04/director-david-gordon-green-narrates-a-scene-from-joe/
http://www.dailyactor.com/wp-content/uploads/2014/04/david-gordon-green-joe.jpg
Director David Gordon Green: "I find actors in unusual places"
I keep missing screenings of director David Gordon Greene's new film, Joe. I hear it's really good so I'm looking forward to catching it at some point. Joe stars Nicholas Cage as ex-con Joe Ransom, who isn't the greatest of role models until he meets a 15-year-old boy (Mud's Tye Sheridan). In this featurette, Green […]
http://www.dailyactor.com/2014/04/director-david-gordon-green-i-find-actors-in-unusual-places/
http://www.dailyactor.com/wp-content/uploads/2014/04/judy-greer-i-dont-know-why-you-know-me-from.jpg
Please Don't Say These Things To Judy Greer (video)
Judy Greer - who we love here at Daily Actor – has a new book called, I Don't Know What You Know Me From (Confessions of a Co-Star), a series of essays about her life as an actress, friend and someone who everyone thinks they might know. Here's a blurb about the book: "Want to […]
http://www.dailyactor.com/2014/04/please-dont-say-these-things-to-judy-greer-video/
http://www.dailyactor.com/wp-content/uploads/2014/04/Captain-America-SamuelNick-Fury.jpg
How Samuel L. Jackson Learns His Lines for the Marvel Movies (video)
Samuel L. Jackson stopped by Good Morning America earlier this week to talk about Captain America: The Winter Soldier – which is terrific, by the way – and he told Robin Roberts that for the first Cap film, he had trouble learning his lines. "I sat at home and I did all my studying, and […]
http://www.dailyactor.com/2014/04/how-samuel-l-jackson-learns-his-lines-for-the-marvel-movies-video/
http://www.dailyactor.com/wp-content/uploads/2014/04/andy-karl-margot-seibert-rocky.jpg
Andy Karl and Margo Seibert Talk 'Rocky: The Musical' on 'Today'
Andy Karl and Margo Seibert, the stars of Rocky: The Musical, talked to Today's Matt Lauer about the new Broadway musical. Karl talks about the final fight and taking on the iconic role. This is Seibert's Broadway debut and she's asked about her callbacks (9 in all!) and more. Check it out!
http://www.dailyactor.com/2014/04/andy-karl-and-margo-seibert-talk-rocky-the-musical-on-today/