'Masters of Sex' star Lizzy Caplan's Advice on Shooting Nude Scenes: "You should feel protected by your crew and the actors around you"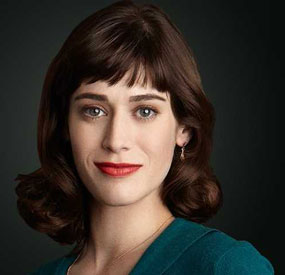 Lizzy Caplan has had a successful career for a young actress, but getting there hasn't been easy. In an interview with BGB Mag, the Masters of Sex star talked about the struggles of being "on avail" for a role and how the auditioning process never gets any easier.
Caplan plays the groundbreaking sex pioneer Virginia Johnson in the Showtime series. She was attached to the part for months before the contract was officially signed. The 31-year-old actress shared what that endless wait was like.
"It was not the most fun process, as you know. It took a while to be officially signed on to the show. It remained unofficial for months. So I mostly walked around with the news that I was to play Virginia as a secret, since I didn't want to suffer the humiliation of telling everybody I got the part, then having to call all those same people and tell them that it didn't work out. Which I've had to do before," she said. "All actors and actresses seem to have their 'firing story'. Pilot season happened while I was waiting to hear officially about Masters, and I didn't have the easiest time convincing my agents and managers that even the POSSIBILITY of getting to do Masters of Sex was infinitely more appealing to me than the real, tangible pilot jobs that were being presented to me. But (somewhat miraculously), it all worked out."
Caplan is also familiar with the naked territory that comes with her role. She's previously had to do nude scenes in her six-episode appearance on True Blood. The Mean Girls actress offered some advice to approaching those vulnerable moments.
"My advice would be that it's much scarier anticipating shooting a sex scene for the first time than it is actually shooting it. You should feel protected by your crew and the actors around you. And remember, you're surrounded by people who work very hard to light you well and find flattering angles of you. Your crew are your teammates, and everybody wants you to look good…unless, I suppose, the script calls for the opposite," she explained.
Even with Caplan's successful career, she has dealt with times when the acting work has dried up and that can be a tough obstacle for any actor to deal with. She shared what got her through those challenging times.
"I have no college degree. No skills in any other area. I think I needed to feel like it was all or nothing for me in this business, because, of course, there are periods when quitting starts to sound pretty good. Or the logical option. You just have to believe (during the hard stretches, the unemployed stretches) that eventually people are going to start picking up what you're putting down — because this business has many varied and interesting ways of busting up your self-esteem." said the Showtime star. "Every time I was told 'no' for a job I'd really wanted/needed, I used it as fuel for the fire. More incentive to prove them all wrong. I think in the past, I needed to get that dramatic about it in my head in order to keep going."
While the auditioning process doesn't get any easier whether you are a new or veteran actor, Caplan offered some sound advice for young artists in the entertainment business.
She shared, "Everybody in those rooms wants you to do well, not fail. And figure out a way to not be nervous for the big auditions. And when you figure that out, please let me know the secret."
Masters of Sex airs on Sundays on Showtime.
Latest Videos
Watch: Benedict Cumberbatch Film the Smaug Motion Capture for 'The Hobbit: The Desolation of Smaug'
Though Peter Jackson's movie adaptations of The Hobbit haven't received the same critical acclaim as his films based on the book's sequel, The Lord of the Rings (turning a 300 page book into 9+ hours of film tends to do that), fans are still eagerly anticipating the release of the final part of The Hobbit […]
http://www.dailyactor.com/2014/11/watch-benedict-cumberbatch-film-smaug-motion-capture-the-hobbit/
Watch: Daniel Radcliffe on the Differences Between American and British Theater Audiences
Though moviegoers can see Daniel Radcliffe in the fantasy film Horns, which opens today, Broadway fans will have to wait a bit longer. Radcliffe is an unapologetic fan of Broadway — he has starred in Equus, How to Succeed in Business Without Really Trying, and The Cripple of Inishmaan — but he hasn't yet made […]
http://www.dailyactor.com/2014/10/daniel-radcliffe-differences-between-american-british-theater-audiences/
Watch: Anna Gunn, Jacki Weaver and Virginia Kull on 'Gracepoint' and Strong Female Roles on TV
The actresses also speak candidly about how they feel about their characters in the series and why its important for TV to feature series with strong female leads.Check out the conversation above!
http://www.dailyactor.com/2014/10/watch-anna-gunn-jacki-weaver-virginia-kull-gracepoint-strong-female-roles-on-tv/
Watch: Cristin Milioti Talks 'A to Z', 'Once' and 'How I Met Your Mother'
Few actresses have the kind of rise as Cristin Milioti has had in the last few years. A virtual unknown in 2011, she became a bona fide Broadway star in the 2012 hit Once, appeared in a supporting role in the 2013 film The Wolf of Wall Street, and was featured as the titular mother […]
http://www.dailyactor.com/2014/10/watch-cristin-milioti-a-to-z-once-how-i-met-your-mother/
http://www.dailyactor.com/wp-content/uploads/2014/10/watch-bryan-cranstons-acting-adv.jpg
Watch: Bryan Cranston's Acting Advice
With Breaking Bad: The Complete Series Barrel being released on Blu-ray with all kinds of goodies today, it gives us yet another opportunity to reflect on the series' star Bryan Cranston and all of the incredible advice he has offered actors in the wake of his success. In a video he filmed in 2013 for […]
http://www.dailyactor.com/2014/10/bryan-cranston-acting-advice-video/