'Masters of Sex' star Lizzy Caplan's Advice on Shooting Nude Scenes: "You should feel protected by your crew and the actors around you"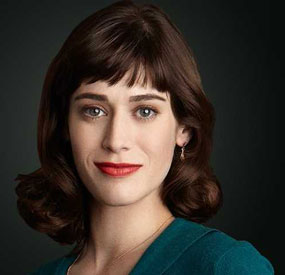 Lizzy Caplan has had a successful career for a young actress, but getting there hasn't been easy. In an interview with BGB Mag, the Masters of Sex star talked about the struggles of being "on avail" for a role and how the auditioning process never gets any easier.
Caplan plays the groundbreaking sex pioneer Virginia Johnson in the Showtime series. She was attached to the part for months before the contract was officially signed. The 31-year-old actress shared what that endless wait was like.
"It was not the most fun process, as you know. It took a while to be officially signed on to the show. It remained unofficial for months. So I mostly walked around with the news that I was to play Virginia as a secret, since I didn't want to suffer the humiliation of telling everybody I got the part, then having to call all those same people and tell them that it didn't work out. Which I've had to do before," she said. "All actors and actresses seem to have their 'firing story'. Pilot season happened while I was waiting to hear officially about Masters, and I didn't have the easiest time convincing my agents and managers that even the POSSIBILITY of getting to do Masters of Sex was infinitely more appealing to me than the real, tangible pilot jobs that were being presented to me. But (somewhat miraculously), it all worked out."
Caplan is also familiar with the naked territory that comes with her role. She's previously had to do nude scenes in her six-episode appearance on True Blood. The Mean Girls actress offered some advice to approaching those vulnerable moments.
"My advice would be that it's much scarier anticipating shooting a sex scene for the first time than it is actually shooting it. You should feel protected by your crew and the actors around you. And remember, you're surrounded by people who work very hard to light you well and find flattering angles of you. Your crew are your teammates, and everybody wants you to look good…unless, I suppose, the script calls for the opposite," she explained.
Even with Caplan's successful career, she has dealt with times when the acting work has dried up and that can be a tough obstacle for any actor to deal with. She shared what got her through those challenging times.
"I have no college degree. No skills in any other area. I think I needed to feel like it was all or nothing for me in this business, because, of course, there are periods when quitting starts to sound pretty good. Or the logical option. You just have to believe (during the hard stretches, the unemployed stretches) that eventually people are going to start picking up what you're putting down — because this business has many varied and interesting ways of busting up your self-esteem." said the Showtime star. "Every time I was told 'no' for a job I'd really wanted/needed, I used it as fuel for the fire. More incentive to prove them all wrong. I think in the past, I needed to get that dramatic about it in my head in order to keep going."
While the auditioning process doesn't get any easier whether you are a new or veteran actor, Caplan offered some sound advice for young artists in the entertainment business.
She shared, "Everybody in those rooms wants you to do well, not fail. And figure out a way to not be nervous for the big auditions. And when you figure that out, please let me know the secret."
Masters of Sex airs on Sundays on Showtime.
Latest Videos
http://www.dailyactor.com/wp-content/uploads/2014/10/alex-sharp-curious-incident-of-the-dog.jpg
Alex Sharp Talks About His Broadway Debut in 'The Curious Incident of the Dog in the Night-Time' (video)
Alex Sharp went from working in a call-center and renovating houses to going to Julliard. And now, he's starring in one of the most talked about shows of the season, The Curious Incident of the Dog in the Night-Time. Check out this great, inspiring video!
http://www.dailyactor.com/2014/10/alex-sharp-broadway-debut-the-curious-incident-of-the-dog-in-the-night-time-video/
http://www.dailyactor.com/wp-content/uploads/2014/10/Its-only-a-play.jpg
Watch a Scene From Terrance McNally's, 'It's Only a Play', Featuring Nathan Lane and Micah Stock
Here's a quick scene from Terrance McNally's It's Only a Play, currently on Broadway at the Schoenfeld Theater. In this scene, Nathan Lane and Micah Stock meet for the first time. The show, about the opening night of a new play, also stars Matthew Broderick, Stockard Channing, F. Murray Abraham, Rupert Grint and Megan Mullally.
http://www.dailyactor.com/2014/10/watch-a-scene-terrance-mcnally-its-only-a-play-nathan-lane-micah-stock/
http://www.dailyactor.com/wp-content/uploads/2014/10/birdman-director-alejandro-g-ina.jpg
'Birdman' Director Alejandro G. Iñárritu Narrates a Scene from the Film Featuring Michael Keaton and Edward Norton
Director Alejandro G. Iñárritu narrates a scene from Birdman or The Unexpected Virtue of Ignorance that features stars Michael Keaton and Edward Norton. The film is wonderful and if it's playing in your town, definitely check it out!
http://www.dailyactor.com/2014/10/birdman-director-alejandro-g-inarritu-michael-keaton-edward-norton/
http://www.dailyactor.com/wp-content/uploads/2014/10/the-cast-of-mad-men-on-the-final.jpg
The Cast of 'Mad Men' on the Final Season and More
Though the AMC television series Mad Men might not carry the same cultural weight that it did a few years ago (splitting your final season over two years might do that to you), the second half of the show's final season is expected to be full of powerful performances from its ensemble cast. With the […]
http://www.dailyactor.com/2014/10/cast-of-mad-men-final-season/
http://www.dailyactor.com/wp-content/uploads/2014/10/behind-the-scenes-of-a-sex-scene.jpg
Behind the Scenes of a Sex Scene with Patrick Wilson, Brooklyn Decker and Director Joe Carnahan
Director Joe Carnahan is giving viewers an inside look at what it is like to film a big screen Hollywood sex scene, as confirmed by Gawker. Carnahan released a brief video clip taken from the set of his latest film Stretch starring supermodel and actress Brooklyn Decker and Patrick Wilson. The video showcases the two […]
http://www.dailyactor.com/2014/10/behind-the-scenes-of-a-sex-scene-patrick-wilson-brooklyn-decker-director-joe-carnahan/