Lawrence Gilliard Jr.'s Great Story on His Audition for 'The Walking Dead'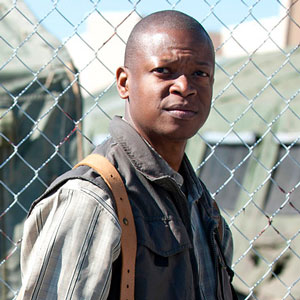 Lawrence Gilliard Jr. started his career on The Wire playing D'Angelo Barksdale.  Because another actor from the series was already on AMC's The Walking Dead, Gilliard was convinced he wouldn't be able to land the part of Bob Stookey.
"Scott [Gimple, the showrunner] told me, 'You know, we've got Chad [Coleman] on the show, so I said, 'No more Wire people.  We've got enough of The Wire, because you see too many Wire people on the show and you start thinking of The Wire.'  So he's like, 'No more Wire people, and then I saw your tape, and I said, 'Oh, okay.'  [Casting directors] Sharon Bialy and Sherry Thomas, I have to thank them because he says, 'No Wire people,' and they brought me in.  I remember the audition," he said in an interview with Entertainment Weekly. 
"I showed up, and apparently I was the first one to read, and it was three pages of a character they made up because they didn't want anyone to know it was going to be Bob Stookey.  Very hush-hush.  It was like three pages of just this guy talking.  And I went in and I did it, and they were kind of just quiet when I was done.  They were like, 'You know, that was really good.'  I walked out, and I saw another guy sitting there, a white guy, older guy."
Indeed, in the comic books, the character of Bob Stookey was an older, white person—not a young, African American like Gilliard.
"And I didn't know about the comics either.  I knew I did a good job, but I didn't hear anything for two weeks," Gilliard recalled.  "Then my manager called and said, 'You have a callback for The Walking Dead,' so I'm like, 'Alright, a callback, they'll probably have the producer in there, the director or somebody, you know.'  And I went back to the callback and it was the test and I didn't know it was the test.  So, I'm sitting in the hall and I'm waiting for them to just come and bring me in, and I see Sharon again and all these suits start showing up, Scott's showing up, people are like, 'Thank you so much for coming.'  And I'm like, 'This is not just the callback.  This is THE callback.'  I'm like, 'Holy crap.' So I start running everything in my head, I'm really getting in the moment.  And I'm like, 'Alright, I've got to pull it back,' because I don't want to do my best audition in the hallway.
"So I pulled it back and I went into the room, and it's a table full of people.  [After the audition was over] it was just silent.  Sharon goes, 'Well, Lawrence, do you have any questions, like, how hot it gets in the summertime in Atlanta?'  I think Scott said something like, 'You know there's a physical element.  It's a lot of running and jumping.'  And I'm like, 'Well I'm pretty fit, so that's fine.'  They're like, 'You sure you have no questions?'  I'm like, 'No,' and I'm just thinking to myself, 'Don't say anything that's going to mess this up.'  I'm like, 'Nope!  I'm all good.'  And by the time I got home, my managers were calling.  They were like, 'You got it!'
"It was a great audition experience and it was a character that when I first read it—when it was even made up—I connected with him.  I feel fortunate, and blessed, and happy that I got the part."
The new season of Walking Dead starts October 13.
Latest Videos
Watch: Benedict Cumberbatch Film the Smaug Motion Capture for 'The Hobbit: The Desolation of Smaug'
Though Peter Jackson's movie adaptations of The Hobbit haven't received the same critical acclaim as his films based on the book's sequel, The Lord of the Rings (turning a 300 page book into 9+ hours of film tends to do that), fans are still eagerly anticipating the release of the final part of The Hobbit […]
http://www.dailyactor.com/2014/11/watch-benedict-cumberbatch-film-smaug-motion-capture-the-hobbit/
Watch: Daniel Radcliffe on the Differences Between American and British Theater Audiences
Though moviegoers can see Daniel Radcliffe in the fantasy film Horns, which opens today, Broadway fans will have to wait a bit longer. Radcliffe is an unapologetic fan of Broadway — he has starred in Equus, How to Succeed in Business Without Really Trying, and The Cripple of Inishmaan — but he hasn't yet made […]
http://www.dailyactor.com/2014/10/daniel-radcliffe-differences-between-american-british-theater-audiences/
Watch: Anna Gunn, Jacki Weaver and Virginia Kull on 'Gracepoint' and Strong Female Roles on TV
The actresses also speak candidly about how they feel about their characters in the series and why its important for TV to feature series with strong female leads.Check out the conversation above!
http://www.dailyactor.com/2014/10/watch-anna-gunn-jacki-weaver-virginia-kull-gracepoint-strong-female-roles-on-tv/
Watch: Cristin Milioti Talks 'A to Z', 'Once' and 'How I Met Your Mother'
Few actresses have the kind of rise as Cristin Milioti has had in the last few years. A virtual unknown in 2011, she became a bona fide Broadway star in the 2012 hit Once, appeared in a supporting role in the 2013 film The Wolf of Wall Street, and was featured as the titular mother […]
http://www.dailyactor.com/2014/10/watch-cristin-milioti-a-to-z-once-how-i-met-your-mother/
http://www.dailyactor.com/wp-content/uploads/2014/10/watch-bryan-cranstons-acting-adv.jpg
Watch: Bryan Cranston's Acting Advice
With Breaking Bad: The Complete Series Barrel being released on Blu-ray with all kinds of goodies today, it gives us yet another opportunity to reflect on the series' star Bryan Cranston and all of the incredible advice he has offered actors in the wake of his success. In a video he filmed in 2013 for […]
http://www.dailyactor.com/2014/10/bryan-cranston-acting-advice-video/